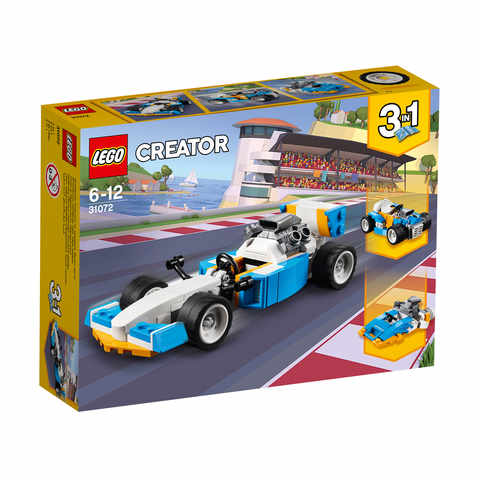 LEGO Creator Extreme Engines - 31072
<p>Climb into the cockpit of the Race Car, with its large rear engine, side air intakes, wide rims with low profile tires and a sporty blue, white, yellow and black colour scheme. Adjust the wing mirrors and rear spoiler for maximum speed. Then take your position at the starting line and get ready to race! When you're done, rebuild the Race Car and take to the track in a powerful Hot Rod or thunder over the waves in a cool, race-winning Speedboat</p><ul><li>Suitable for 6 to 12 years</li><li>The 3-in-1 Extreme Engines set features a rebuildable Race Car with lots of authentic details, including a large rear engine, side air intakes, wide rims with low profile tires and adjustable wing mirrors and rear spoiler</li><li>Features a blue, white, yellow and black colour scheme</li><li>Adjust the wing mirrors, set the rear spoiler for maximum speed, take your position on the start line and prepare for some high-speed action</li><li>Continue the adventure with this 3-in-1 model. Rebuild the Extreme Engines Race Car for more high-speed adventures behind the wheel of a powerful Hot Rod, or take to the waves for racing action aboard an aerodynamic Speedboat</li><li>Race car - 15cm (L) x 4cm (H) x 6cm (W); Hot rod - 9cm (L) x 4cm (H) x 6cm (W); Speedboat - 9cm (L) x 6cm (H) x 6cm (W)</li></ul>
---
Climb into the cockpit of the Race Car, with its large rear engine, side air intakes, wide rims with low profile tires and a sporty blue, white, yellow and black colour scheme. Adjust the wing mirrors and rear spoiler for maximum speed. Then take your position at the starting line and get ready to race! When you're done, rebuild the Race Car and take to the track in a powerful Hot Rod or thunder over the waves in a cool, race-winning Speedboat
Suitable for 6 to 12 years
The 3-in-1 Extreme Engines set features a rebuildable Race Car with lots of authentic details, including a large rear engine, side air intakes, wide rims with low profile tires and adjustable wing mirrors and rear spoiler
Features a blue, white, yellow and black colour scheme
Adjust the wing mirrors, set the rear spoiler for maximum speed, take your position on the start line and prepare for some high-speed action
Continue the adventure with this 3-in-1 model. Rebuild the Extreme Engines Race Car for more high-speed adventures behind the wheel of a powerful Hot Rod, or take to the waves for racing action aboard an aerodynamic Speedboat
Race car - 15cm (L) x 4cm (H) x 6cm (W); Hot rod - 9cm (L) x 4cm (H) x 6cm (W); Speedboat - 9cm (L) x 6cm (H) x 6cm (W)
Click & Collect
Order online and collect in-store.
Location

Cost

Ready for collection

Location

In selected stores
Cost

$3 packing fee
per order
$3 packing fee per order
Ready for collection

Within 24 hours
Delivery

We package up your order and deliver it to your door.
Location type

Standard delivery

Delivery timeframe

Metropolitan
$10
3-5 business days
Regional
$14
5-7 business days
Remote
From $16
7-14 business days
Big and bulky items (e.g. furniture, play equipment) will incur additional delivery charges beyond standard rates listed above.
You can see the actual cost of delivering your order by adding items to your Shopping Bag and proceeding to the Checkout.
Still have questions?
Please refer to Kmart FAQs
\
Check if this product is available at a store near you