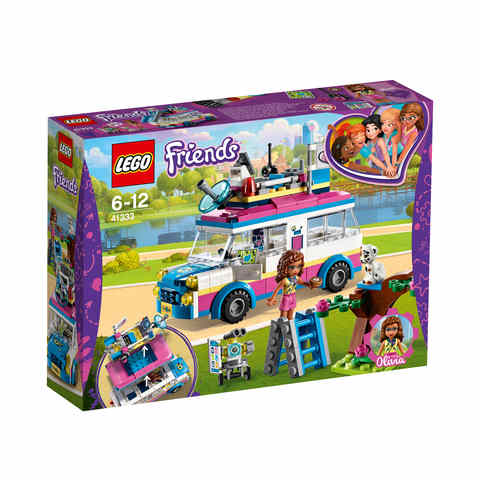 LEGO Friends Olivia's Mission Vehicle - 41333
<p>Head to Heartlake City Park in Olivia's Mission Vehicle-there's a cat who needs her help! Olivia and her robot Zobo have everything they need to make sure all is well in Heartlake City. Put Zobo in his rooftop control centre to monitor the situation, while Olivia sets up the ladder to rescue the little cat from the tree. When he's safe and sound, drive off to find Olivia's friends-there's room for them all inside!</p><ul><li>Suitable for 6 to 12 years</li><li>Includes an Olivia mini-doll figure, plus a buildable Zobo figure and a Vega the cat figure</li><li>Features a truck-style vehicle with rooftop control centre, computer, secret compartment and a removable roof with room inside for 5 mini-doll figures, plus a small park scene with a tree</li><li>Accessory elements include a Heartlake City Park map, ladder and a cookie</li><li>Jump into the mission vehicle with Olivia and Zobo, and rush to anyone who needs their help around Heartlake City</li><li>Use the ladder to rescue the little cat from the tree in Heartlake City Park</li><li>Help Zobo keep on top of any situation from his rooftop control centre</li><li>Lift off the control centre to discover the secret compartment under the roof of this popular kids' toy!</li><li>Olivia's mission vehicle - 13cm (L) x 10cm (H) x 5cm (W); Park scene - 3cm (H) x 3cm (W) x 4cm (D)</li><li>Combine with 41331 Stephanie's Soccer Practice, 41332 Emma's Art Stand, 41334 Andrea's Park Performance and 41335 Mia's Tree House for more fun in Heartlake City Park</li><li>Remove Zobo's control centre to park Olivia's mission vehicle in the garage of the 41340 Friendship House</li></ul>
---
Head to Heartlake City Park in Olivia's Mission Vehicle-there's a cat who needs her help! Olivia and her robot Zobo have everything they need to make sure all is well in Heartlake City. Put Zobo in his rooftop control centre to monitor the situation, while Olivia sets up the ladder to rescue the little cat from the tree. When he's safe and sound, drive off to find Olivia's friends-there's room for them all inside!
Suitable for 6 to 12 years
Includes an Olivia mini-doll figure, plus a buildable Zobo figure and a Vega the cat figure
Features a truck-style vehicle with rooftop control centre, computer, secret compartment and a removable roof with room inside for 5 mini-doll figures, plus a small park scene with a tree
Accessory elements include a Heartlake City Park map, ladder and a cookie
Jump into the mission vehicle with Olivia and Zobo, and rush to anyone who needs their help around Heartlake City
Use the ladder to rescue the little cat from the tree in Heartlake City Park
Help Zobo keep on top of any situation from his rooftop control centre
Lift off the control centre to discover the secret compartment under the roof of this popular kids' toy!
Olivia's mission vehicle - 13cm (L) x 10cm (H) x 5cm (W); Park scene - 3cm (H) x 3cm (W) x 4cm (D)
Combine with 41331 Stephanie's Soccer Practice, 41332 Emma's Art Stand, 41334 Andrea's Park Performance and 41335 Mia's Tree House for more fun in Heartlake City Park
Remove Zobo's control centre to park Olivia's mission vehicle in the garage of the 41340 Friendship House
Click & Collect
Order online and collect in-store.
Location

Cost

Ready for collection

Location

In selected stores
Cost

$3 packing fee
per order
$3 packing fee per order
Ready for collection

Within 24 hours
Delivery

We package up your order and deliver it to your door.
Location type

Standard delivery

Delivery timeframe

Metropolitan
$10
3-5 business days
Regional
$14
5-7 business days
Remote
From $16
7-14 business days
Big and bulky items (e.g. furniture, play equipment) will incur additional delivery charges beyond standard rates listed above.
You can see the actual cost of delivering your order by adding items to your Shopping Bag and proceeding to the Checkout.
Still have questions?
Please refer to Kmart FAQs
\
Check if this product is available at a store near you