partners
Our goals
Together we will create and foster strong partnerships with our suppliers around the globe fuelled by a common purpose: to deliver great product at the lowest prices without compromise to people or planet.
Our Partner goals are to:
Respect our partners
Deliver great value products without compromise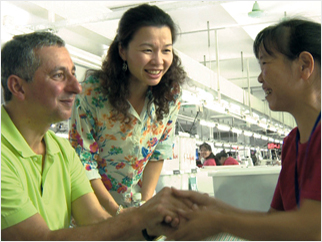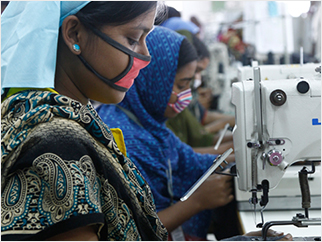 Our targets
By December 2020 we will partner with our key suppliers to enhance the voice, capabilities and quality of life of workers in our supply chain, including a special focus on women's empowerment.
Our approach
Respect our partners
We know that being ethical is more than just conducting factory audits; it's about a deep respect for our partners and commitment to working together to achieve long term improvements in performance and quality of life for all.
To achieve our goal, we have commenced the development of a factory worker quality of life plan, with worker empowerment at the heart of our strategy. With women accounting for a large proportion of our suppliers' factory workforce, we believe we have an added responsibility to ensure their voice is heard and to understand and respond to their needs.
Find out more about our ethical sourcing priority areas and progress including why we have joined a global partnership to respond to the challenge of living wage.
Find out more about our approach to ethical sourcing including our commitment to factory transparency.
Deliver great value products without compromise
We know our customers want great value products that meet their expectations for quality and the highest safety standards, while also minimising environmental impact.
This year, we made a commitment to improve the quality and safety of our products. As part of this commitment, 'quality' was made the key focus of Kmart's annual supplier conference, and a framework was developed to provide a foundation for our quality improvement programs.
As part of our plan, we are implementing systems and metrics to better measure and respond to customer needs, while maximising efficiencies and reducing waste through the supply chain. Enhancing the durability, feel and fit of our apparel ranges, and partnering with our suppliers to strengthen our quality assurance systems, is also a top priority.
Find out more information on our product quality and safety priorities and progress.
Kmart's People goals and targets are aligned to the UN Global Plan.
Achieve gender equality and empower all women and girls
End all forms of discrimination against all women and girls everywhere
Ensure women's full and effective participation and equal opportunities for leadership at all levels of decision making in political, economic and public life
Ensure sustainable consumption and production patterns
By 2030, achieve the sustainable management and efficient use of natural resources
By 2030, substantially reduce waste generation through prevention, reduction, recycling and reuse