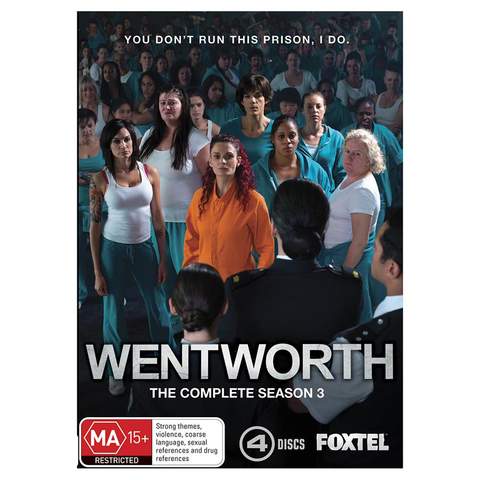 Wentworth: Season 3 - DVD
<p>Four months have passed since Bea Smith's bold escape and ruthless murder of Brayden Holt. Having returned to Wentworth Correctional Centre following her successful campaign to kill Brayden, Bea has assumed the mantle of Top Dog, hailed by all - including Franky Doyle herself - as a worthy successor. But things are set to heat up with Joan "The Freak" Ferguson realising Bea has played her, but she is determined to win the end game. Bea, meanwhile, has only one goal in mind to bring The Freak down. To achieve this, she will need the help of the women and ultimately some of Ferguson's trusted officers. Unlikely alliances will form in season three which will have charring consequences. As the season opens Bea is to be sentenced for Brayden's murder. Franky may no longer be Top Dog but she's not about to forget how Liz lagged on her, and Boomer is set make Liz pay. Doreen's baby bump is growing and Ferguson is watching her closely. While Vera's instincts are more adept to Ferguson's scheming, Will is none the wiser despite Fletch's apparent hit and run accident by the mysterious white van. Three diverse and provocative new characters are introduced this season played by acclaimed actresses Pia Miranda as inmate Jodie Spiteri; Libby Tanner as psychologist Bridget Westfall and Tammy MacIntosh as vigilante Karen Proctor. All three will impact the power play of the prison.</p><p></p><ul><li>Rated MA15+: Strong themes, violence, coarse language, sexual references and drug references</li><li>Includes: Season 3</li></ul>
---
Four months have passed since Bea Smith's bold escape and ruthless murder of Brayden Holt. Having returned to Wentworth Correctional Centre following her successful campaign to kill Brayden, Bea has assumed the mantle of Top Dog, hailed by all - including Franky Doyle herself - as a worthy successor. But things are set to heat up with Joan "The Freak" Ferguson realising Bea has played her, but she is determined to win the end game. Bea, meanwhile, has only one goal in mind to bring The Freak down. To achieve this, she will need the help of the women and ultimately some of Ferguson's trusted officers. Unlikely alliances will form in season three which will have charring consequences. As the season opens Bea is to be sentenced for Brayden's murder. Franky may no longer be Top Dog but she's not about to forget how Liz lagged on her, and Boomer is set make Liz pay. Doreen's baby bump is growing and Ferguson is watching her closely. While Vera's instincts are more adept to Ferguson's scheming, Will is none the wiser despite Fletch's apparent hit and run accident by the mysterious white van. Three diverse and provocative new characters are introduced this season played by acclaimed actresses Pia Miranda as inmate Jodie Spiteri; Libby Tanner as psychologist Bridget Westfall and Tammy MacIntosh as vigilante Karen Proctor. All three will impact the power play of the prison.
Rated MA15+: Strong themes, violence, coarse language, sexual references and drug references
Includes: Season 3
Click & Collect
Order online and collect in-store.
Location

Cost

Ready for collection

Location

In selected stores
Cost

$3 packing fee
per order
$3 packing fee per order
Ready for collection

Within 24 hours
Delivery

We package up your order and deliver it to your door.
Location type

Standard delivery

Delivery timeframe

Metropolitan
$10
3-5 business days
Regional
$14
5-7 business days
Remote
From $16
7-14 business days
Big and bulky items (e.g. furniture, play equipment) will incur additional delivery charges beyond standard rates listed above.
You can see the actual cost of delivering your order by adding items to your Shopping Bag and proceeding to the Checkout.
Still have questions?
Please refer to Kmart FAQs
\
Check if this product is available at a store near you