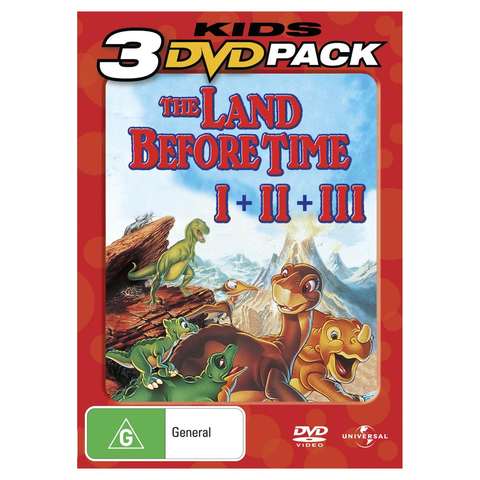 The Land Before Time I, II and III - DVD
<p>Land Before Time I: Embark on a journey into an enchanting prehistoric adventure with dinosaur pals Littlefoot, Cera, Spike, Ducky and Petrie in this acclaimed animated classic for the entire family. In a long-ago of rumbling volcanoes and perilous earthquakes, a young brachiosaurus named Littlefoot suddenly finds himself on his own. Setting out to find the lush feeding grounds of the legendary Great Valley, he meets up with four other young dinosaurs who agree to join his quest. On their daring trek across a landscape filled with excitement and danger, the brave little band encounters hungry predators and daunting challenges as they discover new lessons in life and the importance of teamwork.</p><p>Land Before Time II: Everybody's favourite prehistoric pals are back! Join Littlefoot, Cera, Spike, Ducky and Petrie in this delightful, feature-length movie. The enchanting tale continues in the beautiful, peaceful Great Valley where Littlefoot and his plant-eating friends live and play under the watchful eyes of their parents. But when mischievous Cera coaxes the group into the forbidden Mysterious Beyond, they soon find themselves in big trouble!</p><p>Land Before Time III: Join your favourite prehistoric pals, Littlefoot, Cera, Ducky, Spike and Petrie - plus three mischievous new dinosaurs - for another exciting adventure in The Land Before Time. A huge meteorite has plunged into the Great Valley, cutting off the water supply and causing tension among the once-peaceful dinosaurs. Eager to help, Littlefoot and his friends search for more water and find a large pool trapped between the Great Valley and the Mysterious Beyond, home of the dreaded Sharpteeth!</p><ul><li>Rated G: General</li><li>3 DVD set</li></ul>
---
Land Before Time I: Embark on a journey into an enchanting prehistoric adventure with dinosaur pals Littlefoot, Cera, Spike, Ducky and Petrie in this acclaimed animated classic for the entire family. In a long-ago of rumbling volcanoes and perilous earthquakes, a young brachiosaurus named Littlefoot suddenly finds himself on his own. Setting out to find the lush feeding grounds of the legendary Great Valley, he meets up with four other young dinosaurs who agree to join his quest. On their daring trek across a landscape filled with excitement and danger, the brave little band encounters hungry predators and daunting challenges as they discover new lessons in life and the importance of teamwork.
Land Before Time II: Everybody's favourite prehistoric pals are back! Join Littlefoot, Cera, Spike, Ducky and Petrie in this delightful, feature-length movie. The enchanting tale continues in the beautiful, peaceful Great Valley where Littlefoot and his plant-eating friends live and play under the watchful eyes of their parents. But when mischievous Cera coaxes the group into the forbidden Mysterious Beyond, they soon find themselves in big trouble!
Land Before Time III: Join your favourite prehistoric pals, Littlefoot, Cera, Ducky, Spike and Petrie - plus three mischievous new dinosaurs - for another exciting adventure in The Land Before Time. A huge meteorite has plunged into the Great Valley, cutting off the water supply and causing tension among the once-peaceful dinosaurs. Eager to help, Littlefoot and his friends search for more water and find a large pool trapped between the Great Valley and the Mysterious Beyond, home of the dreaded Sharpteeth!
Rated G: General
3 DVD set
Click & Collect
Order online and collect in-store.
Location

Cost

Ready for collection

Location

In selected stores
Cost

$3 packing fee
per order
$3 packing fee per order
Ready for collection

Within 24 hours
Delivery

We package up your order and deliver it to your door.
Location type

Standard delivery

Delivery timeframe

Metropolitan
$10
3-5 business days
Regional
$14
5-7 business days
Remote
From $16
7-14 business days
Big and bulky items (e.g. furniture, play equipment) will incur additional delivery charges beyond standard rates listed above.
You can see the actual cost of delivering your order by adding items to your Shopping Bag and proceeding to the Checkout.
Still have questions?
Please refer to Kmart FAQs
\
Check if this product is available at a store near you