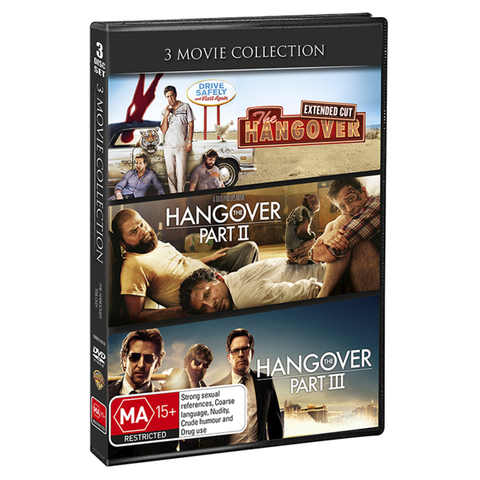 The Hangover Movie Collection - DVD
<p>The Hangover: Two days before his wedding, Doug (Justin Bartha) and three friends (Bradley Cooper, Ed Helms, Zach Galifianakis) drive to Las Vegas for a wild and memorable stag party. In fact, when the three groomsmen wake up the next morning, they can't remember a thing; nor can they find Doug. With little time to spare, the three hazy pals try to re-trace their steps and find Doug so they can get him back to Los Angeles in time to walk down the aisle.</p><p>The Hangover Part II: Two years after the disastrous events in Las Vegas, it is now Stu's (Ed Helms) turn to walk down the aisle. Since his bride is from Thailand, Stu decides to hold the wedding there. Desperately hoping to avoid the mayhem of Doug's (Justin Bartha) bachelor party, Stu chooses what he thinks will be a safe option: an alcohol-free, prewedding brunch. But this being Thailand, and with Phil (Bradley Cooper) and Alan (Zach Galifianakis) again in attendance, anything can happen.</p><p>The Hangover Part III: It's been two years since the gang known as the Wolfpack narrowly escaped disaster in Bangkok. Now, Phil (Bradley Cooper), Stu (Ed Helms) and Doug (Justin Bartha) have happy lives at home - but Alan (Zach Galifianakis) doesn't. Still lacking contentment and a sense of purpose, Alan has gone off his meds and surrendered to his natural impulses. It's up to the other members of the Wolfpack to get him through his personal crisis by embarking on a road trip to the place it all began: Las Vegas.</p><ul><li>Rated MA15+: Strong sexual references, coarse language, nudity, crude humour and drug use</li></ul>
---
The Hangover: Two days before his wedding, Doug (Justin Bartha) and three friends (Bradley Cooper, Ed Helms, Zach Galifianakis) drive to Las Vegas for a wild and memorable stag party. In fact, when the three groomsmen wake up the next morning, they can't remember a thing; nor can they find Doug. With little time to spare, the three hazy pals try to re-trace their steps and find Doug so they can get him back to Los Angeles in time to walk down the aisle.
The Hangover Part II: Two years after the disastrous events in Las Vegas, it is now Stu's (Ed Helms) turn to walk down the aisle. Since his bride is from Thailand, Stu decides to hold the wedding there. Desperately hoping to avoid the mayhem of Doug's (Justin Bartha) bachelor party, Stu chooses what he thinks will be a safe option: an alcohol-free, prewedding brunch. But this being Thailand, and with Phil (Bradley Cooper) and Alan (Zach Galifianakis) again in attendance, anything can happen.
The Hangover Part III: It's been two years since the gang known as the Wolfpack narrowly escaped disaster in Bangkok. Now, Phil (Bradley Cooper), Stu (Ed Helms) and Doug (Justin Bartha) have happy lives at home - but Alan (Zach Galifianakis) doesn't. Still lacking contentment and a sense of purpose, Alan has gone off his meds and surrendered to his natural impulses. It's up to the other members of the Wolfpack to get him through his personal crisis by embarking on a road trip to the place it all began: Las Vegas.
Rated MA15+: Strong sexual references, coarse language, nudity, crude humour and drug use
Click & Collect
Order online and collect in-store.
Location

Cost

Ready for collection

Location

In selected stores
Cost

$3 packing fee
per order
$3 packing fee per order
Ready for collection

Within 24 hours
Delivery

We package up your order and deliver it to your door.
Location type

Standard delivery

Delivery timeframe

Metropolitan
$10
3-5 business days
Regional
$14
5-7 business days
Remote
From $16
7-14 business days
Big and bulky items (e.g. furniture, play equipment) will incur additional delivery charges beyond standard rates listed above.
You can see the actual cost of delivering your order by adding items to your Shopping Bag and proceeding to the Checkout.
Still have questions?
Please refer to Kmart FAQs
\
Check if this product is available at a store near you