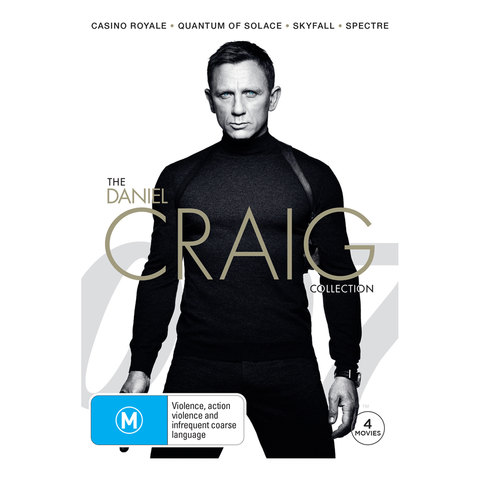 The Daniel Craig Collection - DVD
<p>Spectre: A cryptic message from the past sends James Bond on a rogue mission to Mexico City and eventually Rome, where he meets Lucia Sciarra, the beautiful and forbidden widow of an infamous criminal. As Bond ventures towards the heart of Spectre, he learns of a chilling connection between himself and the enemy he seeks.</p> <p>Skyfall: Bond's loyalty to M is tested as her past comes back to haunt her. As MI6 comes under attack, 007 must track down and destroy the threat, no matter how personal the cost.</p> <p>Quantum of Solace: Betrayed by the woman he loved, 007 fights the urge to make his latest mission personal. When Bond uncovers a conspiracy to take control of one of the world's most important natural resources, he must navigate a minefield of treachery, deception and murder to neutralise Greene before it's too late!</p> <p>Casino Royale: M, head of the British Secret Service, sends the newly promoted 007 on his first mission to face Le Chiffre, a ruthless financier attempting to recapture funds in a high-stakes poker game at the Casino Royale. When Bond is placed under the watchful eye of the treasury official Vesper Lynd, his initial scepticism of her turns into a deepening interest as Le Chiffre's cunning and cruelty come to bear on them both in a way Bond could never imagine, and he learns his most important lesson: Trust no one.</p></p><ul><li>Genre: Crime, espionage</li><li>Actors: Daniel Craig, Monica Bellucci, Naomie Harris, Judi Dench and Jesper Christensen</li><li>Year of release: 2006 (Casino Royale), 2008 (Quantum Solace), 2012 (Skyfall) and 2015 (Spectre)</li><li>4 movie set</li><li>Rated M: Violence, action violence and infrequent coarse language</li></ul>
---
Spectre: A cryptic message from the past sends James Bond on a rogue mission to Mexico City and eventually Rome, where he meets Lucia Sciarra, the beautiful and forbidden widow of an infamous criminal. As Bond ventures towards the heart of Spectre, he learns of a chilling connection between himself and the enemy he seeks.
Skyfall: Bond's loyalty to M is tested as her past comes back to haunt her. As MI6 comes under attack, 007 must track down and destroy the threat, no matter how personal the cost.
Quantum of Solace: Betrayed by the woman he loved, 007 fights the urge to make his latest mission personal. When Bond uncovers a conspiracy to take control of one of the world's most important natural resources, he must navigate a minefield of treachery, deception and murder to neutralise Greene before it's too late!
Casino Royale: M, head of the British Secret Service, sends the newly promoted 007 on his first mission to face Le Chiffre, a ruthless financier attempting to recapture funds in a high-stakes poker game at the Casino Royale. When Bond is placed under the watchful eye of the treasury official Vesper Lynd, his initial scepticism of her turns into a deepening interest as Le Chiffre's cunning and cruelty come to bear on them both in a way Bond could never imagine, and he learns his most important lesson: Trust no one.
Genre: Crime, espionage
Actors: Daniel Craig, Monica Bellucci, Naomie Harris, Judi Dench and Jesper Christensen
Year of release: 2006 (Casino Royale), 2008 (Quantum Solace), 2012 (Skyfall) and 2015 (Spectre)
4 movie set
Rated M: Violence, action violence and infrequent coarse language
Click & Collect
Order online and collect in-store.
Location

Cost

Ready for collection

Location

In selected stores
Cost

$3 packing fee
per order
$3 packing fee per order
Ready for collection

Within 24 hours
Delivery

We package up your order and deliver it to your door.
Location type

Standard delivery

Delivery timeframe

Metropolitan
$10
3-5 business days
Regional
$14
5-7 business days
Remote
From $16
7-14 business days
Big and bulky items (e.g. furniture, play equipment) will incur additional delivery charges beyond standard rates listed above.
You can see the actual cost of delivering your order by adding items to your Shopping Bag and proceeding to the Checkout.
Still have questions?
Please refer to Kmart FAQs
\
Check if this product is available at a store near you