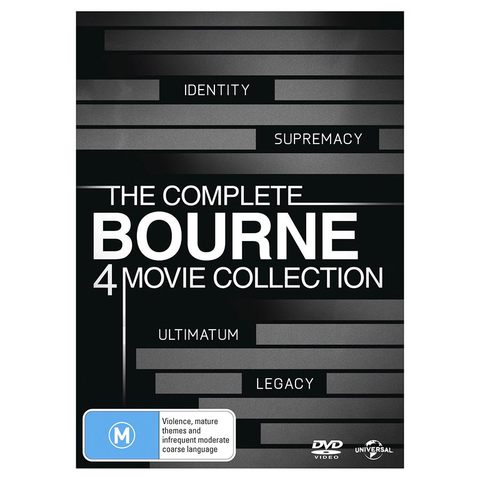 The Complete Bourne Movie Collection - 4 DVD Box Set
<p>Found with two bullets in his back, Jason Bourne discovers he has the skills of a very dangerous man and no memory of his violent past. The Bourne Identity follows Bourne as he discovers the deadly truth: he's an elite government agent, a 30 million dollar weapon the government no longer trusts. In The Bourne Supremacy, suffering from amnesia, Bourne has left his violent past behind and is living a normal life with girlfriend Marie. But his plans for a peaceful life are crushed when he narrowly escapes an assassination attempt. Now hunted by an unknown enemy, Bourne proves to be neither an easy target nor a person whose skill, determination and resilience can be underestimated. In The Bourne Ultimatum, having lost his memory and the one person he loved, Jason Bourne is undeterred by the barrage of bullets from a new generation of highly-trained killers, who are tracking his every move and will stop at nothing to prevent him from learning his true identity. Finally, The Bourne Legacy takes the action-packed Bourne series to an explosive new level. On the verge of having their conspiracy exposed, members of the government's intelligence community will stop at nothing to erase all evidence of their top secret programs - even the agents involved. Aaron Cross (Jeremy Renner) must use his genetically-engineered skills to survive the ultimate game of cat-and-mouse and finish what Jason Bourne started.</p><ul><li>Rated M</li></ul>
---
Found with two bullets in his back, Jason Bourne discovers he has the skills of a very dangerous man and no memory of his violent past. The Bourne Identity follows Bourne as he discovers the deadly truth: he's an elite government agent, a 30 million dollar weapon the government no longer trusts. In The Bourne Supremacy, suffering from amnesia, Bourne has left his violent past behind and is living a normal life with girlfriend Marie. But his plans for a peaceful life are crushed when he narrowly escapes an assassination attempt. Now hunted by an unknown enemy, Bourne proves to be neither an easy target nor a person whose skill, determination and resilience can be underestimated. In The Bourne Ultimatum, having lost his memory and the one person he loved, Jason Bourne is undeterred by the barrage of bullets from a new generation of highly-trained killers, who are tracking his every move and will stop at nothing to prevent him from learning his true identity. Finally, The Bourne Legacy takes the action-packed Bourne series to an explosive new level. On the verge of having their conspiracy exposed, members of the government's intelligence community will stop at nothing to erase all evidence of their top secret programs - even the agents involved. Aaron Cross (Jeremy Renner) must use his genetically-engineered skills to survive the ultimate game of cat-and-mouse and finish what Jason Bourne started.
Click & Collect
Order online and collect in-store.
Location

Cost

Ready for collection

Location

In selected stores
Cost

$3 packing fee
per order
$3 packing fee per order
Ready for collection

Within 24 hours
Delivery

We package up your order and deliver it to your door.
Location type

Standard delivery

Delivery timeframe

Metropolitan
$10
3-5 business days
Regional
$14
5-7 business days
Remote
$16
7-14 business days
Christmas orders
Order by 15th December for metro areas or 11th December for all other areas to receive your items before Christmas. Orders placed after these dates may not arrive before Christmas.
Additional costs for large and heavy orders
Big and bulky items (e.g. furniture, play equipment) will incur additional delivery charges beyond standard rates listed above.
You can see the actual cost of delivering your order by adding items to your Shopping Bag and proceeding to the Checkout.
Still have questions?
Please refer to Kmart FAQs
\
Check if this product is available at a store near you