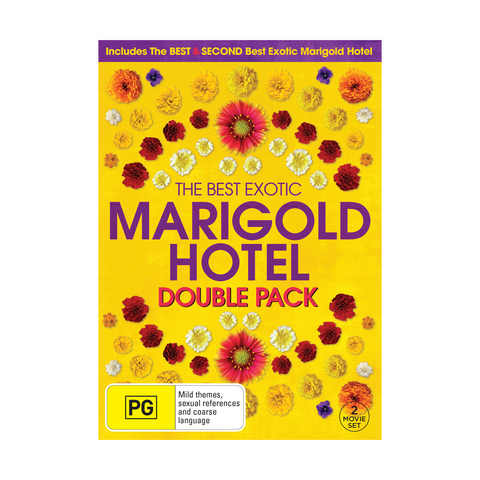 The Best Exotic Marigold Hotel Double Pack - DVD
<p>The Best Exotic Marigold Hotel - A group of British retirees travel to India to take up residence in what they believe is a newly restored hotel. Less luxurious than its advertisements, they are forever transformed by their shared experiences, discovering that life and love can begin again when you begin let go of the past.</p><p>The Second Best Exotic Marigold Hotel - The expansionist dream of Sonny (Dev Patel) and his imminent marriage to the love of his life, Sunaina (Tina Desai). Sonny has his eye on a promising property now that his first venture, The Best Exotic Marigold Hotel for the Elderly and Beautiful, has only a single remaining vacancy - posing a rooming predicament for fresh arrivals Guy (Richard Gere) and Lavinia (Tamsin Greig). Evelyn and Douglas (Judi Dench and Bill Nighy) have now joined the Jaipur workforce, while Norman and Carol (Ronald Pickup and Diana Hardcastle) are negotiating the tricky waters of an exclusive relationship, as Madge (Celia Imrie) juggles two eligible and very wealthy suitors. Perhaps the only one who may know the answers is newly installed co-manager of the hotel, Muriel (Maggie Smith), the keeper of everyone's secrets.</p><ul><li>Genre: Comedy and drama</li><li>Actors: Judi Dench, Bill Nighy, Richard Gere, Dev Patel, Penelope Wilton, Celia Imrie, Ronald Pickup, Tina Desai</li><li>2 movie disc set</li><li>Includes The Best Exotic Marigold Hotel and The Second Best Exotic Marigold Hotel</li><li>Rated PG: Mild themes, sexual references and coarse language</li></ul>
---
The Best Exotic Marigold Hotel - A group of British retirees travel to India to take up residence in what they believe is a newly restored hotel. Less luxurious than its advertisements, they are forever transformed by their shared experiences, discovering that life and love can begin again when you begin let go of the past.
The Second Best Exotic Marigold Hotel - The expansionist dream of Sonny (Dev Patel) and his imminent marriage to the love of his life, Sunaina (Tina Desai). Sonny has his eye on a promising property now that his first venture, The Best Exotic Marigold Hotel for the Elderly and Beautiful, has only a single remaining vacancy - posing a rooming predicament for fresh arrivals Guy (Richard Gere) and Lavinia (Tamsin Greig). Evelyn and Douglas (Judi Dench and Bill Nighy) have now joined the Jaipur workforce, while Norman and Carol (Ronald Pickup and Diana Hardcastle) are negotiating the tricky waters of an exclusive relationship, as Madge (Celia Imrie) juggles two eligible and very wealthy suitors. Perhaps the only one who may know the answers is newly installed co-manager of the hotel, Muriel (Maggie Smith), the keeper of everyone's secrets.
Genre: Comedy and drama
Actors: Judi Dench, Bill Nighy, Richard Gere, Dev Patel, Penelope Wilton, Celia Imrie, Ronald Pickup, Tina Desai
2 movie disc set
Includes The Best Exotic Marigold Hotel and The Second Best Exotic Marigold Hotel
Rated PG: Mild themes, sexual references and coarse language
Click & Collect
Order online and collect in-store.
Location

Cost

Ready for collection

Location

In selected stores
Cost

$3 packing fee
per order
$3 packing fee per order
Ready for collection

Within 24 hours
Delivery

We package up your order and deliver it to your door.
Location type

Standard delivery

Delivery timeframe

Metropolitan
$10
3-5 business days
Regional
$14
5-7 business days
Remote
From $16
7-14 business days
Big and bulky items (e.g. furniture, play equipment) will incur additional delivery charges beyond standard rates listed above.
You can see the actual cost of delivering your order by adding items to your Shopping Bag and proceeding to the Checkout.
Still have questions?
Please refer to Kmart FAQs
\
Check if this product is available at a store near you