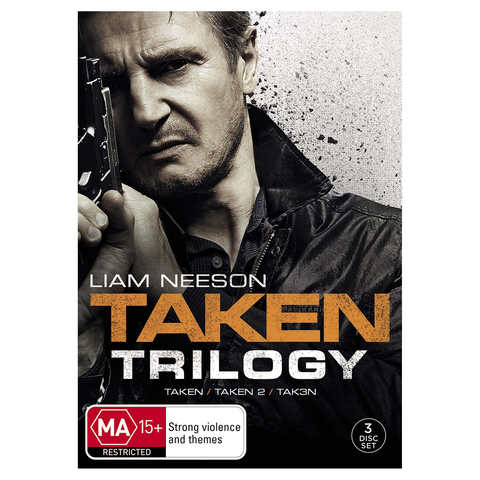 <p>Taken: Bryan Mills (Liam Neeson), a former government operative, is trying to reconnect with his daughter, Kim (Maggie Grace). Then his worst fears become real when sex slavers abduct Kim and her friend shortly after they arrive in Paris for vacation. With just four days until Kim will be auctioned off, Bryan must call on every skill he learned in black ops to rescue her.</p><p>Taken 2:Â Two years ago, retired CIA agent Bryan Mills used his 'particular set of skills' to rescue his daughter, Kim, from kidnappers. Since then, Kim has been learning self-defense from her father and Bryan has been on a personal mission to reunite with his ex-wife (Famke Janssen). In Istanbul, Bryan and his family cross paths with Murad (Rade Serbedzija), whose son died at Bryan's hand during Kim's rescue. Murad wants revenge, and he'll stop at nothing to get it.</p><p>Taken 3:Â Ex-covert operative Bryan Mills and his ex-wife, Lenore, are enjoying a reconciliation when Lenore is brutally murdered. Bryan is framed for the crime and flees, with the CIA, FBI and police all in hot pursuit. For the last time, he channels his rage and particular set of skills into hunting down Lenore's real killers, taking his revenge and protecting the one important thing left in his life: his daughter, Kim.</p><ul><li>MA15+ - Strong violence and themes</li><li>Starring Liam Neeson, Maggie Grace, Famke Janssen, Leland Orser, Jon Gries and David Warshofsky</li><li>Directed by Pierre Morel (1) and Olivier Megaton (23)</li><li>Includes Taken, Taken 2, Taken 3</li><li>3 DVD set</li></ul>
---
Taken: Bryan Mills (Liam Neeson), a former government operative, is trying to reconnect with his daughter, Kim (Maggie Grace). Then his worst fears become real when sex slavers abduct Kim and her friend shortly after they arrive in Paris for vacation. With just four days until Kim will be auctioned off, Bryan must call on every skill he learned in black ops to rescue her.
Taken 2:Â Two years ago, retired CIA agent Bryan Mills used his 'particular set of skills' to rescue his daughter, Kim, from kidnappers. Since then, Kim has been learning self-defense from her father and Bryan has been on a personal mission to reunite with his ex-wife (Famke Janssen). In Istanbul, Bryan and his family cross paths with Murad (Rade Serbedzija), whose son died at Bryan's hand during Kim's rescue. Murad wants revenge, and he'll stop at nothing to get it.
Taken 3:Â Ex-covert operative Bryan Mills and his ex-wife, Lenore, are enjoying a reconciliation when Lenore is brutally murdered. Bryan is framed for the crime and flees, with the CIA, FBI and police all in hot pursuit. For the last time, he channels his rage and particular set of skills into hunting down Lenore's real killers, taking his revenge and protecting the one important thing left in his life: his daughter, Kim.
MA15+ - Strong violence and themes
Starring Liam Neeson, Maggie Grace, Famke Janssen, Leland Orser, Jon Gries and David Warshofsky
Directed by Pierre Morel (1) and Olivier Megaton (23)
Includes Taken, Taken 2, Taken 3
3 DVD set
Click & Collect
Order online and collect in-store.
Location

Cost

Ready for collection

Location

In selected stores
Cost

$3 packing fee
per order
$3 packing fee per order
Ready for collection

Within 24 hours
Delivery

We package up your order and deliver it to your door.
Location type

Standard delivery

Delivery timeframe

Metropolitan
$10
3-5 business days
Regional
$14
5-7 business days
Remote
$16
7-14 business days
Additional costs for large and heavy orders
Big and bulky items (e.g. furniture, play equipment) will incur additional delivery charges beyond standard rates listed above.
You can see the actual cost of delivering your order by adding items to your Shopping Bag and proceeding to the Checkout.
Still have questions?
Please refer to Kmart FAQs
Check if this product is available at a store near you