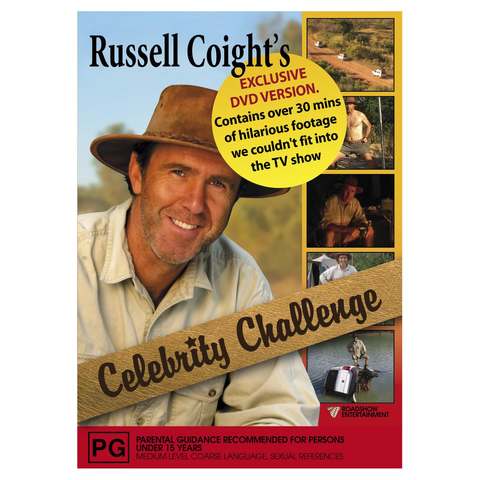 Russell Coight's Celebrity Challenge - DVD
<p>Gday, I'm Russell Coight and not long ago I had a dream. About a wombat that could swim under water and bite through metal. I pitched the concept to a Sydney-based film production company but they're yet to return my calls. But not long after that I had another dream. This dream involved taking a bunch of high-profile Aussies across the outback on a fund-raising challenge. Sure, a lot of people scoffed. Some said I was mad, that I had a few roos loose in the top paddock. I even heard the trip described as the ploy of a fading ex-celebrity desperate to get back on the telly which, coming from someone who's supposed to be my manager, was a little disappointing. But I wasn't about to give up. That's not the Russell Coight way. So, over the next few months I got busy. Organising sponsors, sorting out gear and tracking down some of the biggest names in the entertainment industry. I'll be honest, it wasn't easy. But I've never forgotten the words my 87-year-oldd grandmother once said to me. Russ, you'll never get anywhere without taking a risk. That night she tunnelled her way out of an Alice Springs correctional facility and has not been seen since. If Nanna could do it, so could I. And so I persisted and, after a lot of hard work, not to mention a few knock-backs, we were ready to go. The plan - coast to coast in just 7 days (not counting toilet stops).</p><ul><li>Rated PG: Medium level coarse language, Sexual references</li></ul>
---
Gday, I'm Russell Coight and not long ago I had a dream. About a wombat that could swim under water and bite through metal. I pitched the concept to a Sydney-based film production company but they're yet to return my calls. But not long after that I had another dream. This dream involved taking a bunch of high-profile Aussies across the outback on a fund-raising challenge. Sure, a lot of people scoffed. Some said I was mad, that I had a few roos loose in the top paddock. I even heard the trip described as the ploy of a fading ex-celebrity desperate to get back on the telly which, coming from someone who's supposed to be my manager, was a little disappointing. But I wasn't about to give up. That's not the Russell Coight way. So, over the next few months I got busy. Organising sponsors, sorting out gear and tracking down some of the biggest names in the entertainment industry. I'll be honest, it wasn't easy. But I've never forgotten the words my 87-year-oldd grandmother once said to me. Russ, you'll never get anywhere without taking a risk. That night she tunnelled her way out of an Alice Springs correctional facility and has not been seen since. If Nanna could do it, so could I. And so I persisted and, after a lot of hard work, not to mention a few knock-backs, we were ready to go. The plan - coast to coast in just 7 days (not counting toilet stops).
Rated PG: Medium level coarse language, Sexual references
Click & Collect
Order online and collect in-store.
Location

Cost

Ready for collection

Location

In selected stores
Cost

$3 packing fee
per order
$3 packing fee per order
Ready for collection

Within 24 hours
Delivery

We package up your order and deliver it to your door.
Location type

Standard delivery

Delivery timeframe

Metropolitan
$10
3-5 business days
Regional
$14
5-7 business days
Remote
$16
7-14 business days
Christmas orders
Order by 15th December for metro areas or 11th December for all other areas to receive your items before Christmas. Orders placed after these dates may not arrive before Christmas.
Additional costs for large and heavy orders
Big and bulky items (e.g. furniture, play equipment) will incur additional delivery charges beyond standard rates listed above.
You can see the actual cost of delivering your order by adding items to your Shopping Bag and proceeding to the Checkout.
Still have questions?
Please refer to Kmart FAQs
\
Check if this product is available at a store near you