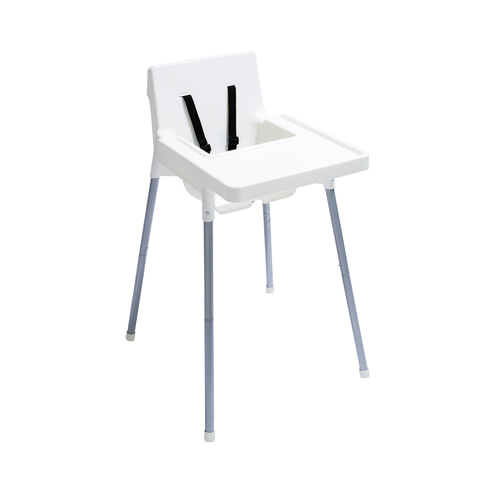 A secure and hygienic solution to meal times, this high chair features a robust seat and tough tray which can be removed for easy cleaning. The high chair with harness also features anti-slip feet pads for additional safety.<ul><li>Suitable for ages: 6-36 months</li><li>Max. load capacity: 18kg</li><li>Made of plastic, steel (tube frame) and nylon (belt)</li><li>5 point adjustable safety harness</li><li>Easy to disassemble for storage</li><li>Anti-slip feet pads</li><li>Removable tray with fully wipeable surfaces</li><li>Clean according to instructions on the care label</li><li>Dimensions: 92cm (H) x 56cm (W) x 56cm (D)</li><li>Colour: White</li><li>Warning: Adult assembly required. Follow usage instructions carefully.</li></ul><b>Some useful tips:</b><ul><li>Do not use the high chair unless all components are correctly fitted and adjusted</li><li>Use only on a flat, even and horizontal floor. Do not elevate the high chair on any structure or table</li><li>To reduce the risk of injury, position the high chair away from furniture, walls, hot surfaces and liquids, window covering cords, and electrical cords</li><li>Be aware of the risk of open fire and other sources of strong heat, such as electric bar fires, gas fires etc. in the vicinity of the high chair</li><li>Do not use the high chair until the child can sit up unaided</li><li>If the high chair is not working correctly, do not use and seek repair</li></ul><CRLF><a href="http://www.kmart.com.au/wcsstore/Kmart/pdfs/42268536 _Manual.pdf" target="_blank"><b>Instruction Manual</b></a><CRLF>
---
A secure and hygienic solution to meal times, this high chair features a robust seat and tough tray which can be removed for easy cleaning. The high chair with harness also features anti-slip feet pads for additional safety.
Suitable for ages: 6-36 months
Max. load capacity: 18kg
Made of plastic, steel (tube frame) and nylon (belt)
5 point adjustable safety harness
Easy to disassemble for storage
Anti-slip feet pads
Removable tray with fully wipeable surfaces
Clean according to instructions on the care label
Dimensions: 92cm (H) x 56cm (W) x 56cm (D)
Colour: White
Warning: Adult assembly required. Follow usage instructions carefully.
Some useful tips:
Do not use the high chair unless all components are correctly fitted and adjusted
Use only on a flat, even and horizontal floor. Do not elevate the high chair on any structure or table
To reduce the risk of injury, position the high chair away from furniture, walls, hot surfaces and liquids, window covering cords, and electrical cords
Be aware of the risk of open fire and other sources of strong heat, such as electric bar fires, gas fires etc. in the vicinity of the high chair
Do not use the high chair until the child can sit up unaided
If the high chair is not working correctly, do not use and seek repair
Instruction Manual
Click & Collect
Order online and collect in-store.
Location

Cost

Ready for collection

Location

In selected stores
Cost

$3 packing fee
per order
$3 packing fee per order
Ready for collection

Within 24 hours
Delivery

We package up your order and deliver it to your door.
Location type

Standard delivery

Delivery timeframe

Metropolitan
$10
3-5 business days
Regional
$14
5-7 business days
Remote
From $16
7-14 business days
Big and bulky items (e.g. furniture, play equipment) will incur additional delivery charges beyond standard rates listed above.
You can see the actual cost of delivering your order by adding items to your Shopping Bag and proceeding to the Checkout.
Still have questions?
Please refer to Kmart FAQs
\
Check if this product is available at a store near you