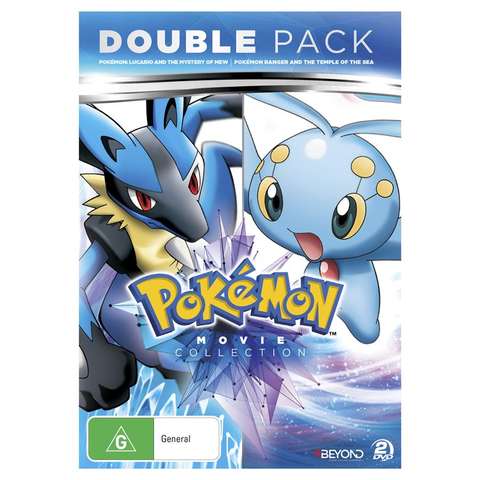 Pokemon Movie Collection - DVD
<p>In Pokemon: Ranger And The Temple Of The Sea, somewhere in this world, there exists a Sea Temple created by the People of the Water that has a hidden treasure called the Sea Crown. Ash and Pikachu meet Lizabeth, a descendant of the People of the Water, and learn about the legend. They also meet Jackie, a Pokemon Ranger on a secret mission to protect a Manaphy egg, and find the Sea Temple as well. However, The Phantom plans to obtain the Sea Crown and take over the world - but first he needs the Manaphy egg! But what exactly is the Sea Crown? And how does Manaphy's mysterious power connect it to the Sea Temple? Join Ash and his friends for another exciting Pokemon movie adventure!</p><p>In Pokemon: Lucario And The Mystery Of Mew, when a disastrous Pokemon War threatens a peaceful ancient kingdom, a mighty warrior hero, Aaron, rushes to the Tree of Beginning - dwelling place of the legendary Mew. With the help of Lucario, his Pokemon companion, Aaron saves the kingdom from destruction and restores peace amongst Humans and Pokemon. In the present day, Ash and his friends Pikachu, Brock, May and Max are travelling through the countryside when they arrive at Camaron Palace. A celebration of the deeds of Aaron is underway.During the party, an adventurer named Kid Summers tries capture Mew, and Pikachu is injured. Mew flees, taking Pikachu with it. Determined to find his Pokemon friend, Ash enlists the help of Lucario, who has escaped from Aaron's staff, and embarks on an epic journey to follow Mew to the Tree of Beginning, rescue Pikachu, and uncover a centuries-old mystery.</p><ul><li>Rated G: General</li><li>2 DVD set</li></ul>
---
In Pokemon: Ranger And The Temple Of The Sea, somewhere in this world, there exists a Sea Temple created by the People of the Water that has a hidden treasure called the Sea Crown. Ash and Pikachu meet Lizabeth, a descendant of the People of the Water, and learn about the legend. They also meet Jackie, a Pokemon Ranger on a secret mission to protect a Manaphy egg, and find the Sea Temple as well. However, The Phantom plans to obtain the Sea Crown and take over the world - but first he needs the Manaphy egg! But what exactly is the Sea Crown? And how does Manaphy's mysterious power connect it to the Sea Temple? Join Ash and his friends for another exciting Pokemon movie adventure!
In Pokemon: Lucario And The Mystery Of Mew, when a disastrous Pokemon War threatens a peaceful ancient kingdom, a mighty warrior hero, Aaron, rushes to the Tree of Beginning - dwelling place of the legendary Mew. With the help of Lucario, his Pokemon companion, Aaron saves the kingdom from destruction and restores peace amongst Humans and Pokemon. In the present day, Ash and his friends Pikachu, Brock, May and Max are travelling through the countryside when they arrive at Camaron Palace. A celebration of the deeds of Aaron is underway.During the party, an adventurer named Kid Summers tries capture Mew, and Pikachu is injured. Mew flees, taking Pikachu with it. Determined to find his Pokemon friend, Ash enlists the help of Lucario, who has escaped from Aaron's staff, and embarks on an epic journey to follow Mew to the Tree of Beginning, rescue Pikachu, and uncover a centuries-old mystery.
Rated G: General
2 DVD set
Click & Collect
Order online and collect in-store.
Location

Cost

Ready for collection

Location

In selected stores
Cost

$3 packing fee
per order
$3 packing fee per order
Ready for collection

Within 24 hours
Delivery

We package up your order and deliver it to your door.
Location type

Standard delivery

Delivery timeframe

Metropolitan
$10
3-5 business days
Regional
$14
5-7 business days
Remote
$16
7-14 business days
Additional costs for large and heavy orders
Big and bulky items (e.g. furniture, play equipment) will incur additional delivery charges beyond standard rates listed above.
You can see the actual cost of delivering your order by adding items to your Shopping Bag and proceeding to the Checkout.
Still have questions?
Please refer to Kmart FAQs
Check if this product is available at a store near you