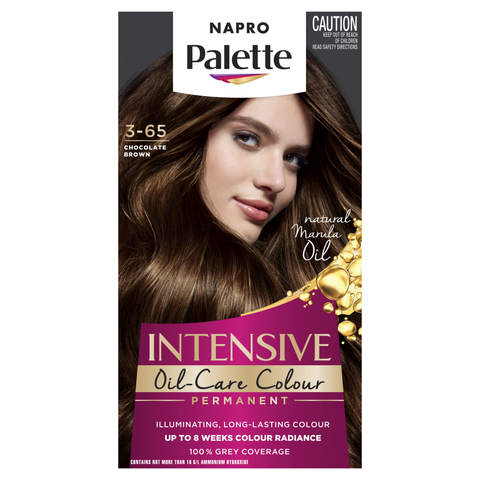 Napro 3-65 Chocolate Brown Palette Intensive Creme Colour
<p>Napro Palette Intensive Creme Colour provides rich, long-lasting colour, deep nourishment for intense shine and perfect grey coverage.</p><ul><li>Intensive creme colour</li><li>Permanent</li><li>Rich, long-lasting colour</li><li>Deep nourishment for intense shine</li><li>Perfect grey coverage</li><li>With micro oils</li><li>20% natural oil</li><li>Contains not more than 16 G/L ammonium hydroxide</li><li>Ingredients:<ul><li>Colour Creme: Aqua (Water, Eau), Cetearyl Alcohol, Ammonium Hydroxide, Glyceryl Stearate, Prunus Amygdalus Dulcis (Sweet Almond) Oil, Ceteareth-20, Toluene-2, 5-Diamine Sulfate, Octyldodecanol, Sodium Laureth Sulfate, Ethanolamine, Parfum (Fragrance), Sodium Cetearyl Sulfate, 2-Methylrescorcinol, Resorcinol, Oleic Acid, Sodium Sulfite, Potassium Stearate, Glycerin, Tetrasodium EDTA, m-Aminophenol, Carbomer, Potassium Hydroxide, Serine, Ascorbic Acid, Sodium Sulfate, Linalool, 2-Amino-3-Hydroxypyridine, Benzoic Acid. Developer Emulsion: Aqua (Water, Eau), Hydrogen Peroxide, Cetearyl Alcohol, PEG-40 Castor Oil, Disodium Pyrophosphate, Sodium Cetearyl Sulfate, Disodium EDTA, Sodium Benzoate, Phosphoric Acid.</li><li>Rich Care Conditioner: Aqua (Water, Eau), Cetearyl Alcohol, Quaternium-87, Argania Spinosa Kernel Oil, Prunus Armeniaca (Apricot) Kernel Oil, Panthenol, Propylene Glycol, Isopropyl Myristate, Distearoylethyl Hydroxyethylmonium Methosulfate, Citric Acid, Stearamidopropyl Dimethylamine, Phenoxyethanol, Polyquaternium-37, Ceteareth-20, Glyceryl Stearate, Sodium Methylparaben, Dicaprylyl Carbonate, Parfum (Fragrance), Lauryl Glucoside.</li></ul></li><li>Colour: Chocolate brown</li><li>Warning: For external use only. Avoid contact with eyes. In the unlikely event of irritation, please discontinue use. If necessary, consult your healthcare practitioner.</li></ul><p>Disclaimer: All efforts have been made to ensure that the ingredient list for this product is correct, complete and up-to-date</p>
---
Napro Palette Intensive Creme Colour provides rich, long-lasting colour, deep nourishment for intense shine and perfect grey coverage.
Intensive creme colour
Permanent
Rich, long-lasting colour
Deep nourishment for intense shine
Perfect grey coverage
With micro oils
20% natural oil
Contains not more than 16 G/L ammonium hydroxide
Ingredients:

Colour Creme: Aqua (Water, Eau), Cetearyl Alcohol, Ammonium Hydroxide, Glyceryl Stearate, Prunus Amygdalus Dulcis (Sweet Almond) Oil, Ceteareth-20, Toluene-2, 5-Diamine Sulfate, Octyldodecanol, Sodium Laureth Sulfate, Ethanolamine, Parfum (Fragrance), Sodium Cetearyl Sulfate, 2-Methylrescorcinol, Resorcinol, Oleic Acid, Sodium Sulfite, Potassium Stearate, Glycerin, Tetrasodium EDTA, m-Aminophenol, Carbomer, Potassium Hydroxide, Serine, Ascorbic Acid, Sodium Sulfate, Linalool, 2-Amino-3-Hydroxypyridine, Benzoic Acid. Developer Emulsion: Aqua (Water, Eau), Hydrogen Peroxide, Cetearyl Alcohol, PEG-40 Castor Oil, Disodium Pyrophosphate, Sodium Cetearyl Sulfate, Disodium EDTA, Sodium Benzoate, Phosphoric Acid.
Rich Care Conditioner: Aqua (Water, Eau), Cetearyl Alcohol, Quaternium-87, Argania Spinosa Kernel Oil, Prunus Armeniaca (Apricot) Kernel Oil, Panthenol, Propylene Glycol, Isopropyl Myristate, Distearoylethyl Hydroxyethylmonium Methosulfate, Citric Acid, Stearamidopropyl Dimethylamine, Phenoxyethanol, Polyquaternium-37, Ceteareth-20, Glyceryl Stearate, Sodium Methylparaben, Dicaprylyl Carbonate, Parfum (Fragrance), Lauryl Glucoside.

Colour: Chocolate brown
Warning: For external use only. Avoid contact with eyes. In the unlikely event of irritation, please discontinue use. If necessary, consult your healthcare practitioner.
Disclaimer: All efforts have been made to ensure that the ingredient list for this product is correct, complete and up-to-date
Click & Collect
Order online and collect in-store.
Location

Cost

Ready for collection

Location

In selected stores
Cost

$3 packing fee
per order
$3 packing fee per order
Ready for collection

Within 24 hours
Delivery

We package up your order and deliver it to your door.
Location type

Standard delivery

Delivery timeframe

Metropolitan
$10
3-5 business days
Regional
$14
5-7 business days
Remote
From $16
7-14 business days
Big and bulky items (e.g. furniture, play equipment) will incur additional delivery charges beyond standard rates listed above.
You can see the actual cost of delivering your order by adding items to your Shopping Bag and proceeding to the Checkout.
Still have questions?
Please refer to Kmart FAQs
\
Check if this product is available at a store near you