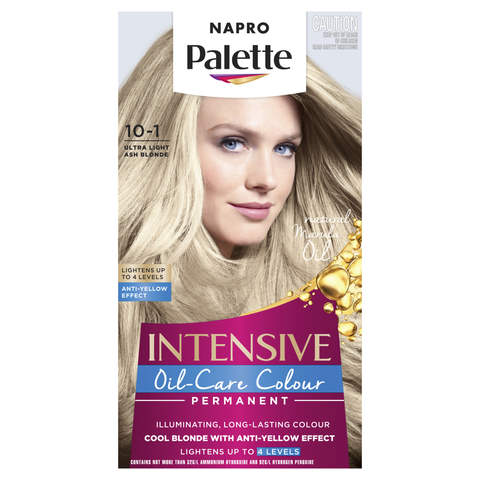 in store only
Napro 10-1 Light Ash Blonde Palette Intensive Creme Colour
<p>Napro palette intensive creme colour gives your hair rich and long-lasting colour. The intensive colour creme with micro-oils gently penetrates deep into the hair fibre and seals in the highly concentrated colour pigments.</p><ul><li>Intensive creme colour</li><li>Maximised intensity and care</li><li>Rich, luxurious and long-lasting colour</li><li>Deep care and intensive shine</li><li>Excellent lightening effect</li><li>Permanent</li><li>With argan oil</li><li>Up to 30% more shine</li><li>Ingredients:<ul><li>Colour Creme: Water, Cetearyl Alcohol, Ammonium Hydroxide, Glyceryl Stearate, Ceteareth-20, Prunus Amygdalus Dulcis (Sweet Almond) Oil, Octyldodecanol, Sodium Laureth Sulfate, Fragrance, Sodium Cetearyl Sulfate, Serine, Oleic Acid, Potassium Stearate, Glycerin, Tetrasodium EDTA, Carbomer, Argania Spinosa Kernel Oil, Sodium Sulfate, Potassium Hydroxide, Toluene-2,5-Diamine Sulfate, Ascorbic Acid, Linoleamidopropyl PG-Dimonium Chloride Phosphate, Propylene Glycol, Resorcinol, Sodium Sulfate, Linalool, Benzoic Acid, m-Aminophenol, 2,4-Diaminophenoxyethanol HCI.</li><li>Developer Emulsion: Aqua (Water, Eau), Hydrogen Peroxide, Cetearyl Alcohol, PEG-40 Castor Oil, Disodium Pyrophosphate, Sodium Cetearyl Sulfate, Disodium EDTA, Sodium Benzoate, Phosphoric Acid.</li><li>7 Oils Treatment: Aqua (Water, Eau), Cetearyl Alcohol, Quaternium-27, Propylene Glycol, Isopropyl Myristate, Prunus Armeniaca (Apricot) Kernel Oil, Argania Spinosa Kernel Oil, Macadamia Ternifolia Seed Oil, Prunus Amygdalus Dulcis (Sweet Almond) Oil, Olea Europaea (Olive) Fruit Oil, Sesamum Indicum (Sesame) Seed Oil, Sclerocarya Birrea Seed Oil, Panthenol, Distearoylethyl Hydroxyethylmonium Methosulfate, Citric Acid, Phenoxyethanol, Stearamidopropyl Dimethylamine, Polyquaternium-37, Ceteareth-20, Glyceryl Stearate, Sodium Methylparaben, Dicaprylyl Carbonate, Parfum (Fragrance), Linalool, Limonene, Hexyl Cinnamal, Benzyl Salicylate, Lauryl Glucoside, Citronellol.</li></ul></li><li>Contains not more than 30 G/L ammonium hydroxide and 92 G/L hydrogen peroxide</li><li>Colour: Light ash blonde</li><li>Warning: For external use only. Avoid contact with eyes. In the unlikely event of irritation, please discontinue use. If necessary, consult your healthcare practitioner.</li></ul><p>Disclaimer: All efforts have been made to ensure that the ingredient list for this product is correct, complete and up-to-date</p>
---
We can only provide an estimate of stock availability.
Napro palette intensive creme colour gives your hair rich and long-lasting colour. The intensive colour creme with micro-oils gently penetrates deep into the hair fibre and seals in the highly concentrated colour pigments.
Intensive creme colour
Maximised intensity and care
Rich, luxurious and long-lasting colour
Deep care and intensive shine
Excellent lightening effect
Permanent
With argan oil
Up to 30% more shine
Ingredients:

Colour Creme: Water, Cetearyl Alcohol, Ammonium Hydroxide, Glyceryl Stearate, Ceteareth-20, Prunus Amygdalus Dulcis (Sweet Almond) Oil, Octyldodecanol, Sodium Laureth Sulfate, Fragrance, Sodium Cetearyl Sulfate, Serine, Oleic Acid, Potassium Stearate, Glycerin, Tetrasodium EDTA, Carbomer, Argania Spinosa Kernel Oil, Sodium Sulfate, Potassium Hydroxide, Toluene-2,5-Diamine Sulfate, Ascorbic Acid, Linoleamidopropyl PG-Dimonium Chloride Phosphate, Propylene Glycol, Resorcinol, Sodium Sulfate, Linalool, Benzoic Acid, m-Aminophenol, 2,4-Diaminophenoxyethanol HCI.
Developer Emulsion: Aqua (Water, Eau), Hydrogen Peroxide, Cetearyl Alcohol, PEG-40 Castor Oil, Disodium Pyrophosphate, Sodium Cetearyl Sulfate, Disodium EDTA, Sodium Benzoate, Phosphoric Acid.
7 Oils Treatment: Aqua (Water, Eau), Cetearyl Alcohol, Quaternium-27, Propylene Glycol, Isopropyl Myristate, Prunus Armeniaca (Apricot) Kernel Oil, Argania Spinosa Kernel Oil, Macadamia Ternifolia Seed Oil, Prunus Amygdalus Dulcis (Sweet Almond) Oil, Olea Europaea (Olive) Fruit Oil, Sesamum Indicum (Sesame) Seed Oil, Sclerocarya Birrea Seed Oil, Panthenol, Distearoylethyl Hydroxyethylmonium Methosulfate, Citric Acid, Phenoxyethanol, Stearamidopropyl Dimethylamine, Polyquaternium-37, Ceteareth-20, Glyceryl Stearate, Sodium Methylparaben, Dicaprylyl Carbonate, Parfum (Fragrance), Linalool, Limonene, Hexyl Cinnamal, Benzyl Salicylate, Lauryl Glucoside, Citronellol.

Contains not more than 30 G/L ammonium hydroxide and 92 G/L hydrogen peroxide
Colour: Light ash blonde
Warning: For external use only. Avoid contact with eyes. In the unlikely event of irritation, please discontinue use. If necessary, consult your healthcare practitioner.
Disclaimer: All efforts have been made to ensure that the ingredient list for this product is correct, complete and up-to-date
Check if this product is available at a store near you