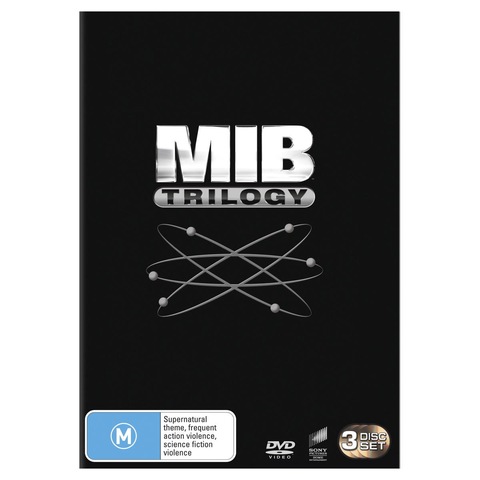 Men in Black Trilogy - DVD
<p>Men in Black: Men in Black follows the exploits of Agents K (Jones) and J (Smith), members of a top secret organisation established to monitor alien activity on Earth. The two MIB find themselves in the middle of a deadly plot by an intergalactic terrorist (Vincent D'Onofrio) who has arrived on Earth to assassinate two ambassadors from opposing galaxies. K and J face a simple imperative: track down the interloper or the Earth will be destroyed. It's all in a day's work for the Men in Black.</p><p>Men in Black II: Tommy Lee Jones and Will Smith are back in black as the scum-fighting super-agents K and J - regulators of all things alien on planet Earth. Their latest mission: to save the world from total intergalactic disaster! When a renegade Kylothian monster disguised as a lingerie model threatens the survival of the human race, the boys of the MIB get the call to step up and get busy. With their headquarters under siege and time running out, Agents K and J enlist the help of Frank the Pug and a posse of hard-living worms to help them kick some seriously sexy alien butt!</p><p>Men in Black III: Agents J (Will Smith) and K (Tommy Lee Jones) are back. in time. J has seen some inexplicable things in his 15 years with the Men in Black, but nothing, not even aliens, perplexes him as much as his wry, reticent partner. But when K's life and the fate of the planet are put at stake, Agent J will have to travel back in time to put things right. J discovers that there are secrets to the universe that K never told him - secrets that will reveal themselves as he teams up with the young Agent K (Josh Brolin) to save his partner, the agency and the future of humankind.</p><ul><li>Rated M: Supernatural theme, frequent action violence, science fiction violence</li></ul>
---
Men in Black: Men in Black follows the exploits of Agents K (Jones) and J (Smith), members of a top secret organisation established to monitor alien activity on Earth. The two MIB find themselves in the middle of a deadly plot by an intergalactic terrorist (Vincent D'Onofrio) who has arrived on Earth to assassinate two ambassadors from opposing galaxies. K and J face a simple imperative: track down the interloper or the Earth will be destroyed. It's all in a day's work for the Men in Black.
Men in Black II: Tommy Lee Jones and Will Smith are back in black as the scum-fighting super-agents K and J - regulators of all things alien on planet Earth. Their latest mission: to save the world from total intergalactic disaster! When a renegade Kylothian monster disguised as a lingerie model threatens the survival of the human race, the boys of the MIB get the call to step up and get busy. With their headquarters under siege and time running out, Agents K and J enlist the help of Frank the Pug and a posse of hard-living worms to help them kick some seriously sexy alien butt!
Men in Black III: Agents J (Will Smith) and K (Tommy Lee Jones) are back. in time. J has seen some inexplicable things in his 15 years with the Men in Black, but nothing, not even aliens, perplexes him as much as his wry, reticent partner. But when K's life and the fate of the planet are put at stake, Agent J will have to travel back in time to put things right. J discovers that there are secrets to the universe that K never told him - secrets that will reveal themselves as he teams up with the young Agent K (Josh Brolin) to save his partner, the agency and the future of humankind.
Rated M: Supernatural theme, frequent action violence, science fiction violence
Click & Collect
Order online and collect in-store.
Location

Cost

Ready for collection

Location

In selected stores
Cost

$3 packing fee
per order
$3 packing fee per order
Ready for collection

Within 24 hours
Delivery

We package up your order and deliver it to your door.
Location type

Standard delivery

Delivery timeframe

Metropolitan
$10
3-5 business days
Regional
$14
5-7 business days
Remote
From $16
7-14 business days
Big and bulky items (e.g. furniture, play equipment) will incur additional delivery charges beyond standard rates listed above.
You can see the actual cost of delivering your order by adding items to your Shopping Bag and proceeding to the Checkout.
Still have questions?
Please refer to Kmart FAQs
\
Check if this product is available at a store near you