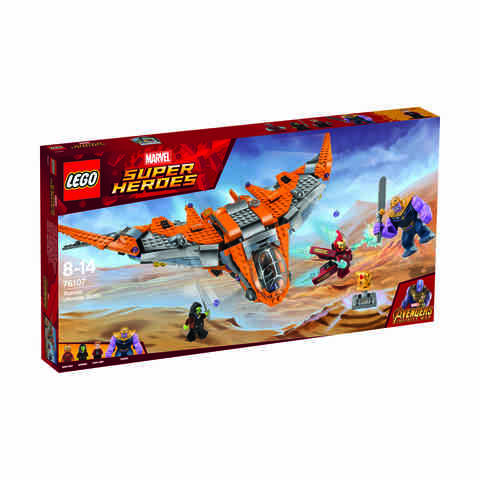 LEGO Thanos: Ultimate Battle - 76107
<p>Launch into battle for the Infinity Gauntlet with the Avengers in LEGO Marvel Super Heroes Thanos: Ultimate Battle! Fire The Guardians&rsquo; Ship's stud shooters at Thanos. Open the cockpit and drive into an attack on the space scooter with Star-Lord and Gamora. Dodge Thanos' huge sword and use Iron Man's Power Bursts to overpower the Titan supervillain. Grab the Infinity Gauntlet and fly away victorious!</p><ul><li>Suitable for 8 to 14 years</li><li>Includes 3 minifigures: Iron Man, Star-Lord and Gamora, plus a Thanos big figure</li><li>The Guardians' Ship features an opening cockpit for the space scooter (and 2 minifigures sitting on the scooter), flip-up windshield, opening rear compartment with 2 minifigure seats, removable roof and space for the Infinity Gauntlet and stand, 2 stud shooters, adjustable wings and a connection point for the escape pod (featured in 76102 Thor's Weapon Quest)</li><li>Space scooter features 2 minifigure seats, attachment points for Star-Lord and Gamora's weapons, and a detachable sword</li><li>Thanos big figure comes with a gold-coloured Infinity Gauntlet (with attachment points for the included Infinity Stone and 5 other collectable Infinity Stone elements), gauntlet stand and a sword</li><li>Replace Thanos' left hand with the Infinity Gauntlet</li><li>Weapons include Star-Lord's 2 laser guns and Gamora's sword</li><li>Also includes 10 assorted translucent-blue Power Burst elements to customize your builds and minifigures</li><li>Recreate thrilling scenes from the Marvel Super Heroes Avengers: Infinity War movie</li><li>The Guardians' Ship measures over 9cm (H) x 22cm (L) x 46cm (W)</li><li>Space scooter measures over 5cm (H) x 5cm (L) x 2cm (W)</li><li>Infinity Gauntlet and stand measure over 4cm (H) x 3cm (W) x 3cm (D)</li></ul>
---
Launch into battle for the Infinity Gauntlet with the Avengers in LEGO Marvel Super Heroes Thanos: Ultimate Battle! Fire The Guardians' Ship's stud shooters at Thanos. Open the cockpit and drive into an attack on the space scooter with Star-Lord and Gamora. Dodge Thanos' huge sword and use Iron Man's Power Bursts to overpower the Titan supervillain. Grab the Infinity Gauntlet and fly away victorious!
Suitable for 8 to 14 years
Includes 3 minifigures: Iron Man, Star-Lord and Gamora, plus a Thanos big figure
The Guardians' Ship features an opening cockpit for the space scooter (and 2 minifigures sitting on the scooter), flip-up windshield, opening rear compartment with 2 minifigure seats, removable roof and space for the Infinity Gauntlet and stand, 2 stud shooters, adjustable wings and a connection point for the escape pod (featured in 76102 Thor's Weapon Quest)
Space scooter features 2 minifigure seats, attachment points for Star-Lord and Gamora's weapons, and a detachable sword
Thanos big figure comes with a gold-coloured Infinity Gauntlet (with attachment points for the included Infinity Stone and 5 other collectable Infinity Stone elements), gauntlet stand and a sword
Replace Thanos' left hand with the Infinity Gauntlet
Weapons include Star-Lord's 2 laser guns and Gamora's sword
Also includes 10 assorted translucent-blue Power Burst elements to customize your builds and minifigures
Recreate thrilling scenes from the Marvel Super Heroes Avengers: Infinity War movie
The Guardians' Ship measures over 9cm (H) x 22cm (L) x 46cm (W)
Space scooter measures over 5cm (H) x 5cm (L) x 2cm (W)
Infinity Gauntlet and stand measure over 4cm (H) x 3cm (W) x 3cm (D)
Click & Collect
Order online and collect in-store.
Location

Cost

Ready for collection

Location

In selected stores
Cost

$3 packing fee
per order
$3 packing fee per order
Ready for collection

Within 24 hours
Delivery

We package up your order and deliver it to your door.
Location type

Standard delivery

Delivery timeframe

Metropolitan
$10
3-5 business days
Regional
$14
5-7 business days
Remote
From $16
7-14 business days
Big and bulky items (e.g. furniture, play equipment) will incur additional delivery charges beyond standard rates listed above.
You can see the actual cost of delivering your order by adding items to your Shopping Bag and proceeding to the Checkout.
Still have questions?
Please refer to Kmart FAQs
\
Check if this product is available at a store near you