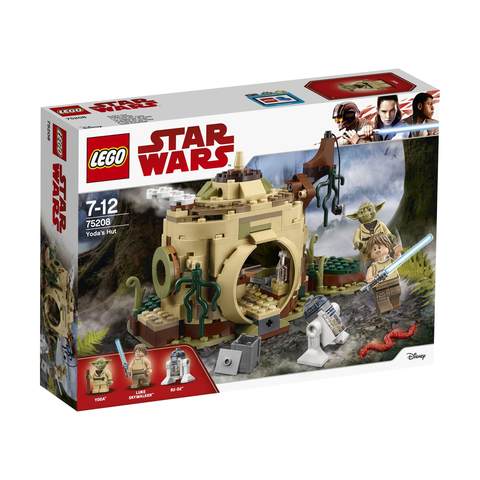 LEGO Star Wars Yoda's Hut - 75208
<p>Reenact an iconic LEGO Star Wars training scene at Yoda's Hut on Dagobah. This feature-packed set includes Yoda's swamp home with foldout training sections, from where Luke can balance boxes and stand on one arm to demonstrate his fledgling Jedi powers. There's also a Force jump function that can be attached to the front or back of the model. Jump Luke from the roof and swing from the 'vine' with Yoda on his back. Inside, there's a folding bed, fireplace, a selection of food and furnishing elements, plus a secret compartment under the floor. There's even a window at the side so R2-D2 can peer in! This feature-laden Star Wars toy includes 2 minifigures.</p><ul><li>Suitable for 7 to 12 years</li><li>Includes Yoda and Luke Skywalker minifigures plus an R2-D2 figure</li><li>Features foldout training sections, a detachable Force jump function, rooftop 'vine' swing function and a detailed interior including folding bed, fireplace, food and furnishing elements, and a secret underfloor compartment</li><li>Carry Yoda on Luke's back as he trains</li><li>Balance boxes, stand on one arm, pull a cool Force jump and swing from the 'vine' like a true Jedi!</li><li>Weapons include Yoda's staff and Luke's Lightsaber</li><li>Accessory elements include a carrot, frying pan, bottle and a snake</li><li>Measures over 25cm (L) x 11cm (H) x 11cm (W)</li></ul>
---
Reenact an iconic LEGO Star Wars training scene at Yoda's Hut on Dagobah. This feature-packed set includes Yoda's swamp home with foldout training sections, from where Luke can balance boxes and stand on one arm to demonstrate his fledgling Jedi powers. There's also a Force jump function that can be attached to the front or back of the model. Jump Luke from the roof and swing from the 'vine' with Yoda on his back. Inside, there's a folding bed, fireplace, a selection of food and furnishing elements, plus a secret compartment under the floor. There's even a window at the side so R2-D2 can peer in! This feature-laden Star Wars toy includes 2 minifigures.
Suitable for 7 to 12 years
Includes Yoda and Luke Skywalker minifigures plus an R2-D2 figure
Features foldout training sections, a detachable Force jump function, rooftop 'vine' swing function and a detailed interior including folding bed, fireplace, food and furnishing elements, and a secret underfloor compartment
Carry Yoda on Luke's back as he trains
Balance boxes, stand on one arm, pull a cool Force jump and swing from the 'vine' like a true Jedi!
Weapons include Yoda's staff and Luke's Lightsaber
Accessory elements include a carrot, frying pan, bottle and a snake
Measures over 25cm (L) x 11cm (H) x 11cm (W)
Click & Collect
Order online and collect in-store.
Location

Cost

Ready for collection

Location

In selected stores
Cost

$3 packing fee
per order
$3 packing fee per order
Ready for collection

Within 24 hours
Delivery

We package up your order and deliver it to your door.
Location type

Standard delivery

Delivery timeframe

Metropolitan
$10
3-5 business days
Regional
$14
5-7 business days
Remote
From $16
7-14 business days
Big and bulky items (e.g. furniture, play equipment) will incur additional delivery charges beyond standard rates listed above.
You can see the actual cost of delivering your order by adding items to your Shopping Bag and proceeding to the Checkout.
Still have questions?
Please refer to Kmart FAQs
\
Check if this product is available at a store near you