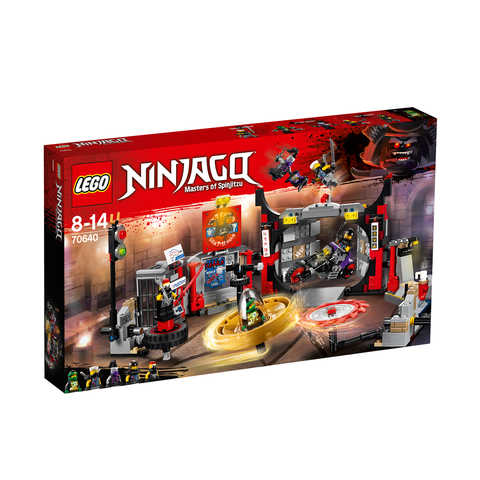 LEGO Ninjago S.O.G. Headquarters - 70640
<p>Invade the S.O.G. Headquarters with Lloyd and go undercover with Zane as Snake Jaguar! Activate Lloyd's Spinjitzu spinner to spin or roll into action. Knock over the ATM, but beware of this underground dojo's moving sides and spinning weapons. And look out for Ultra Violet and her Prospects attacking on the Oni Bike. Battle against Nails and Skip Vicious, and smash through the entrance gate with the spinner to release the Oni Mask of Hatred!</p> <ul> <li>Suitable for 8 to 14 years</li> <li>Includes 5 minifigures: Lloyd, Snake Jaguar, Ultra Violet, Nails and Skip Vicious</li> <li>S.O.G. Headquarters features movable sides for action play, an explode-function entrance with the Oni Mask of Hatred element and a ramp, spinning blade, spinning wheel with an attachment point for a minifigure, spinning hammers, ATM, 'Sons of Garmadon' sign element, and a bike workshop with an Oni Bike</li> <li>Spinjitzu spinner features a buildable LEGO brick handle, spinner element with minifigure capsule and a rip cord</li> <li>Place a minifigure in the capsule, attach the spinner and pull the rip cord to spin or roll</li> <li>Grab the handles on each side of the dojo to attack the spinner</li> <li>Use the spinner to smash through the dojo entrance and release the Oni Mask of Hatred element</li> <li>Attach the Oni Mask of Hatred transformation element to the Ultra Violet minifigure to make her even more evil!</li> <li>Weapons include Lloyd's shurikens, Snake Jaguar's 2 katanas, Ultra Violet's 2 sai, Nails' katana and Skip Vicious' katana and crowbar</li> <li>Snake Jaguar minifigure is new for January 2018</li> <li>Recreate and role-play epic scenes from the NINJAGO Masters of Spinjitzu TV show</li> <li>S.O.G. Headquarters measures over 21cm (H) x 71cm (W) when fully opened</li> <li>Oni Bike measures over 12cm (L) x 4cm (H) x 3cm (W)</li> <li>Spinjitzu spinner (without rip cord) measures over 14cm (H) x 8cm (W) x 3cm (D)</li> <li>As seen in the LEGO Ride Ninja TV commercial</li> </ul>
---
Invade the S.O.G. Headquarters with Lloyd and go undercover with Zane as Snake Jaguar! Activate Lloyd's Spinjitzu spinner to spin or roll into action. Knock over the ATM, but beware of this underground dojo's moving sides and spinning weapons. And look out for Ultra Violet and her Prospects attacking on the Oni Bike. Battle against Nails and Skip Vicious, and smash through the entrance gate with the spinner to release the Oni Mask of Hatred!
Suitable for 8 to 14 years
Includes 5 minifigures: Lloyd, Snake Jaguar, Ultra Violet, Nails and Skip Vicious
S.O.G. Headquarters features movable sides for action play, an explode-function entrance with the Oni Mask of Hatred element and a ramp, spinning blade, spinning wheel with an attachment point for a minifigure, spinning hammers, ATM, 'Sons of Garmadon' sign element, and a bike workshop with an Oni Bike
Spinjitzu spinner features a buildable LEGO brick handle, spinner element with minifigure capsule and a rip cord
Place a minifigure in the capsule, attach the spinner and pull the rip cord to spin or roll
Grab the handles on each side of the dojo to attack the spinner
Use the spinner to smash through the dojo entrance and release the Oni Mask of Hatred element
Attach the Oni Mask of Hatred transformation element to the Ultra Violet minifigure to make her even more evil!
Weapons include Lloyd's shurikens, Snake Jaguar's 2 katanas, Ultra Violet's 2 sai, Nails' katana and Skip Vicious' katana and crowbar
Snake Jaguar minifigure is new for January 2018
Recreate and role-play epic scenes from the NINJAGO Masters of Spinjitzu TV show
S.O.G. Headquarters measures over 21cm (H) x 71cm (W) when fully opened
Oni Bike measures over 12cm (L) x 4cm (H) x 3cm (W)
Spinjitzu spinner (without rip cord) measures over 14cm (H) x 8cm (W) x 3cm (D)
As seen in the LEGO Ride Ninja TV commercial
Click & Collect
Order online and collect in-store.
Location

Cost

Ready for collection

Location

In selected stores
Cost

$3 packing fee
per order
$3 packing fee per order
Ready for collection

Within 24 hours
Delivery

We package up your order and deliver it to your door.
Location type

Standard delivery

Delivery timeframe

Metropolitan
$10
3-5 business days
Regional
$14
5-7 business days
Remote
From $16
7-14 business days
Big and bulky items (e.g. furniture, play equipment) will incur additional delivery charges beyond standard rates listed above.
You can see the actual cost of delivering your order by adding items to your Shopping Bag and proceeding to the Checkout.
Still have questions?
Please refer to Kmart FAQs
\
Check if this product is available at a store near you