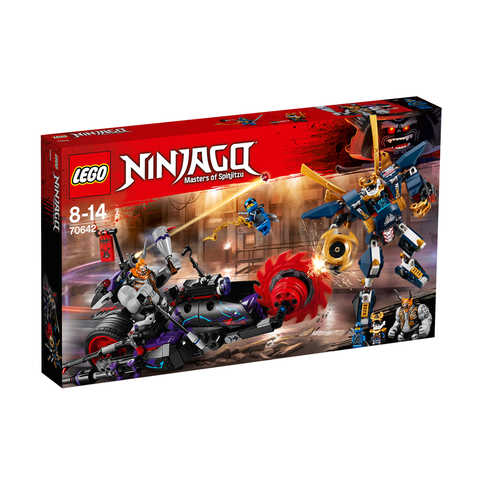 LEGO Ninjago Killow vs Samurai X - 70642
<p>Face-off against mighty Killow with Samurai X and Jay! Leap into the cockpit of the Samurai X Mech and fire the stud shooters at Killow's Oni Chopper. Stay clear of the Oni Chopper's spinning saw blade and flip-out blades. Attack with the mech's own spinning blade, but watch out - Killow has jumped onto his skateboards and is firing his booster pack's stud shooters. Dodge his spiked baseball bat and fight back with Jay's nunchucks. Together you must take down Killow and claim the Oni Mask of Deception!</p><ul><li>Suitable for 8+ years</li><li>Includes Samurai X and Jay minifigures, plus a Killow big figure</li><li>Oni Chopper features a driver's seat for Killow, spinning front saw blade, 2 flip-out blades, 2 detachable skateboards and a storage compartment with a spiked baseball bat</li><li>Attach the skateboards to Killow's feet and skate into battle</li><li>Samurai X Mech features an opening minifigure cockpit, posable arms and legs, gripping hands, dual stud shooter, spinning blade and a detachable Samurai X blade</li><li>Detach the Samurai X blade from the back of the mech and place it the mech's gripping hand to attack</li><li>Killow big figure comes with a booster pack featuring 2 stud shooters, a booster and a flag element</li><li>Attach the Oni Mask of Deception transformation element to the Killow big figure to make him even more evil!</li><li>Weapons include Jay's nunchucks and 2 katanas, and Samurai X's 2 katanas</li><li>Samurai X minifigure is new for January 2018</li><li>Recreate and role-play epic scenes from the NINJAGO Masters of Spinjitzu TV show</li><li>Oni Chopper: 8cm (H) x 32cm (L) x 10cm (W)</li><li>Samurai X Mech: 15cm (H) x 7cm (L) x 8cm (W) and 22cm (W) with arms spread</li><li>Killow big figure: Approx. 6cm (H)</li><li>Killow's booster pack: Approx. 8cm (H) x 6cm (W) x 4cm (D)</li></ul>
---
Face-off against mighty Killow with Samurai X and Jay! Leap into the cockpit of the Samurai X Mech and fire the stud shooters at Killow's Oni Chopper. Stay clear of the Oni Chopper's spinning saw blade and flip-out blades. Attack with the mech's own spinning blade, but watch out - Killow has jumped onto his skateboards and is firing his booster pack's stud shooters. Dodge his spiked baseball bat and fight back with Jay's nunchucks. Together you must take down Killow and claim the Oni Mask of Deception!
Suitable for 8+ years
Includes Samurai X and Jay minifigures, plus a Killow big figure
Oni Chopper features a driver's seat for Killow, spinning front saw blade, 2 flip-out blades, 2 detachable skateboards and a storage compartment with a spiked baseball bat
Attach the skateboards to Killow's feet and skate into battle
Samurai X Mech features an opening minifigure cockpit, posable arms and legs, gripping hands, dual stud shooter, spinning blade and a detachable Samurai X blade
Detach the Samurai X blade from the back of the mech and place it the mech's gripping hand to attack
Killow big figure comes with a booster pack featuring 2 stud shooters, a booster and a flag element
Attach the Oni Mask of Deception transformation element to the Killow big figure to make him even more evil!
Weapons include Jay's nunchucks and 2 katanas, and Samurai X's 2 katanas
Samurai X minifigure is new for January 2018
Recreate and role-play epic scenes from the NINJAGO Masters of Spinjitzu TV show
Oni Chopper: 8cm (H) x 32cm (L) x 10cm (W)
Samurai X Mech: 15cm (H) x 7cm (L) x 8cm (W) and 22cm (W) with arms spread
Killow big figure: Approx. 6cm (H)
Killow's booster pack: Approx. 8cm (H) x 6cm (W) x 4cm (D)
Click & Collect
Order online and collect in-store.
Location

Cost

Ready for collection

Location

In selected stores
Cost

$3 packing fee
per order
$3 packing fee per order
Ready for collection

Within 24 hours
Delivery

We package up your order and deliver it to your door.
Location type

Standard delivery

Delivery timeframe

Metropolitan
$10
3-5 business days
Regional
$14
5-7 business days
Remote
From $16
7-14 business days
Big and bulky items (e.g. furniture, play equipment) will incur additional delivery charges beyond standard rates listed above.
You can see the actual cost of delivering your order by adding items to your Shopping Bag and proceeding to the Checkout.
Still have questions?
Please refer to Kmart FAQs
\
Check if this product is available at a store near you