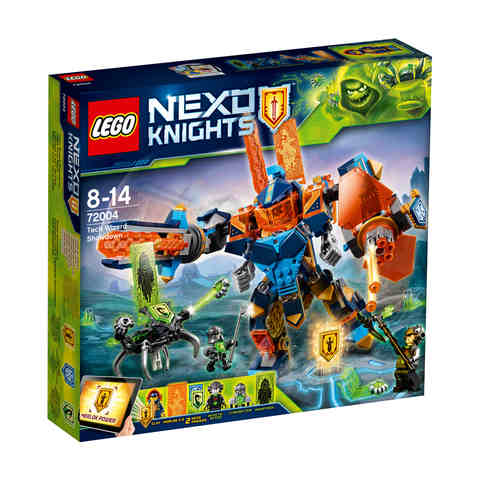 LEGO Nexo Knights Tech Wizard Showdown - 72004
<p>Catch Monstrox before he destroys Clay's mech with his evil tech infection! Place Clay into his trusty battle suit, then pilot his mighty mech with its giant sword, shielded 6-stud rapid shooter and extra support from Merlok 2.0 at the rear. Chase Monstrox on his creepy critter legs, and stop InfectoByter and his CyberByter sidekick spreading their digital infection throughout the realm.<ul><li>Suitable for 8+ years</li><li>Includes 3 scannable shields for the NEXO Powers Whirlwind and Jungle Dragon, and Merlok Power The Sword of Merlok.</li><li>Includes 2 minifigures: Clay and InfectoByter, plus a CyberByter figure and Merlok 2</li>0 and Monstrox hologram figures</li><li>Clay's mech features a minifigure cockpit, sword, shield with 6-stud rapid shooter, Combo NEXO POWER shield, plus a detachable Merlok 2</li><li>0 hologram figure attached to a flyer featuring a sword and a shield holder</li><li>Monstrox hologram's critter base features 4 posable legs and 2 critter shooters</li><li>Weapons include 2 buildable swords, Clay's sword, an axe and a scythe</li><li>Detach the Merlok flyer from Clay's mech and attach it to Clay's battle suit</li><li>Attach Monstrox to the back of Clay's mech to inject the tech infection</li><li>Place the Merlok Power in a shield holder to upgrade your knight or vehicle in the battle against the bad guys!<li><li>Download the free LEGO NEXO KNIGHTS: MERLOK 2</li><li>0 app to your smartphone or tablet</li><li>Ask your parents before going online</li><li>Scan shields for the NEXO Powers Whirlwind, Jungle Dragon and Merlok Power The Sword of Merlok, and power up in the LEGO NEXO KNIGHTS game!</li><li><li>7 Merlok Powers to collect to stop Monstrox and his army from spreading their digital infection across Knighton</li><li>Combine with the 72003 Berserker Bomber and place the Vyro Suit inside the mech's cockpit, or place Clay's battle suit under the Berserker Bomber!</li><li>Clay's mech: Approx. 24cm (H)</li><li>Clay's battle suit: Approx. 9cm (H)</li><li>Merlok flyer with sword and shield: Approx. 10cm (H) x 12cm (L) x 7cm (W)</li><li>Monstrox base: Approx. 10cm (H) x 7cm (W) x 6cm (D)</li></ul>
---
Catch Monstrox before he destroys Clay's mech with his evil tech infection! Place Clay into his trusty battle suit, then pilot his mighty mech with its giant sword, shielded 6-stud rapid shooter and extra support from Merlok 2.0 at the rear. Chase Monstrox on his creepy critter legs, and stop InfectoByter and his CyberByter sidekick spreading their digital infection throughout the realm.
Suitable for 8+ years
Includes 3 scannable shields for the NEXO Powers Whirlwind and Jungle Dragon, and Merlok Power The Sword of Merlok.
Includes 2 minifigures: Clay and InfectoByter, plus a CyberByter figure and Merlok 2
0 and Monstrox hologram figures
Clay's mech features a minifigure cockpit, sword, shield with 6-stud rapid shooter, Combo NEXO POWER shield, plus a detachable Merlok 2
0 hologram figure attached to a flyer featuring a sword and a shield holder
Monstrox hologram's critter base features 4 posable legs and 2 critter shooters
Weapons include 2 buildable swords, Clay's sword, an axe and a scythe
Detach the Merlok flyer from Clay's mech and attach it to Clay's battle suit
Attach Monstrox to the back of Clay's mech to inject the tech infection
Place the Merlok Power in a shield holder to upgrade your knight or vehicle in the battle against the bad guys!
Download the free LEGO NEXO KNIGHTS: MERLOK 2
0 app to your smartphone or tablet
Ask your parents before going online
Scan shields for the NEXO Powers Whirlwind, Jungle Dragon and Merlok Power The Sword of Merlok, and power up in the LEGO NEXO KNIGHTS game!
7 Merlok Powers to collect to stop Monstrox and his army from spreading their digital infection across Knighton
Combine with the 72003 Berserker Bomber and place the Vyro Suit inside the mech's cockpit, or place Clay's battle suit under the Berserker Bomber!
Clay's mech: Approx. 24cm (H)
Clay's battle suit: Approx. 9cm (H)
Merlok flyer with sword and shield: Approx. 10cm (H) x 12cm (L) x 7cm (W)
Monstrox base: Approx. 10cm (H) x 7cm (W) x 6cm (D)
Click & Collect
Order online and collect in-store.
Location

Cost

Ready for collection

Location

In selected stores
Cost

$3 packing fee
per order
$3 packing fee per order
Ready for collection

Within 24 hours
Delivery

We package up your order and deliver it to your door.
Location type

Standard delivery

Delivery timeframe

Metropolitan
$10
3-5 business days
Regional
$14
5-7 business days
Remote
From $16
7-14 business days
Big and bulky items (e.g. furniture, play equipment) will incur additional delivery charges beyond standard rates listed above.
You can see the actual cost of delivering your order by adding items to your Shopping Bag and proceeding to the Checkout.
Still have questions?
Please refer to Kmart FAQs
\
Check if this product is available at a store near you