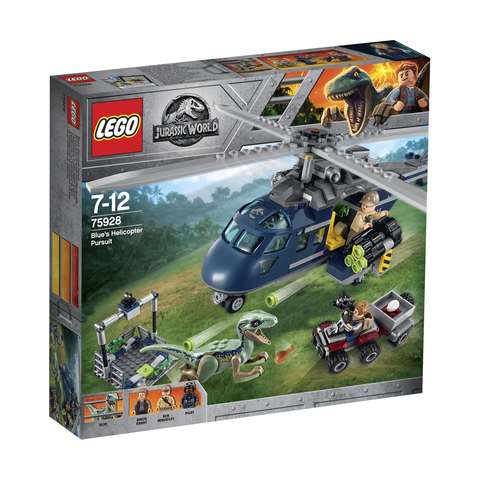 LEGO Jurassic World Blue's Helicopter Pursuit - 75928
Unite Owen with the faithful Velociraptor in this thrilling Blue's Helicopter Rescue set inspired by Jurassic World. Wheatley has trapped Blue in a cage and attached it to his helicopter that features rotating blades, a 6-stud shooter and dual searchlights. Set off in the quad bike with trailer and fire the crossbow, rescue the dinosaur and retrieve the dinosaur eggs. This cool toy for kids includes 3 minifigures and a Velociraptor figure.<ul><li>Suitable for 7 to 12 years</li><li>Includes 3 minifigures: Owen, Wheatley and a pilot, plus a Blue the Velociraptor figure</li><li>Features an open-door helicopter with rotating blades, belly hook, 6-stud shooter, dual searchlights and space for a storage chest, plus a cage with folding sides and frame with attachment for helicopter cable, and a quad bike with a spare tire</li><li>Velociraptor features posable limbs and snapping jaws</li><li>Turn the handle to set the helicopter blades spinning!</li><li>Place the Velociraptor in the trap, fold up the sides and then lift it up using the helicopter's belly hook and fly off</li><li>Shoot Owen's crossbow stud shooter at the helicopter to make it land, then release Blue from the cage and retrieve the stolen dinosaur eggs</li><li>Weapons include a tranquilizer gun with a syringe, a handgun stud shooter and a crossbow stud shooter</li><li>Accessory elements include Owen's backpack, dinosaur tooth, chicken leg and a dinosaur egg</li><li>Helicopter measures over 27cm (L) x 11cm (H) x 20cm (W)</li><li>Quad bike with trailer measures over 10cm (L) x 4cm (H) x 4cm (W)</li><li>Trap/cage measures over 10cm (H) x 12cm (W) x 12cm (D) when open, and 7cm (W) and 7cm (D) when closed</li><li>Velociraptor stands over 7cm tall</li></ul>
---
Unite Owen with the faithful Velociraptor in this thrilling Blue's Helicopter Rescue set inspired by Jurassic World. Wheatley has trapped Blue in a cage and attached it to his helicopter that features rotating blades, a 6-stud shooter and dual searchlights. Set off in the quad bike with trailer and fire the crossbow, rescue the dinosaur and retrieve the dinosaur eggs. This cool toy for kids includes 3 minifigures and a Velociraptor figure.
Suitable for 7 to 12 years
Includes 3 minifigures: Owen, Wheatley and a pilot, plus a Blue the Velociraptor figure
Features an open-door helicopter with rotating blades, belly hook, 6-stud shooter, dual searchlights and space for a storage chest, plus a cage with folding sides and frame with attachment for helicopter cable, and a quad bike with a spare tire
Velociraptor features posable limbs and snapping jaws
Turn the handle to set the helicopter blades spinning!
Place the Velociraptor in the trap, fold up the sides and then lift it up using the helicopter's belly hook and fly off
Shoot Owen's crossbow stud shooter at the helicopter to make it land, then release Blue from the cage and retrieve the stolen dinosaur eggs
Weapons include a tranquilizer gun with a syringe, a handgun stud shooter and a crossbow stud shooter
Accessory elements include Owen's backpack, dinosaur tooth, chicken leg and a dinosaur egg
Helicopter measures over 27cm (L) x 11cm (H) x 20cm (W)
Quad bike with trailer measures over 10cm (L) x 4cm (H) x 4cm (W)
Trap/cage measures over 10cm (H) x 12cm (W) x 12cm (D) when open, and 7cm (W) and 7cm (D) when closed
Velociraptor stands over 7cm tall
Click & Collect
Order online and collect in-store.
Location

Cost

Ready for collection

Location

In selected stores
Cost

$3 packing fee
per order
$3 packing fee per order
Ready for collection

Within 24 hours
Delivery

We package up your order and deliver it to your door.
Location type

Standard delivery

Delivery timeframe

Metropolitan
$10
3-5 business days
Regional
$14
5-7 business days
Remote
From $16
7-14 business days
Big and bulky items (e.g. furniture, play equipment) will incur additional delivery charges beyond standard rates listed above.
You can see the actual cost of delivering your order by adding items to your Shopping Bag and proceeding to the Checkout.
Still have questions?
Please refer to Kmart FAQs
\
Check if this product is available at a store near you