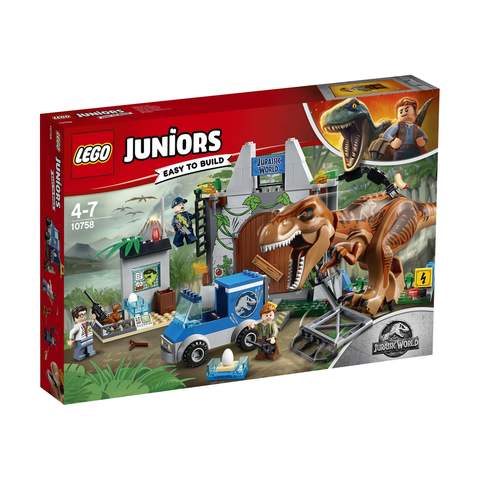 LEGO Juniors T. Rex Breakout - 10758
Introduce your child to the thrill of a LEGO Juniors Jurassic World adventure! This thrilling T. rex Breakout set features a posable, buildable T. rex with opening mouth, 2 Quick Start bases with gates, breakable fences and wall elements, a small science station and a truck with Quick Start chassis.<ul><li>Suitable for 4+ years</li><li>Includes 3 minifigures: Claire, a guard and a scientist, plus T. rex and baby dinosaur figures</li><li>Features 2 Quick Start bases (one with an opening gate and the other with a wall element), movable robot arm and attached breakaway fence section, plus a small science station with case, screen and small fenced area</li><li>Also includes a truck with Quick Start chassis, opening back and room for a crate, plus a posable, buildable T. rex with opening jaw</li><li>Climb the ladder by the gate to look for the T. rex</li><li>Lower the robot arm with the attached hot dog to distract the T. rex from the fence</li><li>Load the baby dinosaur or the dinosaur egg in the crate into the back of the truck before the T. rex breaks through the gate</li><li>Build and rebuild the fence after the T. rex knocks it down</li><li>Accessory elements include 2 dinosaur eggs, box, tranquilizer gun, stick, 2 walkie-talkies and a hot dog</li><li>Includes Easy to Build models with Quick-Start bases, plus a simple guide to get children building and playing quickly.</li><li>LEGO Juniors sets are fully compatible with all other LEGO sets.</li><li>T. rex measures over 28cm (L) x 11cm (H) x 6cm (W)</li><li>Truck measures over 9cm (L) x 6cm (H) x 4cm (W)</li><li>Main gate with fence measures over 14cm (H) x 22cm (W) x 11cm (D)</li><li>Science station measures over 7cm (H) x 8cm (W) x 4cm (D)</li></ul>
---
Introduce your child to the thrill of a LEGO Juniors Jurassic World adventure! This thrilling T. rex Breakout set features a posable, buildable T. rex with opening mouth, 2 Quick Start bases with gates, breakable fences and wall elements, a small science station and a truck with Quick Start chassis.
Suitable for 4+ years
Includes 3 minifigures: Claire, a guard and a scientist, plus T. rex and baby dinosaur figures
Features 2 Quick Start bases (one with an opening gate and the other with a wall element), movable robot arm and attached breakaway fence section, plus a small science station with case, screen and small fenced area
Also includes a truck with Quick Start chassis, opening back and room for a crate, plus a posable, buildable T. rex with opening jaw
Climb the ladder by the gate to look for the T. rex
Lower the robot arm with the attached hot dog to distract the T. rex from the fence
Load the baby dinosaur or the dinosaur egg in the crate into the back of the truck before the T. rex breaks through the gate
Build and rebuild the fence after the T. rex knocks it down
Accessory elements include 2 dinosaur eggs, box, tranquilizer gun, stick, 2 walkie-talkies and a hot dog
Includes Easy to Build models with Quick-Start bases, plus a simple guide to get children building and playing quickly.
LEGO Juniors sets are fully compatible with all other LEGO sets.
T. rex measures over 28cm (L) x 11cm (H) x 6cm (W)
Truck measures over 9cm (L) x 6cm (H) x 4cm (W)
Main gate with fence measures over 14cm (H) x 22cm (W) x 11cm (D)
Science station measures over 7cm (H) x 8cm (W) x 4cm (D)
Click & Collect
Order online and collect in-store.
Location

Cost

Ready for collection

Location

In selected stores
Cost

$3 packing fee
per order
$3 packing fee per order
Ready for collection

Within 24 hours
Delivery

We package up your order and deliver it to your door.
Location type

Standard delivery

Delivery timeframe

Metropolitan
$10
3-5 business days
Regional
$14
5-7 business days
Remote
From $16
7-14 business days
Big and bulky items (e.g. furniture, play equipment) will incur additional delivery charges beyond standard rates listed above.
You can see the actual cost of delivering your order by adding items to your Shopping Bag and proceeding to the Checkout.
Still have questions?
Please refer to Kmart FAQs
\
Check if this product is available at a store near you