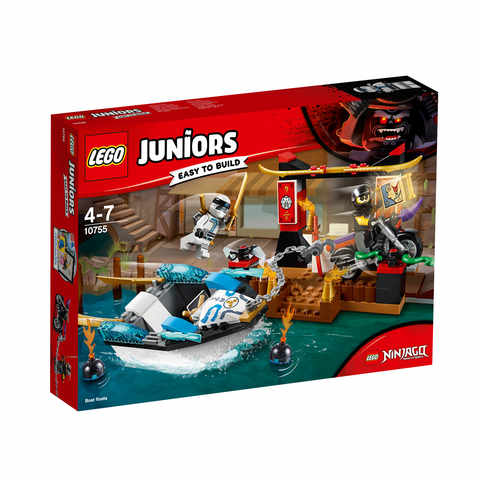 LEGO Juniors Zane's Ninja Boat Pursuit - 10755
Jump in Zane's boat and join him in a race for the map that leads to the mask! Speed towards the temple while you keep an eye out for Chopper Maroon, one of the Sons of Garmadon, on his bike. There he is, and he's zooming ahead! Stop the boat at the dock and race up the stairs into the temple, but beware the traps! Dodge the rotating knives and snakes, then use the hook from the boat to grab the map. Will you reach it before Chopper Maroon?<ul><li>Suitable for 4+ years</li><li>Includes Zane and Chopper Maroon minifigures</li><li>Features a temple with ramps, a dock, spinning knives and snake obstacles, treasure map with stand and decorative staffs above the archway that double as secret weapons</li><li>Also includes a motorbike and a boat with turning wheel, chain with hook, ice bolts and golden staff elements that double as secret weapons</li><li>The boat floats!</li><li>Spin the snakes and knives to slow down Chopper Maroon's bike</li><li>Connect the hook to the motorbike to stop Chopper Maroon from getting away with the map</li><li>Place the map on the steering wheel of the boat to help lead you to the mask</li><li>Weapons include Zane's golden katanas and Chopper Maroon's red katana</li><li>Includes 2 'floating' firebombs and a treasure map element</li><li>Includes Easy to Build models with bigger starter pieces and Quick-Start bases, plus a simple guide to get children building and playing quickly</li><li>All LEGO Juniors sets are fully compatible with all other LEGO sets</li><li>Boat with golden staffs: Approx. 4cm (H) x 20cm (L) x 6cm (W)</li><li>Temple: Approx. 9cm (H) x 19cm (W) x 8cm (D)</li><li>Motorbike: Approx. 4cm (H) x 8cm (L) x 2cm (W)</li></ul>
---
Jump in Zane's boat and join him in a race for the map that leads to the mask! Speed towards the temple while you keep an eye out for Chopper Maroon, one of the Sons of Garmadon, on his bike. There he is, and he's zooming ahead! Stop the boat at the dock and race up the stairs into the temple, but beware the traps! Dodge the rotating knives and snakes, then use the hook from the boat to grab the map. Will you reach it before Chopper Maroon?
Suitable for 4+ years
Includes Zane and Chopper Maroon minifigures
Features a temple with ramps, a dock, spinning knives and snake obstacles, treasure map with stand and decorative staffs above the archway that double as secret weapons
Also includes a motorbike and a boat with turning wheel, chain with hook, ice bolts and golden staff elements that double as secret weapons
The boat floats!
Spin the snakes and knives to slow down Chopper Maroon's bike
Connect the hook to the motorbike to stop Chopper Maroon from getting away with the map
Place the map on the steering wheel of the boat to help lead you to the mask
Weapons include Zane's golden katanas and Chopper Maroon's red katana
Includes 2 'floating' firebombs and a treasure map element
Includes Easy to Build models with bigger starter pieces and Quick-Start bases, plus a simple guide to get children building and playing quickly
All LEGO Juniors sets are fully compatible with all other LEGO sets
Boat with golden staffs: Approx. 4cm (H) x 20cm (L) x 6cm (W)
Temple: Approx. 9cm (H) x 19cm (W) x 8cm (D)
Motorbike: Approx. 4cm (H) x 8cm (L) x 2cm (W)
Click & Collect
Order online and collect in-store.
Location

Cost

Ready for collection

Location

In selected stores
Cost

$3 packing fee
per order
$3 packing fee per order
Ready for collection

Within 24 hours
Delivery

We package up your order and deliver it to your door.
Location type

Standard delivery

Delivery timeframe

Metropolitan
$10
3-5 business days
Regional
$14
5-7 business days
Remote
From $16
7-14 business days
Big and bulky items (e.g. furniture, play equipment) will incur additional delivery charges beyond standard rates listed above.
You can see the actual cost of delivering your order by adding items to your Shopping Bag and proceeding to the Checkout.
Still have questions?
Please refer to Kmart FAQs
\
Check if this product is available at a store near you