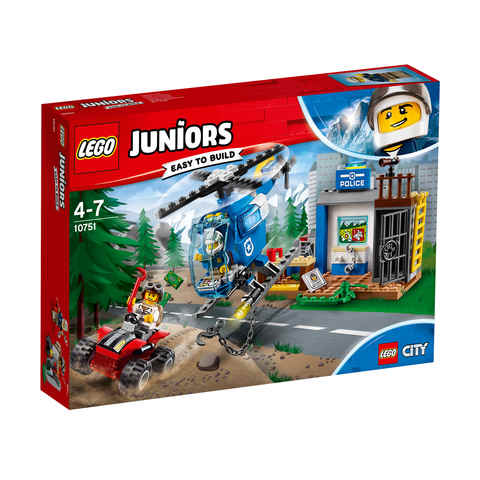 LEGO Juniors Mountain Police Chase - 10751
<p>Sound the alarm! A crook has broken into the station safe and stolen the cash inside! Grab your helmet and handcuffs and then hop in the helicopter to start the search. There he is, racing through the mountains on his quad bike with the loot. Swoop in from above, drop the chain and hook onto the quad bike to stop him. Haul him back to the jail and then grab a cup of hot cocoa for a job well done!</p><ul><li>Suitable for 4+ years</li><li>Includes 2 minifigures: a police officer and a crook</li><li>Features a police station with Quick Start baseplate, desk, opening safe with space for money bills inside, a ladder to the lookout with spyglass on the roof, and a jail cell with opening door</li><li>Also includes a helicopter with Quick Start body, opening minifigure cockpit, spinning rotors and a chain with hook, plus a quad bike with a seat for a minifigure</li><li>Wedge the crowbar in the safe to break it open and take the money bills</li><li>Lower the chain from the helicopter and hook the end of the quad bike to catch the crook</li><li>Accessory elements include 2 money bills, a crowbar, sack, handcuffs, WANTED poster and a mug</li><li>Includes Easy to Build models with bigger starter pieces and Quick-Start bases, plus a simple guide to get children building and playing quickly</li><li>All LEGO Juniors sets are fully compatible with all other LEGO sets</li><li>Helicopter: Approx. 8cm (H) x 12cm (L) x 10cm (W)</li><li>Quad bike: Approx. 4cm (H) x 5cm (L) x 5cm (W)</li><li>Police station measures: Approx. 10cm (H) x 12cm (W) x 6cm (D)</li></ul>
---
Sound the alarm! A crook has broken into the station safe and stolen the cash inside! Grab your helmet and handcuffs and then hop in the helicopter to start the search. There he is, racing through the mountains on his quad bike with the loot. Swoop in from above, drop the chain and hook onto the quad bike to stop him. Haul him back to the jail and then grab a cup of hot cocoa for a job well done!
Suitable for 4+ years
Includes 2 minifigures: a police officer and a crook
Features a police station with Quick Start baseplate, desk, opening safe with space for money bills inside, a ladder to the lookout with spyglass on the roof, and a jail cell with opening door
Also includes a helicopter with Quick Start body, opening minifigure cockpit, spinning rotors and a chain with hook, plus a quad bike with a seat for a minifigure
Wedge the crowbar in the safe to break it open and take the money bills
Lower the chain from the helicopter and hook the end of the quad bike to catch the crook
Accessory elements include 2 money bills, a crowbar, sack, handcuffs, WANTED poster and a mug
Includes Easy to Build models with bigger starter pieces and Quick-Start bases, plus a simple guide to get children building and playing quickly
All LEGO Juniors sets are fully compatible with all other LEGO sets
Helicopter: Approx. 8cm (H) x 12cm (L) x 10cm (W)
Quad bike: Approx. 4cm (H) x 5cm (L) x 5cm (W)
Police station measures: Approx. 10cm (H) x 12cm (W) x 6cm (D)
Click & Collect
Order online and collect in-store.
Location

Cost

Ready for collection

Location

In selected stores
Cost

$3 packing fee
per order
$3 packing fee per order
Ready for collection

Within 24 hours
Delivery

We package up your order and deliver it to your door.
Location type

Standard delivery

Delivery timeframe

Metropolitan
$10
3-5 business days
Regional
$14
5-7 business days
Remote
From $16
7-14 business days
Big and bulky items (e.g. furniture, play equipment) will incur additional delivery charges beyond standard rates listed above.
You can see the actual cost of delivering your order by adding items to your Shopping Bag and proceeding to the Checkout.
Still have questions?
Please refer to Kmart FAQs
\
Check if this product is available at a store near you