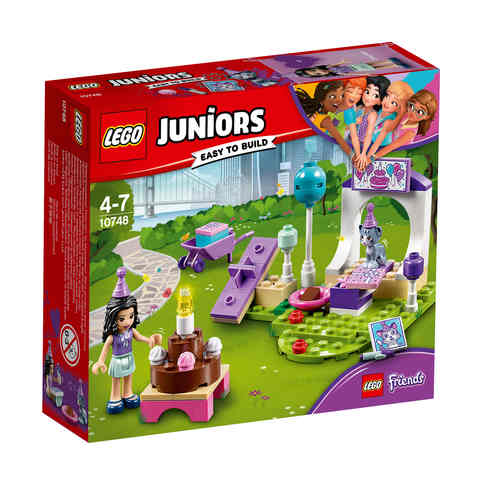 LEGO Juniors Emma's Pet Party - 10748
<p>Help Emma plan Chico's birthday in Heartlake City Park! Cart all the goodies into the park with the wheelbarrow and set up by the arch. Play with Chico on the seesaw before you and Emma decorate the delicious cake. Cut a slice for Chico so he will sit still, while Emma draws his picture to show off her artistic side. Then it's time to help him open his presents and play with them!</p><ul><li>Suitable for 4+ years</li><li>Includes an Emma mini-doll figure and a Chico cat figure</li><li>Features a park setting with archway, buildable balloons and seesaw, plus a stand with buildable cake and a wheelbarrow</li><li>Load up the wheelbarrow with all the things you'll need for a great birthday party</li><li>Help Emma decorate the big birthday cake for Chico</li><li>Have a ride on the seesaw before you help Chico open his presents</li><li>Accessory elements include 8 cupcakes, a picture, marker element, 2 party hats, dish, cake slice, flower, bow and 2 opening gift boxes</li><li>Includes Easy to Build models with bigger starter pieces and Quick-Start bases, plus a simple guide to get children building and playing quickly</li><li>All LEGO Juniors sets are fully compatible with all other LEGO sets</li><li>Park scene with arch and seesaw measures over 2" (7cm) high, 3" (10cm) wide and 3" (8cm) deep</li><li>Wheelbarrow: Approx. 2cm (H) x 5cm (W) x 2cm (D)</li><li>Cake with base: Approx. 5cm (H) x 3cm (W)</li></ul>
---
Help Emma plan Chico's birthday in Heartlake City Park! Cart all the goodies into the park with the wheelbarrow and set up by the arch. Play with Chico on the seesaw before you and Emma decorate the delicious cake. Cut a slice for Chico so he will sit still, while Emma draws his picture to show off her artistic side. Then it's time to help him open his presents and play with them!
Suitable for 4+ years
Includes an Emma mini-doll figure and a Chico cat figure
Features a park setting with archway, buildable balloons and seesaw, plus a stand with buildable cake and a wheelbarrow
Load up the wheelbarrow with all the things you'll need for a great birthday party
Help Emma decorate the big birthday cake for Chico
Have a ride on the seesaw before you help Chico open his presents
Accessory elements include 8 cupcakes, a picture, marker element, 2 party hats, dish, cake slice, flower, bow and 2 opening gift boxes
Includes Easy to Build models with bigger starter pieces and Quick-Start bases, plus a simple guide to get children building and playing quickly
All LEGO Juniors sets are fully compatible with all other LEGO sets
Park scene with arch and seesaw measures over 2" (7cm) high, 3" (10cm) wide and 3" (8cm) deep
Wheelbarrow: Approx. 2cm (H) x 5cm (W) x 2cm (D)
Cake with base: Approx. 5cm (H) x 3cm (W)
Click & Collect
Order online and collect in-store.
Location

Cost

Ready for collection

Location

In selected stores
Cost

$3 packing fee
per order
$3 packing fee per order
Ready for collection

Within 24 hours
Delivery

We package up your order and deliver it to your door.
Location type

Standard delivery

Delivery timeframe

Metropolitan
$10
3-5 business days
Regional
$14
5-7 business days
Remote
From $16
7-14 business days
Big and bulky items (e.g. furniture, play equipment) will incur additional delivery charges beyond standard rates listed above.
You can see the actual cost of delivering your order by adding items to your Shopping Bag and proceeding to the Checkout.
Still have questions?
Please refer to Kmart FAQs
\
Check if this product is available at a store near you