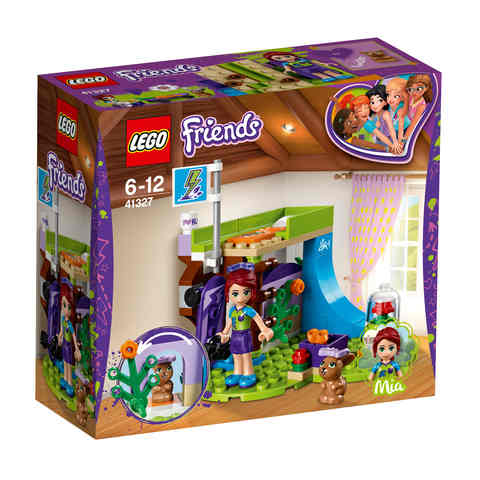 LEGO Heartlake Mia's Bedroom - 41327
<span style="color: rgb(51, 51, 51); font-family: Arial, &quot;Helvetica Neue&quot;, Helvetica, sans-serif; background-color: rgb(255, 255, 255);">Climb up into Mia's tree house bed and help her use the walkie-talkie to invite her friends around. Jump on the skateboard and practice your skills on the ramp. Have fun with her pet bunny Twister and make sure he has enough to eat, before grabbing the skateboard or paddle and setting off with Mia for outdoor adventures.</span><ul><li><span style="color: rgb(51, 51, 51); font-family: Arial, &quot;Helvetica Neue&quot;, Helvetica, sans-serif; background-color: rgb(255, 255, 255);">Suitable for 6+ years</span></li><li><span style="color: rgb(51, 51, 51); font-family: Arial, &quot;Helvetica Neue&quot;, Helvetica, sans-serif; background-color: rgb(255, 255, 255);"><span style="color: rgb(51, 51, 51); font-family: Arial, &quot;Helvetica Neue&quot;, Helvetica, sans-serif; background-color: rgb(255, 255, 255);">Includes a Mia mini-doll figure, plus a Twister the bunny figure</span></span></li><li><span style="color: rgb(51, 51, 51); font-family: Arial, &quot;Helvetica Neue&quot;, Helvetica, sans-serif; background-color: rgb(255, 255, 255);"><span style="color: rgb(51, 51, 51); font-family: Arial, &quot;Helvetica Neue&quot;, Helvetica, sans-serif; background-color: rgb(255, 255, 255);"><span style="color: rgb(51, 51, 51); font-family: Arial, &quot;Helvetica Neue&quot;, Helvetica, sans-serif; background-color: rgb(255, 255, 255);">Features a high-sleeper tree house-style bed with steps, skateboard ramp, bunny house and a flag, all set on a green heart-shaped baseplate</span></span></span></li><li><span style="color: rgb(51, 51, 51); font-family: Arial, &quot;Helvetica Neue&quot;, Helvetica, sans-serif; background-color: rgb(255, 255, 255);"><span style="color: rgb(51, 51, 51); font-family: Arial, &quot;Helvetica Neue&quot;, Helvetica, sans-serif; background-color: rgb(255, 255, 255);"><span style="color: rgb(51, 51, 51); font-family: Arial, &quot;Helvetica Neue&quot;, Helvetica, sans-serif; background-color: rgb(255, 255, 255);"><span style="color: rgb(51, 51, 51); font-family: Arial, &quot;Helvetica Neue&quot;, Helvetica, sans-serif; background-color: rgb(255, 255, 255);">Accessory elements include a skateboard, paddle, walkie-talkie, carrot and a basket</span></span></span></span></li><li><span style="color: rgb(51, 51, 51); font-family: Arial, &quot;Helvetica Neue&quot;, Helvetica, sans-serif; background-color: rgb(255, 255, 255);"><span style="color: rgb(51, 51, 51); font-family: Arial, &quot;Helvetica Neue&quot;, Helvetica, sans-serif; background-color: rgb(255, 255, 255);"><span style="color: rgb(51, 51, 51); font-family: Arial, &quot;Helvetica Neue&quot;, Helvetica, sans-serif; background-color: rgb(255, 255, 255);"><span style="color: rgb(51, 51, 51); font-family: Arial, &quot;Helvetica Neue&quot;, Helvetica, sans-serif; background-color: rgb(255, 255, 255);"><span style="color: rgb(51, 51, 51); font-family: Arial, &quot;Helvetica Neue&quot;, Helvetica, sans-serif; background-color: rgb(255, 255, 255);">Care for Mia's pet bunny in her bedroom</span></span></span></span></span></li><li><span style="color: rgb(51, 51, 51); font-family: Arial, &quot;Helvetica Neue&quot;, Helvetica, sans-serif; background-color: rgb(255, 255, 255);"><span style="color: rgb(51, 51, 51); font-family: Arial, &quot;Helvetica Neue&quot;, Helvetica, sans-serif; background-color: rgb(255, 255, 255);"><span style="color: rgb(51, 51, 51); font-family: Arial, &quot;Helvetica Neue&quot;, Helvetica, sans-serif; background-color: rgb(255, 255, 255);"><span style="color: rgb(51, 51, 51); font-family: Arial, &quot;Helvetica Neue&quot;, Helvetica, sans-serif; background-color: rgb(255, 255, 255);"><span style="color: rgb(51, 51, 51); font-family: Arial, &quot;Helvetica Neue&quot;, Helvetica, sans-serif; background-color: rgb(255, 255, 255);"><span style="color: rgb(51, 51, 51); font-family: Arial, &quot;Helvetica Neue&quot;, Helvetica, sans-serif; background-color: rgb(255, 255, 255);">Try out new tricks with the skateboard and ramp, before skating off to see friends around Heartlake City</span></span></span></span></span></span></li><li><span style="color: rgb(51, 51, 51); font-family: Arial, &quot;Helvetica Neue&quot;, Helvetica, sans-serif; background-color: rgb(255, 255, 255);"><span style="color: rgb(51, 51, 51); font-family: Arial, &quot;Helvetica Neue&quot;, Helvetica, sans-serif; background-color: rgb(255, 255, 255);">Help Mia climb the steps to her amazing tree house bed and tuck her in after a day of adventures with this fun building toy!</span></span></li><li><span style="color: rgb(51, 51, 51); font-family: Arial, &quot;Helvetica Neue&quot;, Helvetica, sans-serif; background-color: rgb(255, 255, 255);"><span style="color: rgb(51, 51, 51); font-family: Arial, &quot;Helvetica Neue&quot;, Helvetica, sans-serif; background-color: rgb(255, 255, 255);">Mia's bedroom measures over 3" (9cm) high, 3" (9cm) wide and 3" (9cm) deep</span></span></li></ul>
---
Climb up into Mia's tree house bed and help her use the walkie-talkie to invite her friends around. Jump on the skateboard and practice your skills on the ramp. Have fun with her pet bunny Twister and make sure he has enough to eat, before grabbing the skateboard or paddle and setting off with Mia for outdoor adventures.
Suitable for 6+ years

Includes a Mia mini-doll figure, plus a Twister the bunny figure

Features a high-sleeper tree house-style bed with steps, skateboard ramp, bunny house and a flag, all set on a green heart-shaped baseplate

Accessory elements include a skateboard, paddle, walkie-talkie, carrot and a basket

Care for Mia's pet bunny in her bedroom

Try out new tricks with the skateboard and ramp, before skating off to see friends around Heartlake City

Help Mia climb the steps to her amazing tree house bed and tuck her in after a day of adventures with this fun building toy!

Mia's bedroom measures over 3" (9cm) high, 3" (9cm) wide and 3" (9cm) deep
Click & Collect
Order online and collect in-store.
Location

Cost

Ready for collection

Location

In selected stores
Cost

$3 packing fee
per order
$3 packing fee per order
Ready for collection

Within 24 hours
Delivery

We package up your order and deliver it to your door.
Location type

Standard delivery

Delivery timeframe

Metropolitan
$10
3-5 business days
Regional
$14
5-7 business days
Remote
From $16
7-14 business days
Big and bulky items (e.g. furniture, play equipment) will incur additional delivery charges beyond standard rates listed above.
You can see the actual cost of delivering your order by adding items to your Shopping Bag and proceeding to the Checkout.
Still have questions?
Please refer to Kmart FAQs
\
Check if this product is available at a store near you