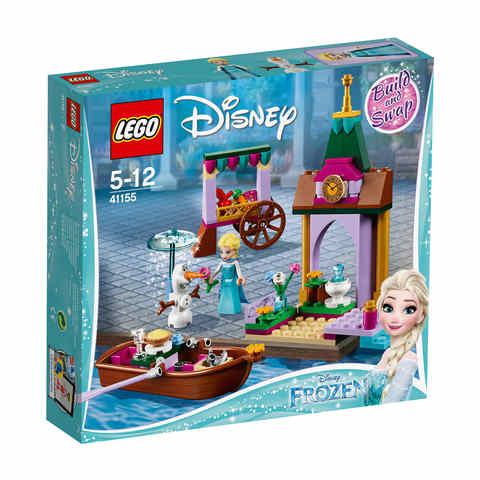 LEGO Frozen Elsa's Market Adventure - 41155
<p>It's a beautiful summer's day in Arendelle, but don't worry - Olaf has his own personal snow flurry to keep him cool! Join Elsa as she buys fresh vegetables from the stall and help Olaf smell the flowers. Head to the dock and have a picnic on the rowing boat. Then turn the clock face brick around to bring winter back to Arendelle, and slip on the skates for some fun on the ice! Enjoy building and customizing this set in different ways to create endless Frozen adventures.</p><ul><li>Suitable for 5+ years</li><li>Includes an Elsa minifigure plus Olaf with snow flurry brick</li><li>Features a clock tower with jetty and double-sided springtime/winter clock face, a market stall with wheels, and a rowing boat with space for 2 mini-doll figures</li><li>Accessory elements include Elsa's ice power, 2 oars, ice skates, apple, carrot, cherries, flowers, cake and a glass</li><li>Customize the set by easily swapping and rearranging internal features such as the flowerbeds and dock</li><li>Combine, swap and mix this model with other compatible LEGO l Disney toys to build your own dream creations</li><li>Visit Arendelle Market in the springtime, then turn the clock face brick to give a Disney Frozen wintery feel</li><li>Help Elsa use the oars to take the boat on a picnic adventure with Olaf</li><li>Clock tower with jetty: 14cm (H) x 9cm (W) x 6cm (D)</li><li>Rowing boat: 11cm (L) x 4cm (W) x 2cm (H)</li>
---
It's a beautiful summer's day in Arendelle, but don't worry - Olaf has his own personal snow flurry to keep him cool! Join Elsa as she buys fresh vegetables from the stall and help Olaf smell the flowers. Head to the dock and have a picnic on the rowing boat. Then turn the clock face brick around to bring winter back to Arendelle, and slip on the skates for some fun on the ice! Enjoy building and customizing this set in different ways to create endless Frozen adventures.
Suitable for 5+ years
Includes an Elsa minifigure plus Olaf with snow flurry brick
Features a clock tower with jetty and double-sided springtime/winter clock face, a market stall with wheels, and a rowing boat with space for 2 mini-doll figures
Accessory elements include Elsa's ice power, 2 oars, ice skates, apple, carrot, cherries, flowers, cake and a glass
Customize the set by easily swapping and rearranging internal features such as the flowerbeds and dock
Combine, swap and mix this model with other compatible LEGO l Disney toys to build your own dream creations
Visit Arendelle Market in the springtime, then turn the clock face brick to give a Disney Frozen wintery feel
Help Elsa use the oars to take the boat on a picnic adventure with Olaf
Clock tower with jetty: 14cm (H) x 9cm (W) x 6cm (D)
Rowing boat: 11cm (L) x 4cm (W) x 2cm (H)
Click & Collect
Order online and collect in-store.
Location

Cost

Ready for collection

Location

In selected stores
Cost

$3 packing fee
per order
$3 packing fee per order
Ready for collection

Within 24 hours
Delivery

We package up your order and deliver it to your door.
Location type

Standard delivery

Delivery timeframe

Metropolitan
$10
3-5 business days
Regional
$14
5-7 business days
Remote
From $16
7-14 business days
Big and bulky items (e.g. furniture, play equipment) will incur additional delivery charges beyond standard rates listed above.
You can see the actual cost of delivering your order by adding items to your Shopping Bag and proceeding to the Checkout.
Still have questions?
Please refer to Kmart FAQs
\
Check if this product is available at a store near you