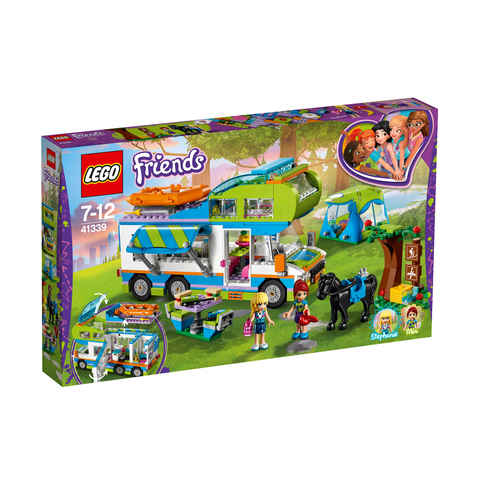 LEGO Friends Mia's Camper Van - 41339
<p>Drive to the countryside with Mia and Stephanie for a camping adventure. Set up the canopy and picnic bench, then get to work in the kitchen preparing a meal to enjoy outside. Plan adventures in the inflatable dinghy or take the friendly horse for a ride. Open the upstairs sleeping area and tuck the girls in for the night-they can pitch the tent tomorrow and camp out under the stars.</p><ul><li>Suitable for 6 to 12 years</li><ul><li>Includes Mia and Stephanie mini-doll figures, plus an Aria the horse figure</li><li>Features a camper van with opening roof, a cab to fit 2 mini-dolls, bathroom with toilet and basin, kitchen with refrigerator, cooker, sink and dining area, folding canopy, upstairs sleeping area with opening roof, a separate tent with 2 beds, plus a picnic bench and an outside area with tree, signposts and feeding station for the horse</li><li>Accessory elements include an inflatable dinghy, riding helmet, 2 walkie-talkies, 2 hot dogs, fruit bowl with fruit, 'I love Heartlake City' mug, cup, drinking bottle, frying pan, hairbrush, perfume bottle and a basket</li><li>Drive the camper van and find the perfect spot to set up camp with Mia and Stephanie</li><li>Remove the camper van roof for easy play inside</li><li>Prepare delicious hot dogs in the kitchen and enjoy them outside under the folding canopy of this cool toy for kids</li><li>Tuck the mini-dolls into their beds in the sleeping area or tent camp beds</li><li>Put on the helmet and take the horse on an adventure through the surrounding countryside, or take the inflatable dinghy out for a ride!</li><li>Camper van - 22cm (L) x 13cm (H) x 11cm (W); Tent - 5cm (H) x 6cm (W) x 6cm (D); Inflatable dinghy - Approx. 1cm (H) x 9cm (W) x 5cm (D)</li></ul>
---
Drive to the countryside with Mia and Stephanie for a camping adventure. Set up the canopy and picnic bench, then get to work in the kitchen preparing a meal to enjoy outside. Plan adventures in the inflatable dinghy or take the friendly horse for a ride. Open the upstairs sleeping area and tuck the girls in for the night-they can pitch the tent tomorrow and camp out under the stars.
Suitable for 6 to 12 years

Includes Mia and Stephanie mini-doll figures, plus an Aria the horse figure
Features a camper van with opening roof, a cab to fit 2 mini-dolls, bathroom with toilet and basin, kitchen with refrigerator, cooker, sink and dining area, folding canopy, upstairs sleeping area with opening roof, a separate tent with 2 beds, plus a picnic bench and an outside area with tree, signposts and feeding station for the horse
Accessory elements include an inflatable dinghy, riding helmet, 2 walkie-talkies, 2 hot dogs, fruit bowl with fruit, 'I love Heartlake City' mug, cup, drinking bottle, frying pan, hairbrush, perfume bottle and a basket
Drive the camper van and find the perfect spot to set up camp with Mia and Stephanie
Remove the camper van roof for easy play inside
Prepare delicious hot dogs in the kitchen and enjoy them outside under the folding canopy of this cool toy for kids
Tuck the mini-dolls into their beds in the sleeping area or tent camp beds
Put on the helmet and take the horse on an adventure through the surrounding countryside, or take the inflatable dinghy out for a ride!
Camper van - 22cm (L) x 13cm (H) x 11cm (W); Tent - 5cm (H) x 6cm (W) x 6cm (D); Inflatable dinghy - Approx. 1cm (H) x 9cm (W) x 5cm (D)
Click & Collect
Order online and collect in-store.
Location

Cost

Ready for collection

Location

In selected stores
Cost

$3 packing fee
per order
$3 packing fee per order
Ready for collection

Within 24 hours
Delivery

We package up your order and deliver it to your door.
Location type

Standard delivery

Delivery timeframe

Metropolitan
$10
3-5 business days
Regional
$14
5-7 business days
Remote
From $16
7-14 business days
Big and bulky items (e.g. furniture, play equipment) will incur additional delivery charges beyond standard rates listed above.
You can see the actual cost of delivering your order by adding items to your Shopping Bag and proceeding to the Checkout.
Still have questions?
Please refer to Kmart FAQs
\
Check if this product is available at a store near you