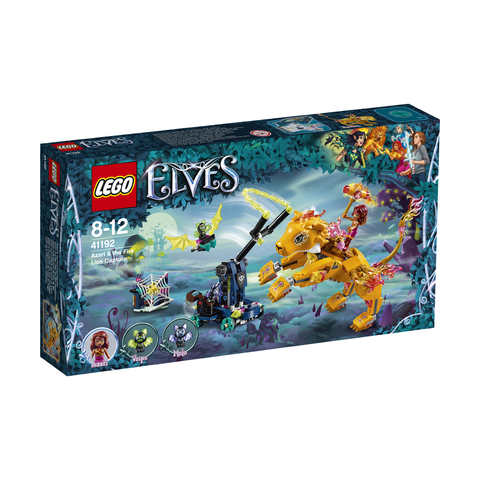 LEGO Elves Azari & The Fire Lion Capture - 41192
<p>Help Azari and Rowan the Guardian Fire Lion unite their magic to fight off the shadow bats! Dodge the elements the bats are firing from their catapult while you try to remove the evil chain from around Rowan's neck. Use Azari's power-up hammer to stop the capture vehicle and thwart Vespe and Molo's plans. Be careful, one of the bats has jumped onto a glider and is trying to steal the magical Fire diamond. Can you stop them before they get away?</p> <ul> <li>Suitable for 8 to 12 years</li> <li>Includes an Azari mini-doll figure plus Vespe and Molo shadow bat figures and a spider figure</li> <li>Features a buildable Rowan the Guardian Fire Lion figure with space for a mini-doll figure on the back, plus posable legs, wings and tail, opening jaw, translucent orange, yellow and pink 'fire' mane, and space on the head for a magic Fire 'diamond'</li> <li>Also includes a bat vehicle with a capture function, catapult, detachable glider and space for 2 bats, plus a small bat cave with opening spiderweb door, fireplace with chicken leg and 2 bat beds</li> <li>Launch 'water' elements from the capture vehicle's catapult at the Guardian Fire Lion and Azari to distract them</li> <li>Turn the knob on the capture vehicle to drop the chain over the lion's head</li> <li>Use the glider from the vehicle to help the bat snatch the magical Fire 'diamond' from the lion's forehead</li> <li>Grab Azari's power-up hammer to help release the lion from the chain</li> <li>Accessory elements include a bucket with 'water', chicken leg, Azari's power-up hammer, pink cupcake, cherry cupcake, compass, map, 2 'water' elements, cup and a magic Fire 'diamond'</li> <li>Other mischievous little bats can be collected in selected LEGO Elves sets.</li> <li>Guardian Fire Lion measures over 21cm (L) x 10cm (H) x 15cm (W)</li> <li>Capture vehicle with glider measures over 12cm (L) x 10cm (H) x 8cm (W)</li> </ul>
---
Help Azari and Rowan the Guardian Fire Lion unite their magic to fight off the shadow bats! Dodge the elements the bats are firing from their catapult while you try to remove the evil chain from around Rowan's neck. Use Azari's power-up hammer to stop the capture vehicle and thwart Vespe and Molo's plans. Be careful, one of the bats has jumped onto a glider and is trying to steal the magical Fire diamond. Can you stop them before they get away?
Suitable for 8 to 12 years
Includes an Azari mini-doll figure plus Vespe and Molo shadow bat figures and a spider figure
Features a buildable Rowan the Guardian Fire Lion figure with space for a mini-doll figure on the back, plus posable legs, wings and tail, opening jaw, translucent orange, yellow and pink 'fire' mane, and space on the head for a magic Fire 'diamond'
Also includes a bat vehicle with a capture function, catapult, detachable glider and space for 2 bats, plus a small bat cave with opening spiderweb door, fireplace with chicken leg and 2 bat beds
Launch 'water' elements from the capture vehicle's catapult at the Guardian Fire Lion and Azari to distract them
Turn the knob on the capture vehicle to drop the chain over the lion's head
Use the glider from the vehicle to help the bat snatch the magical Fire 'diamond' from the lion's forehead
Grab Azari's power-up hammer to help release the lion from the chain
Accessory elements include a bucket with 'water', chicken leg, Azari's power-up hammer, pink cupcake, cherry cupcake, compass, map, 2 'water' elements, cup and a magic Fire 'diamond'
Other mischievous little bats can be collected in selected LEGO Elves sets.
Guardian Fire Lion measures over 21cm (L) x 10cm (H) x 15cm (W)
Capture vehicle with glider measures over 12cm (L) x 10cm (H) x 8cm (W)
Click & Collect
Order online and collect in-store.
Location

Cost

Ready for collection

Location

In selected stores
Cost

$3 packing fee
per order
$3 packing fee per order
Ready for collection

Within 24 hours
Delivery

We package up your order and deliver it to your door.
Location type

Standard delivery

Delivery timeframe

Metropolitan
$10
3-5 business days
Regional
$14
5-7 business days
Remote
From $16
7-14 business days
Big and bulky items (e.g. furniture, play equipment) will incur additional delivery charges beyond standard rates listed above.
You can see the actual cost of delivering your order by adding items to your Shopping Bag and proceeding to the Checkout.
Still have questions?
Please refer to Kmart FAQs
\
Check if this product is available at a store near you