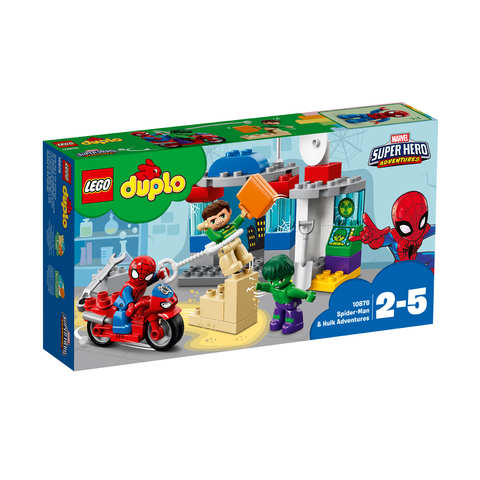 LEGO DUPLO Spider-Man & Hulk Adventures - 10876
<span style="color: rgb(51, 51, 51); font-family: Arial, &quot;Helvetica Neue&quot;, Helvetica, sans-serif; background-color: rgb(255, 255, 255);">Little superheroes will love to create endless role-play adventures with this Marvel superhero toy, as Marvel's Spider-Man and Hulk try to stop Sandman from stealing an important suitcase. Help young children develop fine motor skills as they build and rebuild Spider-Man's garage and Hulk's laboratory at Avengers HQ, then use the wrench to fix up the motorbike before Spider-Man speeds off to save the day! Includes 3 LEGO DUPLO figures: Spider-Man, Hulk and Sandman.</span><ul><li><span style="color: rgb(51, 51, 51); font-family: Arial, &quot;Helvetica Neue&quot;, Helvetica, sans-serif; background-color: rgb(255, 255, 255);">Suitable for 2-5 years</span></li><li><span style="color: rgb(51, 51, 51); font-family: Arial, &quot;Helvetica Neue&quot;, Helvetica, sans-serif; background-color: rgb(255, 255, 255);"><span style="color: rgb(51, 51, 51); font-family: Arial, &quot;Helvetica Neue&quot;, Helvetica, sans-serif; background-color: rgb(255, 255, 255);">Includes 3 LEGO DUPLO figures: Spider-Man, Hulk and Sandman</span></span></li><li><span style="color: rgb(51, 51, 51); font-family: Arial, &quot;Helvetica Neue&quot;, Helvetica, sans-serif; background-color: rgb(255, 255, 255);"><span style="color: rgb(51, 51, 51); font-family: Arial, &quot;Helvetica Neue&quot;, Helvetica, sans-serif; background-color: rgb(255, 255, 255);">Features Spider-Man's garage and motorbike, and Hulk's laboratory</span></span></li><li><span style="color: rgb(51, 51, 51); font-family: Arial, &quot;Helvetica Neue&quot;, Helvetica, sans-serif; background-color: rgb(255, 255, 255);"><span style="color: rgb(51, 51, 51); font-family: Arial, &quot;Helvetica Neue&quot;, Helvetica, sans-serif; background-color: rgb(255, 255, 255);">Accessory elements include a wrench, briefcase, spade and a flexible spiderweb</span></span></li><li><span style="color: rgb(51, 51, 51); font-family: Arial, &quot;Helvetica Neue&quot;, Helvetica, sans-serif; background-color: rgb(255, 255, 255);"><span style="color: rgb(51, 51, 51); font-family: Arial, &quot;Helvetica Neue&quot;, Helvetica, sans-serif; background-color: rgb(255, 255, 255);">Fix Spider-Man's motorbike in the garage while Hulk watches the radar in his lab</span></span></li><li><span style="color: rgb(51, 51, 51); font-family: Arial, &quot;Helvetica Neue&quot;, Helvetica, sans-serif; background-color: rgb(255, 255, 255);"><span style="color: rgb(51, 51, 51); font-family: Arial, &quot;Helvetica Neue&quot;, Helvetica, sans-serif; background-color: rgb(255, 255, 255);">Cast Spider-Man's web to help catch Sandman, and help Hulk smash through the sand bricks with his spade!</span></span></li><li><span style="color: rgb(51, 51, 51); font-family: Arial, &quot;Helvetica Neue&quot;, Helvetica, sans-serif; background-color: rgb(255, 255, 255);"><span style="color: rgb(51, 51, 51); font-family: Arial, &quot;Helvetica Neue&quot;, Helvetica, sans-serif; background-color: rgb(255, 255, 255);"><span style="color: rgb(51, 51, 51); font-family: Arial, &quot;Helvetica Neue&quot;, Helvetica, sans-serif; background-color: rgb(255, 255, 255);">Help your child master basic construction skills with this easy-to-build Marvel superhero toy</span></span></span></li><li><span style="color: rgb(51, 51, 51); font-family: Arial, &quot;Helvetica Neue&quot;, Helvetica, sans-serif; background-color: rgb(255, 255, 255);"><span style="color: rgb(51, 51, 51); font-family: Arial, &quot;Helvetica Neue&quot;, Helvetica, sans-serif; background-color: rgb(255, 255, 255);">LEGO DUPLO products are specially designed to be fun and easy for little hands</span></span></li><li><span style="color: rgb(51, 51, 51); font-family: Arial, &quot;Helvetica Neue&quot;, Helvetica, sans-serif; background-color: rgb(255, 255, 255);"><span style="color: rgb(51, 51, 51); font-family: Arial, &quot;Helvetica Neue&quot;, Helvetica, sans-serif; background-color: rgb(255, 255, 255);">Suitable for ages 2-5</span></span></li><li><span style="color: rgb(51, 51, 51); font-family: Arial, &quot;Helvetica Neue&quot;, Helvetica, sans-serif; background-color: rgb(255, 255, 255);"><span style="color: rgb(51, 51, 51); font-family: Arial, &quot;Helvetica Neue&quot;, Helvetica, sans-serif; background-color: rgb(255, 255, 255);">Spider-Man's garage measures over 9" (24cm) high, 4" (12cm) wide and 1" (4cm) deep</span></span></li><li><span style="color: rgb(51, 51, 51); font-family: Arial, &quot;Helvetica Neue&quot;, Helvetica, sans-serif; background-color: rgb(255, 255, 255);"><span style="color: rgb(51, 51, 51); font-family: Arial, &quot;Helvetica Neue&quot;, Helvetica, sans-serif; background-color: rgb(255, 255, 255);">Spider-Man's motorbike measures over 1" (5cm) high, 3" (9cm) long and under 1" (2cm) wide</span></span></li><li><span style="color: rgb(51, 51, 51); font-family: Arial, &quot;Helvetica Neue&quot;, Helvetica, sans-serif; background-color: rgb(255, 255, 255);"><span style="color: rgb(51, 51, 51); font-family: Arial, &quot;Helvetica Neue&quot;, Helvetica, sans-serif; background-color: rgb(255, 255, 255);">Hulk's laboratory measures over 3" (10cm) high, 2" (6cm) wide and 1" (5cm) deep</span></span></li></ul>
---
Little superheroes will love to create endless role-play adventures with this Marvel superhero toy, as Marvel's Spider-Man and Hulk try to stop Sandman from stealing an important suitcase. Help young children develop fine motor skills as they build and rebuild Spider-Man's garage and Hulk's laboratory at Avengers HQ, then use the wrench to fix up the motorbike before Spider-Man speeds off to save the day! Includes 3 LEGO DUPLO figures: Spider-Man, Hulk and Sandman.
Suitable for 2-5 years

Includes 3 LEGO DUPLO figures: Spider-Man, Hulk and Sandman

Features Spider-Man's garage and motorbike, and Hulk's laboratory

Accessory elements include a wrench, briefcase, spade and a flexible spiderweb

Fix Spider-Man's motorbike in the garage while Hulk watches the radar in his lab

Cast Spider-Man's web to help catch Sandman, and help Hulk smash through the sand bricks with his spade!

Help your child master basic construction skills with this easy-to-build Marvel superhero toy

LEGO DUPLO products are specially designed to be fun and easy for little hands

Suitable for ages 2-5

Spider-Man's garage measures over 9" (24cm) high, 4" (12cm) wide and 1" (4cm) deep

Spider-Man's motorbike measures over 1" (5cm) high, 3" (9cm) long and under 1" (2cm) wide

Hulk's laboratory measures over 3" (10cm) high, 2" (6cm) wide and 1" (5cm) deep
Click & Collect
Order online and collect in-store.
Location

Cost

Ready for collection

Location

In selected stores
Cost

$3 packing fee
per order
$3 packing fee per order
Ready for collection

Within 24 hours
Delivery

We package up your order and deliver it to your door.
Location type

Standard delivery

Delivery timeframe

Metropolitan
$10
3-5 business days
Regional
$14
5-7 business days
Remote
From $16
7-14 business days
Big and bulky items (e.g. furniture, play equipment) will incur additional delivery charges beyond standard rates listed above.
You can see the actual cost of delivering your order by adding items to your Shopping Bag and proceeding to the Checkout.
Still have questions?
Please refer to Kmart FAQs
\
Check if this product is available at a store near you