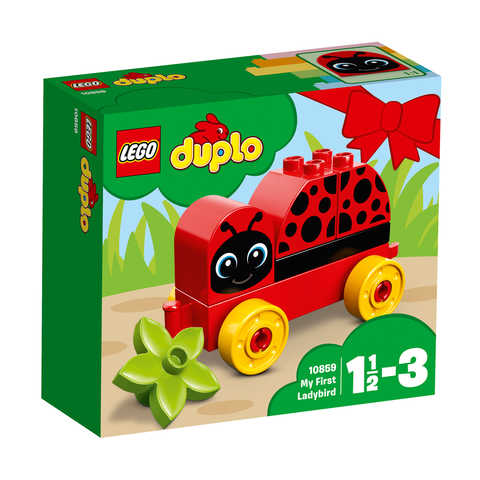 LEGO DUPLO My First Ladybird - 10859
<span style="color: rgb(51, 51, 51); font-family: Arial, &quot;Helvetica Neue&quot;, Helvetica, sans-serif; background-color: rgb(255, 255, 255);">Preschoolers will enjoy playing with this cute ladybug on wheels. It's simple to build and great for developing fine motor and early construction skills. It's also a fun toy to take along and play with wherever you go! Turn the decorated ladybug head to make her go to sleep or wake up, and use the flower to talk about where ladybugs live. LEGO DUPLO bricks are specially designed to be fun and safe for small hands.</span><ul><li><span style="color: rgb(51, 51, 51); font-family: Arial, &quot;Helvetica Neue&quot;, Helvetica, sans-serif; background-color: rgb(255, 255, 255);">Suitable for 1.5-3 years</span></li><li><span style="color: rgb(51, 51, 51); font-family: Arial, &quot;Helvetica Neue&quot;, Helvetica, sans-serif; background-color: rgb(255, 255, 255);"><span style="color: rgb(51, 51, 51); font-family: Arial, &quot;Helvetica Neue&quot;, Helvetica, sans-serif; background-color: rgb(255, 255, 255);">Features a buildable ladybug on a LEGO DUPLO wheelbase</span></span></li><li><span style="color: rgb(51, 51, 51); font-family: Arial, &quot;Helvetica Neue&quot;, Helvetica, sans-serif; background-color: rgb(255, 255, 255);"><span style="color: rgb(51, 51, 51); font-family: Arial, &quot;Helvetica Neue&quot;, Helvetica, sans-serif; background-color: rgb(255, 255, 255);">Also includes a double-sided awake/asleep face brick as a story starter</span></span></li><li><span style="color: rgb(51, 51, 51); font-family: Arial, &quot;Helvetica Neue&quot;, Helvetica, sans-serif; background-color: rgb(255, 255, 255);"><span style="color: rgb(51, 51, 51); font-family: Arial, &quot;Helvetica Neue&quot;, Helvetica, sans-serif; background-color: rgb(255, 255, 255);">Also includes a flower element</span></span></li><li><span style="color: rgb(51, 51, 51); font-family: Arial, &quot;Helvetica Neue&quot;, Helvetica, sans-serif; background-color: rgb(255, 255, 255);"><span style="color: rgb(51, 51, 51); font-family: Arial, &quot;Helvetica Neue&quot;, Helvetica, sans-serif; background-color: rgb(255, 255, 255);">A quick and simple build for hours of fun</span></span></li><li><span style="color: rgb(51, 51, 51); font-family: Arial, &quot;Helvetica Neue&quot;, Helvetica, sans-serif; background-color: rgb(255, 255, 255);"><span style="color: rgb(51, 51, 51); font-family: Arial, &quot;Helvetica Neue&quot;, Helvetica, sans-serif; background-color: rgb(255, 255, 255);">This set is a great toy to take and play with wherever you go</span></span></li><li><span style="color: rgb(51, 51, 51); font-family: Arial, &quot;Helvetica Neue&quot;, Helvetica, sans-serif; background-color: rgb(255, 255, 255);"><span style="color: rgb(51, 51, 51); font-family: Arial, &quot;Helvetica Neue&quot;, Helvetica, sans-serif; background-color: rgb(255, 255, 255);">Turn the double-sided face brick to make the ladybug go to sleep and wake up again</span></span></li><li><span style="color: rgb(51, 51, 51); font-family: Arial, &quot;Helvetica Neue&quot;, Helvetica, sans-serif; background-color: rgb(255, 255, 255);"><span style="color: rgb(51, 51, 51); font-family: Arial, &quot;Helvetica Neue&quot;, Helvetica, sans-serif; background-color: rgb(255, 255, 255);">Use the flower to start stories with the ladybug, or talk to your child about habitats to develop language skills as you play</span></span></li><li><span style="color: rgb(51, 51, 51); font-family: Arial, &quot;Helvetica Neue&quot;, Helvetica, sans-serif; background-color: rgb(255, 255, 255);"><span style="color: rgb(51, 51, 51); font-family: Arial, &quot;Helvetica Neue&quot;, Helvetica, sans-serif; background-color: rgb(255, 255, 255);">Makes an ideal creative play gift for preschool children</span></span></li><li><span style="color: rgb(51, 51, 51); font-family: Arial, &quot;Helvetica Neue&quot;, Helvetica, sans-serif; background-color: rgb(255, 255, 255);"><span style="color: rgb(51, 51, 51); font-family: Arial, &quot;Helvetica Neue&quot;, Helvetica, sans-serif; background-color: rgb(255, 255, 255);">LEGO DUPLO products are specially designed to be fun and easy for small hands</span></span></li><li><span style="color: rgb(51, 51, 51); font-family: Arial, &quot;Helvetica Neue&quot;, Helvetica, sans-serif; background-color: rgb(255, 255, 255);">Ladybug measures over 2" (7cm) high, 4" (12cm) long and 2" (6cm) wide</span></li></ul>
---
Preschoolers will enjoy playing with this cute ladybug on wheels. It's simple to build and great for developing fine motor and early construction skills. It's also a fun toy to take along and play with wherever you go! Turn the decorated ladybug head to make her go to sleep or wake up, and use the flower to talk about where ladybugs live. LEGO DUPLO bricks are specially designed to be fun and safe for small hands.
Suitable for 1.5-3 years

Features a buildable ladybug on a LEGO DUPLO wheelbase

Also includes a double-sided awake/asleep face brick as a story starter

Also includes a flower element

A quick and simple build for hours of fun

This set is a great toy to take and play with wherever you go

Turn the double-sided face brick to make the ladybug go to sleep and wake up again

Use the flower to start stories with the ladybug, or talk to your child about habitats to develop language skills as you play

Makes an ideal creative play gift for preschool children

LEGO DUPLO products are specially designed to be fun and easy for small hands

Ladybug measures over 2" (7cm) high, 4" (12cm) long and 2" (6cm) wide
Click & Collect
Order online and collect in-store.
Location

Cost

Ready for collection

Location

In selected stores
Cost

$3 packing fee
per order
$3 packing fee per order
Ready for collection

Within 24 hours
Delivery

We package up your order and deliver it to your door.
Location type

Standard delivery

Delivery timeframe

Metropolitan
$10
3-5 business days
Regional
$14
5-7 business days
Remote
From $16
7-14 business days
Big and bulky items (e.g. furniture, play equipment) will incur additional delivery charges beyond standard rates listed above.
You can see the actual cost of delivering your order by adding items to your Shopping Bag and proceeding to the Checkout.
Still have questions?
Please refer to Kmart FAQs
\
Check if this product is available at a store near you