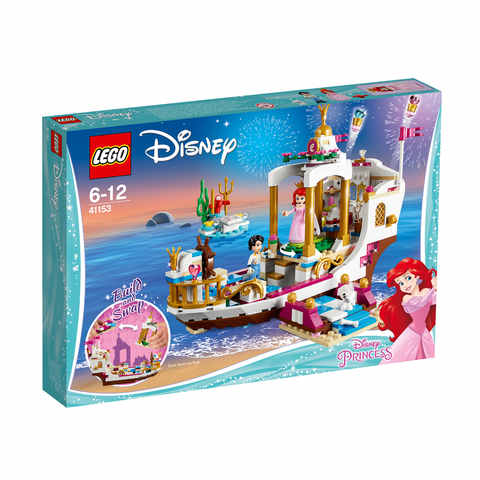 LEGO Disney Princess Ariel's Royal Celebration Boat - 41153
<p>Make a celebration to remember with Disney Princess Ariel and Eric. Set sail in their royal boat and pretend to play music with Sebastian by spinning the starfish while they dance the night away on the revolving dancefloor. Enjoy some cake with Max the dog and find Ariel's treasure hidden in the ship's hull, before launching colourful fireworks from the back of the boat! Have fun building and rebuilding this set in different ways to create endless stories on the sea.</p><ul><li>Suitable for 6+ years</li><li>Includes 2 mini-doll figures: Prince Eric and Ariel with her dress and white fabric cape, plus Sebastian the crab and Max the dog figures</li><li>Ariel's Royal Celebration Boat features a gazebo with revolving dancefloor, ship's wheel, vanity desk and firework launcher, plus a dock and Sebastian's island with turning starfish decks</li><li>Accessory elements include a cake, glasses, crown, treasure chest, jewel, telescope, Ursula's contract tile, trident, hair bow, bone, firework pieces and a perfume bottle</li><li>Customize this great children's toy by easily swapping and rearranging internal features such as the vanity, cake table and drinks table</li><li>Move and rearrange the gazebo and dock to customize the boat, or combine, swap and mix this model with other compatible LEGO l Disney toys to build your own dream creations</li><li>Recreate the final wedding scenes from Disney's The Little Mermaid on this ornate boat full of features and secret places</li><li>Help Ariel get ready for new adventures at the vanity desk, then put on her white wedding cape</li><li>Spin Sebastian's starfish and help Eric and Ariel dance on the revolving dancefloor, then launch the colourful firework pieces as the celebrations continue!</li><li>Ariel's Royal Celebration Boat: Approx. 16cm (H) x 23cm (L) x 11cm (W)</li><li>Sebastian's island: Approx. 4cm (H) x 4cm (W) x 4cm (D)</li></ul>
---
Make a celebration to remember with Disney Princess Ariel and Eric. Set sail in their royal boat and pretend to play music with Sebastian by spinning the starfish while they dance the night away on the revolving dancefloor. Enjoy some cake with Max the dog and find Ariel's treasure hidden in the ship's hull, before launching colourful fireworks from the back of the boat! Have fun building and rebuilding this set in different ways to create endless stories on the sea.
Suitable for 6+ years
Includes 2 mini-doll figures: Prince Eric and Ariel with her dress and white fabric cape, plus Sebastian the crab and Max the dog figures
Ariel's Royal Celebration Boat features a gazebo with revolving dancefloor, ship's wheel, vanity desk and firework launcher, plus a dock and Sebastian's island with turning starfish decks
Accessory elements include a cake, glasses, crown, treasure chest, jewel, telescope, Ursula's contract tile, trident, hair bow, bone, firework pieces and a perfume bottle
Customize this great children's toy by easily swapping and rearranging internal features such as the vanity, cake table and drinks table
Move and rearrange the gazebo and dock to customize the boat, or combine, swap and mix this model with other compatible LEGO l Disney toys to build your own dream creations
Recreate the final wedding scenes from Disney's The Little Mermaid on this ornate boat full of features and secret places
Help Ariel get ready for new adventures at the vanity desk, then put on her white wedding cape
Spin Sebastian's starfish and help Eric and Ariel dance on the revolving dancefloor, then launch the colourful firework pieces as the celebrations continue!
Ariel's Royal Celebration Boat: Approx. 16cm (H) x 23cm (L) x 11cm (W)
Sebastian's island: Approx. 4cm (H) x 4cm (W) x 4cm (D)
Click & Collect
Order online and collect in-store.
Location

Cost

Ready for collection

Location

In selected stores
Cost

$3 packing fee
per order
$3 packing fee per order
Ready for collection

Within 24 hours
Delivery

We package up your order and deliver it to your door.
Location type

Standard delivery

Delivery timeframe

Metropolitan
$10
3-5 business days
Regional
$14
5-7 business days
Remote
From $16
7-14 business days
Big and bulky items (e.g. furniture, play equipment) will incur additional delivery charges beyond standard rates listed above.
You can see the actual cost of delivering your order by adding items to your Shopping Bag and proceeding to the Checkout.
Still have questions?
Please refer to Kmart FAQs
\
Check if this product is available at a store near you