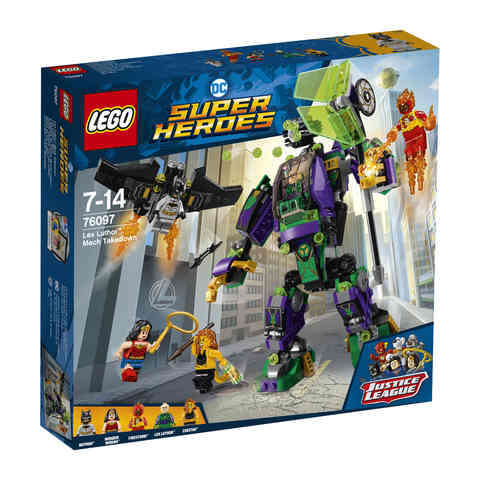 LEGO DC Comics Lex Luthor Mech Takedown - 76097
<p>Face off against the Lex Luthor Mech with Batman's Bat-Glider. Swerve the mighty mech's 6-stud rapid shooter. Dodge the huge axe and attack with the glider's stud shooters. Power up Firestorm to support Batman and join Wonder Woman's duel with Cheetah. Together you must grab the green Energy Infuser before Lex Luthor gets away in his escape pod!</p> <ul> <li>Suitable for 7 to 14 years</li> <li>Includes 5 minifigures: Lex Luthor, Batman (in Rebirth Batsuit), Wonder Woman, Firestorm and Cheetah</li> <li>Lex Luthor Mech features an opening minifigure cockpit/escape pod, posable legs, arms and fingers, adjustable 6-stud rapid shooter, buildable axe, attachment points for 3 collectible Energy Infusers, plus an attachment point for the Kryptonite prison featured in 76096 Superman &amp; Krypto Team-Up</li> <li>Mech escape pod has foldout wings, an attachment point for an Energy Infuser and 2 detachable guns</li> <li>Bat-Glider features an attachment point for the Batman minifigure, 2 stud shooters and translucent-yellow light-style elements</li> <li>Includes 10 assorted translucent-orange Power Burst elements to customize your builds and minifigures</li> <li>Also includes the buildable green Energy Infuser</li> <li>Attach the buildable red and blue Energy Infusers from the 76096 Superman and Krypto Team-up and 76098 Speed Force Freeze Pursuit sets to the Lex Luthor Mech</li> <li>Weapons include Batman's Batarang, Wonder Woman's lasso and Cheetah's spear</li> <li>Batman (in Rebirth Batsuit) minifigure is new for January 2018</li> <li>Connect the 76096 Superman &amp; Krypto Team-up Kryptonite prison to the Lex Luthor Mech for even more Justice League action</li> <li>Lex Luthor Mech measures over 5cm (L) x 19cm (H) x 12cm (W)</li> <li>Escape pod measures over 4cm (L) x 6cm (H) x 4cm (W)</li> <li>Bat-Glider measures over 3cm (L) x 6cm (H) x 12cm (W)</li> </ul>
---
Face off against the Lex Luthor Mech with Batman's Bat-Glider. Swerve the mighty mech's 6-stud rapid shooter. Dodge the huge axe and attack with the glider's stud shooters. Power up Firestorm to support Batman and join Wonder Woman's duel with Cheetah. Together you must grab the green Energy Infuser before Lex Luthor gets away in his escape pod!
Suitable for 7 to 14 years
Includes 5 minifigures: Lex Luthor, Batman (in Rebirth Batsuit), Wonder Woman, Firestorm and Cheetah
Lex Luthor Mech features an opening minifigure cockpit/escape pod, posable legs, arms and fingers, adjustable 6-stud rapid shooter, buildable axe, attachment points for 3 collectible Energy Infusers, plus an attachment point for the Kryptonite prison featured in 76096 Superman & Krypto Team-Up
Mech escape pod has foldout wings, an attachment point for an Energy Infuser and 2 detachable guns
Bat-Glider features an attachment point for the Batman minifigure, 2 stud shooters and translucent-yellow light-style elements
Includes 10 assorted translucent-orange Power Burst elements to customize your builds and minifigures
Also includes the buildable green Energy Infuser
Attach the buildable red and blue Energy Infusers from the 76096 Superman and Krypto Team-up and 76098 Speed Force Freeze Pursuit sets to the Lex Luthor Mech
Weapons include Batman's Batarang, Wonder Woman's lasso and Cheetah's spear
Batman (in Rebirth Batsuit) minifigure is new for January 2018
Connect the 76096 Superman & Krypto Team-up Kryptonite prison to the Lex Luthor Mech for even more Justice League action
Lex Luthor Mech measures over 5cm (L) x 19cm (H) x 12cm (W)
Escape pod measures over 4cm (L) x 6cm (H) x 4cm (W)
Bat-Glider measures over 3cm (L) x 6cm (H) x 12cm (W)
Click & Collect
Order online and collect in-store.
Location

Cost

Ready for collection

Location

In selected stores
Cost

$3 packing fee
per order
$3 packing fee per order
Ready for collection

Within 24 hours
Delivery

We package up your order and deliver it to your door.
Location type

Standard delivery

Delivery timeframe

Metropolitan
$10
3-5 business days
Regional
$14
5-7 business days
Remote
From $16
7-14 business days
Big and bulky items (e.g. furniture, play equipment) will incur additional delivery charges beyond standard rates listed above.
You can see the actual cost of delivering your order by adding items to your Shopping Bag and proceeding to the Checkout.
Still have questions?
Please refer to Kmart FAQs
\
Check if this product is available at a store near you