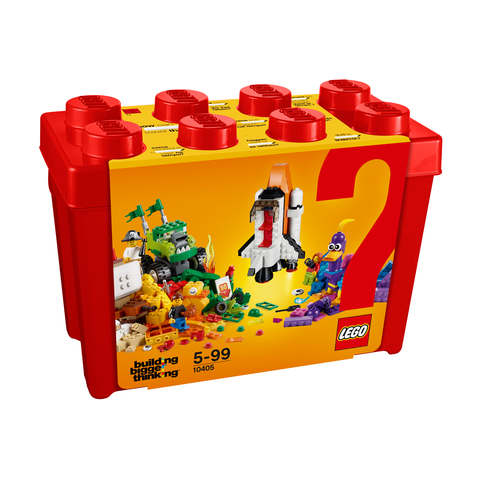 LEGO Classic Mission to Mars - 10405
<p>How can we travel through time? Build outside the box and celebrate the fun of creating with LEGO bricks! Hop in your space shuttle to explore the stars, before you rock out on a drum set and entertain your friends. Then set sail for adventure on a cool pirate ship, grab your sword and cape and head into battle against the incredible sea monster. Whatever you can imagine, you can build, rebuild and play with all day. Small bricks can inspire big ideas!</p><ul><li>Suitable for 5+ years</li><li>Includes 3 minifigures</li><li>Features a mix of bright and colourful LEGO pieces that allow for open-ended creative play, special pieces including wheels, shapes and eyes, plus a special edition tile celebrating 60 years of the LEGO brick</li><li>Let your child answer some of the biggest questions in the world with this special edition LEGO set</li><li>Provides varying degrees of building complexity to suit builders of different levels</li><li>Comes with a brick separator to make building and rebuilding easier</li><li>Accessory elements include a parrot, snake, apple, croissant, popsicle, loaf of bread, mug and glass, wrench, camera, binoculars, knight's sword, pirate's sword, 3 wigs, 2 pirate hats, 2 helmets with interchangeable space and underwater visors, knight's helmet, 2 sets of flippers and a stick of dynamite</li><li>Start building bigger thinking with LEGO bricks!</ul>
---
How can we travel through time? Build outside the box and celebrate the fun of creating with LEGO bricks! Hop in your space shuttle to explore the stars, before you rock out on a drum set and entertain your friends. Then set sail for adventure on a cool pirate ship, grab your sword and cape and head into battle against the incredible sea monster. Whatever you can imagine, you can build, rebuild and play with all day. Small bricks can inspire big ideas!
Suitable for 5+ years
Includes 3 minifigures
Features a mix of bright and colourful LEGO pieces that allow for open-ended creative play, special pieces including wheels, shapes and eyes, plus a special edition tile celebrating 60 years of the LEGO brick
Let your child answer some of the biggest questions in the world with this special edition LEGO set
Provides varying degrees of building complexity to suit builders of different levels
Comes with a brick separator to make building and rebuilding easier
Accessory elements include a parrot, snake, apple, croissant, popsicle, loaf of bread, mug and glass, wrench, camera, binoculars, knight's sword, pirate's sword, 3 wigs, 2 pirate hats, 2 helmets with interchangeable space and underwater visors, knight's helmet, 2 sets of flippers and a stick of dynamite
Start building bigger thinking with LEGO bricks!
Click & Collect
Order online and collect in-store.
Location

Cost

Ready for collection

Location

In selected stores
Cost

$3 packing fee
per order
$3 packing fee per order
Ready for collection

Within 24 hours
Delivery

We package up your order and deliver it to your door.
Location type

Standard delivery

Delivery timeframe

Metropolitan
$10
3-5 business days
Regional
$14
5-7 business days
Remote
From $16
7-14 business days
Big and bulky items (e.g. furniture, play equipment) will incur additional delivery charges beyond standard rates listed above.
You can see the actual cost of delivering your order by adding items to your Shopping Bag and proceeding to the Checkout.
Still have questions?
Please refer to Kmart FAQs
\
Check if this product is available at a store near you