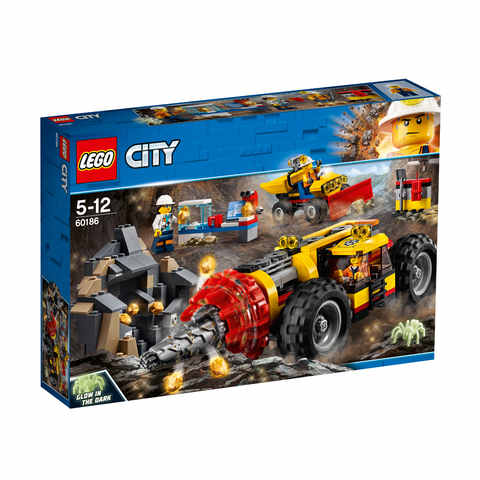 LEGO City Mining Heavy Driller - 60186
<p>Dig up some gold and run some tests on it! Run the heavy driller deep into the cave and then haul out the gold nuggets with the shovel loader. Empty the loader by the lab, so the geologist can analyse what you've found. Take a break and use the tools on the stand to clear up the mess from the drill, or make more! Watch out for the giant spider sitting up on the rocks. It doesn't look very happy to be disturbed by the noisy work!</p><ul><li>Suitable for 5 to 12 years</li><li>Includes 3 minifigures: 2 miners and a geologist, plus a spider figure</li><li>Features a functioning heavy driller with minifigure cab and a shovel loader with tipping bed</li><li>Also includes a mine cave with breakaway golden nugget elements, mobile lab and a buildable tool stand</li><li>Spider glows in the dark!<li>Turn the knob on the back of the heavy driller to spin the drill bit</li><li>Shovel the golden nuggets into the loader bed, then tip the bed to empty the nuggets by the lab</li><li>Set a golden nugget in the lab machine to analyse it</li><li>Accessory elements include 8 golden nugget elements, a mug and a buildable stand with dynamite element and shovel</li><li>Heavy driller - 24cm (L) x 7cm (H) x 10cm (W); Shovel loader - 11cm (L) x 5cm (H) x 5cm (W); Mine cave - 10cm (H) x 12cm (W) x 6cm (D); Mobile lab - 3cm (H) x 6cm (W) x 2cm (D)</li></ul>
---
Dig up some gold and run some tests on it! Run the heavy driller deep into the cave and then haul out the gold nuggets with the shovel loader. Empty the loader by the lab, so the geologist can analyse what you've found. Take a break and use the tools on the stand to clear up the mess from the drill, or make more! Watch out for the giant spider sitting up on the rocks. It doesn't look very happy to be disturbed by the noisy work!
Suitable for 5 to 12 years
Includes 3 minifigures: 2 miners and a geologist, plus a spider figure
Features a functioning heavy driller with minifigure cab and a shovel loader with tipping bed
Also includes a mine cave with breakaway golden nugget elements, mobile lab and a buildable tool stand
Spider glows in the dark!
Turn the knob on the back of the heavy driller to spin the drill bit
Shovel the golden nuggets into the loader bed, then tip the bed to empty the nuggets by the lab
Set a golden nugget in the lab machine to analyse it
Accessory elements include 8 golden nugget elements, a mug and a buildable stand with dynamite element and shovel
Heavy driller - 24cm (L) x 7cm (H) x 10cm (W); Shovel loader - 11cm (L) x 5cm (H) x 5cm (W); Mine cave - 10cm (H) x 12cm (W) x 6cm (D); Mobile lab - 3cm (H) x 6cm (W) x 2cm (D)
Click & Collect
Order online and collect in-store.
Location

Cost

Ready for collection

Location

In selected stores
Cost

$3 packing fee
per order
$3 packing fee per order
Ready for collection

Within 24 hours
Delivery

We package up your order and deliver it to your door.
Location type

Standard delivery

Delivery timeframe

Metropolitan
$10
3-5 business days
Regional
$14
5-7 business days
Remote
From $16
7-14 business days
Big and bulky items (e.g. furniture, play equipment) will incur additional delivery charges beyond standard rates listed above.
You can see the actual cost of delivering your order by adding items to your Shopping Bag and proceeding to the Checkout.
Still have questions?
Please refer to Kmart FAQs
\
Check if this product is available at a store near you