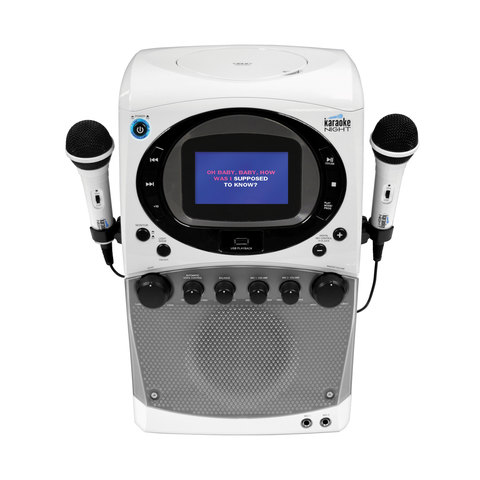 How about a karaoke party this weekend? This party machine will let you showcase your singing talent and be the next star in town!<ul><li>CD+G Karaoke machine with LED light show, TFT colour monitor and USB port</li><li>Included auxiliary input cable to play karaoke music from the smartphone or tablet</li><li>Top loading compact disc player capable of playing CD, CD+G, CD+R, CD-RW discs</li><li>A/V outputs to connect to TV/monitor to see the CD+G/MP3+G lyrics on a bigger screen (cable included)</li><li>LED light show with on/off switch to add further excitement to your performances</li><li>Play audio from MP3/MP3+G via the USB port</li><li>Digital key control to make it easier to sing at your desired pitch</li><li>Echo, balance, separate mic 1 and mic 2 volume and AVC controls</li><li>4-inch wide range speaker (5W RMS)</li><li>Built in 4.3-inch, TFT colour monitor to view CD+G/MP3+G lyrics while you sing</li><li>Convenient microphone holders included (two microphones included)</li><li>3.5mm aux-in jack to connect virtually any audio device with headphone jack as a music source</li><li>Two 6.3mm mic input jacks (two high sensitivity microphones with 10 foot included)</li><li>AC operation: External adaptor (included), Input: 240V-50Hz, Output: 12V - 1.5A</li><li>Bonus 20 songs CD+G demo disc including: I Want in the style of One Direction, Baby One More Time in the style of Britney Spears, Ho Hey in the style of The Lumineers, I Want It That Way in the style of the Back Street Boys, Tik Tok in the style of Kesha</li></ul>
---
How about a karaoke party this weekend? This party machine will let you showcase your singing talent and be the next star in town!
CD+G Karaoke machine with LED light show, TFT colour monitor and USB port
Included auxiliary input cable to play karaoke music from the smartphone or tablet
Top loading compact disc player capable of playing CD, CD+G, CD+R, CD-RW discs
A/V outputs to connect to TV/monitor to see the CD+G/MP3+G lyrics on a bigger screen (cable included)
LED light show with on/off switch to add further excitement to your performances
Play audio from MP3/MP3+G via the USB port
Digital key control to make it easier to sing at your desired pitch
Echo, balance, separate mic 1 and mic 2 volume and AVC controls
4-inch wide range speaker (5W RMS)
Built in 4.3-inch, TFT colour monitor to view CD+G/MP3+G lyrics while you sing
Convenient microphone holders included (two microphones included)
3.5mm aux-in jack to connect virtually any audio device with headphone jack as a music source
Two 6.3mm mic input jacks (two high sensitivity microphones with 10 foot included)
AC operation: External adaptor (included), Input: 240V-50Hz, Output: 12V - 1.5A
Bonus 20 songs CD+G demo disc including: I Want in the style of One Direction, Baby One More Time in the style of Britney Spears, Ho Hey in the style of The Lumineers, I Want It That Way in the style of the Back Street Boys, Tik Tok in the style of Kesha
Click & Collect
Order online and collect in-store.
Location

Cost

Ready for collection

Location

In selected stores
Cost

$3 packing fee
per order
$3 packing fee per order
Ready for collection

Within 24 hours
Delivery

We package up your order and deliver it to your door.
Location type

Standard delivery

Delivery timeframe

Metropolitan
$10
3-5 business days
Regional
$14
5-7 business days
Remote
$16
7-14 business days
Additional costs for large and heavy orders
Big and bulky items (e.g. furniture, play equipment) will incur additional delivery charges beyond standard rates listed above.
You can see the actual cost of delivering your order by adding items to your Shopping Bag and proceeding to the Checkout.
Still have questions?
Please refer to Kmart FAQs
Check if this product is available at a store near you