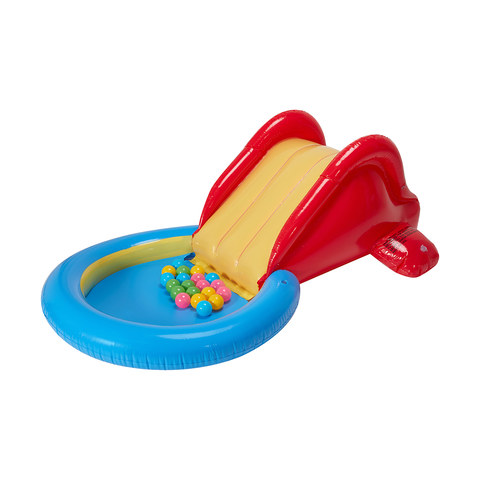 Inflatable Slide & Ball Pit
<p>Bring the amusement park vibe to your backyard or home with this inflatable slide and ball pit. Featuring joyful and bright colours, the inflatable toy set develops co-ordination and helps encourage co-operative play.</p><ul><li>Suitable for ages: 18-36 months</li><li>Max. load capacity: 25kg</li><li>Made of polyvinyl chloride (PVC)</li><li>Includes 20 balls</li><li>Play-fun that develops co-ordination</li><li>Helps to encourage co-operative play</li><li>Ideal for indoor and outdoor fun</li><li>Some adult assembly required</li><li>Instructions included</li><li><a title="Guide" style="color: #0079c1" href="http://www.kmart.com.au/wcsstore/Kmart/pdfs/42337560_Manual.pdf" target="_blank"><strong>Instruction Manual</strong></a></li><li>Dimensions: 64cm (H) x 102cm (W) x 185cm (D)</li><li>Warning: Keep away from fire. Follow usage instructions carefully.</li></ul><p><strong>Best way to set-up:</strong></p><ul><li>Check the area where the product will be placed for sharp objects, rocks, sticks, lawn sprinklers or any other objects that can cause injury or damage to the product. Set up on a flat lawn surface, free of depressions or raised spots.</li><li>This product should be placed at least 305cm away on all sides from trees, walls, holes, garden equipment, pools and other objects</li><li>Inspect this product for rips, tears or punctures. Do not use if damaged.</li><li>Open the water reservoir valve which is on the side of the slide and fill the reservoir. Close the valve securely to prevent leaking. Repeat for the other side of the water bag.</li><li>Inflate the slide and ball pit with air. Remove the valve plug from the valve and insert the appropriate attachment of your inflation device and inflate until almost firm. Close valve plug.</li><li>Insert the deflation portion of the inflation/deflation device with the appropriate attachment connector. You may also gently squeeze the bass of the valve to release air. You will know you have all the air out when the unit is flat and wrinkled.</li></ul>
---
Bring the amusement park vibe to your backyard or home with this inflatable slide and ball pit. Featuring joyful and bright colours, the inflatable toy set develops co-ordination and helps encourage co-operative play.
Suitable for ages: 18-36 months
Max. load capacity: 25kg
Made of polyvinyl chloride (PVC)
Includes 20 balls
Play-fun that develops co-ordination
Helps to encourage co-operative play
Ideal for indoor and outdoor fun
Some adult assembly required
Instructions included
Dimensions: 64cm (H) x 102cm (W) x 185cm (D)
Warning: Keep away from fire. Follow usage instructions carefully.
Best way to set-up:
Check the area where the product will be placed for sharp objects, rocks, sticks, lawn sprinklers or any other objects that can cause injury or damage to the product. Set up on a flat lawn surface, free of depressions or raised spots.
This product should be placed at least 305cm away on all sides from trees, walls, holes, garden equipment, pools and other objects
Inspect this product for rips, tears or punctures. Do not use if damaged.
Open the water reservoir valve which is on the side of the slide and fill the reservoir. Close the valve securely to prevent leaking. Repeat for the other side of the water bag.
Inflate the slide and ball pit with air. Remove the valve plug from the valve and insert the appropriate attachment of your inflation device and inflate until almost firm. Close valve plug.
Insert the deflation portion of the inflation/deflation device with the appropriate attachment connector. You may also gently squeeze the bass of the valve to release air. You will know you have all the air out when the unit is flat and wrinkled.
Click & Collect
Order online and collect in-store.
Location

Cost

Ready for collection

Location

In selected stores
Cost

$3 packing fee
per order
$3 packing fee per order
Ready for collection

Within 24 hours
Delivery

We package up your order and deliver it to your door.
Location type

Standard delivery

Delivery timeframe

Metropolitan
$10
3-5 business days
Regional
$14
5-7 business days
Remote
From $16
7-14 business days
Big and bulky items (e.g. furniture, play equipment) will incur additional delivery charges beyond standard rates listed above.
You can see the actual cost of delivering your order by adding items to your Shopping Bag and proceeding to the Checkout.
Still have questions?
Please refer to Kmart FAQs
\
Check if this product is available at a store near you