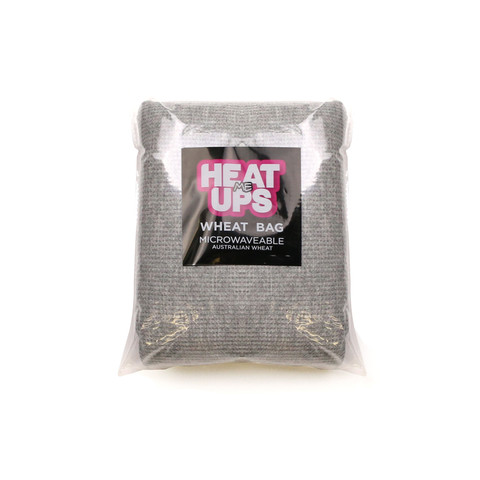 Heat Me Ups Wheat Heat Bag - Grey
<p>Treat aches, pains and cramps with this wheat heat bag that can be easily heated in the microwave.</p><ul><li>Heating instructions:<ul><li>Remove the product from packaging.</li><li>Lay the wheat filled insert flat onto the centre of microwave turntable and heat for the duration listed below.</li><li>Product will be hot after heating, take care whilst handling.</li><li>Check the temperature is comfortable before use and avoid direct contact with skin.</li><li>Allow the wheat filled insert to cool before reheating.</li><li>Leave the wheat filled insert to cool on a non - combustible surface after use.</li></ul></li><li>Microwave heating times:<ul><li>Never heat the wheat filled insert for more than 1 minute at a time.</li><li>Flip the wheat filled insert around at the half way point</li></ul></li><li>Microwave power:<ul><li>1-700W, maximum heating time: 90 seconds</li><li>701-1200W, maximum heating time: 60 seconds</li></ul></li><li>Safety Warnings:<ul><li>Do not use if smells or looks burnt - allow to cool first then throw away.</li><li>Do not leave pack unattended in microwave - incase of fire.</li><li>Do not use directly on skin to avoid burns - use cover or towel between pack and skin.</li><li>Do not use straight from microwave if too hot - allow to cool down first.</li><li>Do not use pack on one body part for more than 5 mins - continuous heat may burn.</li><li>Use with caution - Heat packs can burn skin when used incorrectly and particularly the more delicate skins of children or older people.</li><li>Supervise children at all times</li><li>It is not recommended to add oils or fragrances to the pack - these may increase the risk of fire</li></ul></li><li>100% Australian grown wheat</li><li>20.5cm (H) x 15cm (W) x 7cm (D)</li><li>Colour: Grey Waffle</li></ul><li>Warning: Keep instructions with your pack. Read before every use. Not recommended for people who may have reduced awareness of temperature or feeling in their skin, e.g. Diabetics, people with nerve damage, or people with an impairment that prevents them recognising they may be burnt. It is important to carefully follow these instructions as overheating or inappropriate use may result in injury or fire. Do not heat in a gas or electric oven.</li>
---
Treat aches, pains and cramps with this wheat heat bag that can be easily heated in the microwave.
Heating instructions:

Remove the product from packaging.
Lay the wheat filled insert flat onto the centre of microwave turntable and heat for the duration listed below.
Product will be hot after heating, take care whilst handling.
Check the temperature is comfortable before use and avoid direct contact with skin.
Allow the wheat filled insert to cool before reheating.
Leave the wheat filled insert to cool on a non - combustible surface after use.

Microwave heating times:

Never heat the wheat filled insert for more than 1 minute at a time.
Flip the wheat filled insert around at the half way point

Microwave power:

1-700W, maximum heating time: 90 seconds
701-1200W, maximum heating time: 60 seconds

Safety Warnings:

Do not use if smells or looks burnt - allow to cool first then throw away.
Do not leave pack unattended in microwave - incase of fire.
Do not use directly on skin to avoid burns - use cover or towel between pack and skin.
Do not use straight from microwave if too hot - allow to cool down first.
Do not use pack on one body part for more than 5 mins - continuous heat may burn.
Use with caution - Heat packs can burn skin when used incorrectly and particularly the more delicate skins of children or older people.
Supervise children at all times
It is not recommended to add oils or fragrances to the pack - these may increase the risk of fire

100% Australian grown wheat
20.5cm (H) x 15cm (W) x 7cm (D)
Colour: Grey Waffle
Warning: Keep instructions with your pack. Read before every use. Not recommended for people who may have reduced awareness of temperature or feeling in their skin, e.g. Diabetics, people with nerve damage, or people with an impairment that prevents them recognising they may be burnt. It is important to carefully follow these instructions as overheating or inappropriate use may result in injury or fire. Do not heat in a gas or electric oven.
Click & Collect
Order online and collect in-store.
Location

Cost

Ready for collection

Location

In selected stores
Cost

$3 packing fee
per order
$3 packing fee per order
Ready for collection

Within 24 hours
Delivery

We package up your order and deliver it to your door.
Location type

Standard delivery

Delivery timeframe

Metropolitan
$10
3-5 business days
Regional
$14
5-7 business days
Remote
From $16
7-14 business days
Big and bulky items (e.g. furniture, play equipment) will incur additional delivery charges beyond standard rates listed above.
You can see the actual cost of delivering your order by adding items to your Shopping Bag and proceeding to the Checkout.
Still have questions?
Please refer to Kmart FAQs
\
Check if this product is available at a store near you