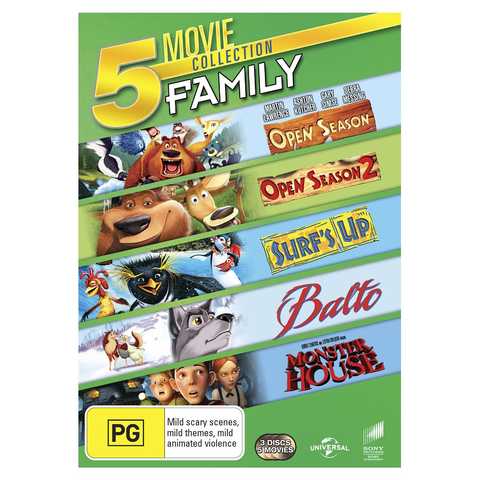 Family Movie Collection - DVD
<p>Balto: A half-wolf, half-husky named Balto gets a chance to become a hero when an outbreak of diphtheria threatens the children of Nome, Alaska in the winter of 1925. He leads a dog team on a 600-mile trip across the Alaskan wilderness to get medical supplies. The film is based on a true story which inspired the Iditarod dog sled race.</p> <p>Monster House: Three kids DJ (Mitchel Musso), Chowder (Sam Lerner), and Jenny (Spencer Locke) discover that the house across the street from DJ's is alive. It eats anything that goes on its property. They try to convince the babysitter (Maggie Gyllenhaal), the police, and some weirdo named Skull (Jon Heder).</p> <p>Open Season: Boog, a domesticated 900 lb. grizzly bear with no survival skills, has his perfect world turned upside-down when he meets Elliot a scrawny, fast-talking mule deer. When Elliot convinces Boog to leave his cushy home in a park ranger's garage to try a taste of the great outdoors, things quickly spiral out of control. Relocated to the forest with open season only three days away, Boog and Elliot must acclimate in a hurry. They must join forces to unite the woodland creatures and take the forest back.</p> <p>Open Season 2: After falling head over hooves in love with Giselle, Elliot's road to the altar takes a slight detour when Mr. Weenie is kidnapped by a group of pampered pets determined to return him to his owners. Boog, Elliot, McSquizzy, Buddy and the rest of the woodland creatures launch a full-scale rescue mission for their sausage-shaped friend and soon find themselves in enemy camp: the world of the pets.</p> <p>Surf's Up: Surf's Up is an animated comedy that delves behind the scenes of the high-octane world of competitive surfing. The film profiles teenage Rockhopper penguin, Cody Maverick, an up-and-coming surfer, as he enters his first pro competition. </p><ul><li>Rated PG: Mild scary scenes, mild themes, mild animated violence</li></ul>
---
Balto: A half-wolf, half-husky named Balto gets a chance to become a hero when an outbreak of diphtheria threatens the children of Nome, Alaska in the winter of 1925. He leads a dog team on a 600-mile trip across the Alaskan wilderness to get medical supplies. The film is based on a true story which inspired the Iditarod dog sled race.
Monster House: Three kids DJ (Mitchel Musso), Chowder (Sam Lerner), and Jenny (Spencer Locke) discover that the house across the street from DJ's is alive. It eats anything that goes on its property. They try to convince the babysitter (Maggie Gyllenhaal), the police, and some weirdo named Skull (Jon Heder).
Open Season: Boog, a domesticated 900 lb. grizzly bear with no survival skills, has his perfect world turned upside-down when he meets Elliot a scrawny, fast-talking mule deer. When Elliot convinces Boog to leave his cushy home in a park ranger's garage to try a taste of the great outdoors, things quickly spiral out of control. Relocated to the forest with open season only three days away, Boog and Elliot must acclimate in a hurry. They must join forces to unite the woodland creatures and take the forest back.
Open Season 2: After falling head over hooves in love with Giselle, Elliot's road to the altar takes a slight detour when Mr. Weenie is kidnapped by a group of pampered pets determined to return him to his owners. Boog, Elliot, McSquizzy, Buddy and the rest of the woodland creatures launch a full-scale rescue mission for their sausage-shaped friend and soon find themselves in enemy camp: the world of the pets.
Surf's Up: Surf's Up is an animated comedy that delves behind the scenes of the high-octane world of competitive surfing. The film profiles teenage Rockhopper penguin, Cody Maverick, an up-and-coming surfer, as he enters his first pro competition.
Rated PG: Mild scary scenes, mild themes, mild animated violence
Click & Collect
Order online and collect in-store.
Location

Cost

Ready for collection

Location

In selected stores
Cost

$3 packing fee
per order
$3 packing fee per order
Ready for collection

Within 24 hours
Delivery

We package up your order and deliver it to your door.
Location type

Standard delivery

Delivery timeframe

Metropolitan
$10
3-5 business days
Regional
$14
5-7 business days
Remote
$16
7-14 business days
Christmas orders
Order by 15th December for metro areas or 11th December for all other areas to receive your items before Christmas. Orders placed after these dates may not arrive before Christmas.
Additional costs for large and heavy orders
Big and bulky items (e.g. furniture, play equipment) will incur additional delivery charges beyond standard rates listed above.
You can see the actual cost of delivering your order by adding items to your Shopping Bag and proceeding to the Checkout.
Still have questions?
Please refer to Kmart FAQs
\
Check if this product is available at a store near you