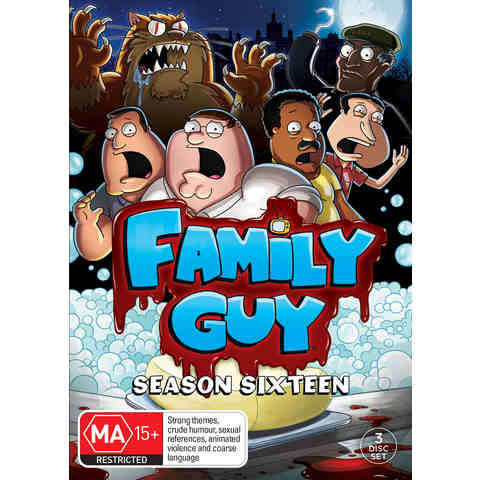 Family Guy - Season 14 (dom)/season 16 (intl) - DVD
<p>Entering its 14th season, Family Guy continues to entertain its die-hard fan base with razor-sharp humour, spot-on parodies, spectacular animation and orchestra-backed original music. Since its debut, the series has reached cult status among fans, and its breakout star, a talking baby, has become one of the greatest TV characters of all time. Meanwhile, the family dog's untimely death (and resurrection!) made worldwide news. The show follows Peter Griffin (MacFarlane), the endearingly ignorant dad, and his hilariously offbeat family of middle-class New Englanders in Quahog, RI. LOIS (Alex Borstein) is Peter's wife, a stay-at-home mom with no patience for her family's antics. Then there are their kids: 18-year-old Meg (Mila Kunis) is an outcast at school and the Griffin family punching bag; 13-year-old Chris (Seth Green) is a socially awkward teen who doesn't have a clue about the opposite sex; and one-year-old Stewei (MacFarlane) is a diabolically clever baby whose burgeoning sexuality is very much a work in progress. Rounding out the Griffin household is Brian (MacFarlane), the family dog and a ladies' man who is one step away from AA. In the upcoming season, Stewie snags a starring role in a national commercial and Peter and Lois become crazy, show-biz parents; Chris develops into a star baseball pitcher; Quagmire (MacFarlane) searches for new work and becomes a gigolo; and Peter, Cleveland (Mike Henry), Joe (Patrick Warburton) and Quagmire head to Korea.</p><ul><li>Rated MA15+: Strong crude humour, sexual references, animated violence and coarse language</li></ul>
---
Entering its 14th season, Family Guy continues to entertain its die-hard fan base with razor-sharp humour, spot-on parodies, spectacular animation and orchestra-backed original music. Since its debut, the series has reached cult status among fans, and its breakout star, a talking baby, has become one of the greatest TV characters of all time. Meanwhile, the family dog's untimely death (and resurrection!) made worldwide news. The show follows Peter Griffin (MacFarlane), the endearingly ignorant dad, and his hilariously offbeat family of middle-class New Englanders in Quahog, RI. LOIS (Alex Borstein) is Peter's wife, a stay-at-home mom with no patience for her family's antics. Then there are their kids: 18-year-old Meg (Mila Kunis) is an outcast at school and the Griffin family punching bag; 13-year-old Chris (Seth Green) is a socially awkward teen who doesn't have a clue about the opposite sex; and one-year-old Stewei (MacFarlane) is a diabolically clever baby whose burgeoning sexuality is very much a work in progress. Rounding out the Griffin household is Brian (MacFarlane), the family dog and a ladies' man who is one step away from AA. In the upcoming season, Stewie snags a starring role in a national commercial and Peter and Lois become crazy, show-biz parents; Chris develops into a star baseball pitcher; Quagmire (MacFarlane) searches for new work and becomes a gigolo; and Peter, Cleveland (Mike Henry), Joe (Patrick Warburton) and Quagmire head to Korea.
Rated MA15+: Strong crude humour, sexual references, animated violence and coarse language
Click & Collect
Order online and collect in-store.
Location

Cost

Ready for collection

Location

In selected stores
Cost

$3 packing fee
per order
$3 packing fee per order
Ready for collection

Within 24 hours
Delivery

We package up your order and deliver it to your door.
Location type

Standard delivery

Delivery timeframe

Metropolitan
$10
3-5 business days
Regional
$14
5-7 business days
Remote
From $16
7-14 business days
Big and bulky items (e.g. furniture, play equipment) will incur additional delivery charges beyond standard rates listed above.
You can see the actual cost of delivering your order by adding items to your Shopping Bag and proceeding to the Checkout.
Still have questions?
Please refer to Kmart FAQs
\
Check if this product is available at a store near you