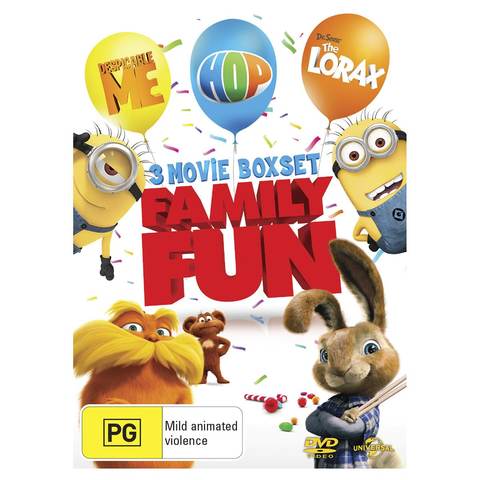 Family Fun Movie Boxset - DVD
<p>Despicable Me: In a happy suburban neighbourhood with its well-kept gardens and white picket fences, sits a black house with a dead lawn! This is the secret hideout of Gru (Steve Carell), who, with his army of excitable little yellow minions, plans to take over the world! Armed with his arsenal of shrink rays, freeze guns and battle-ready vehicles for land and air, Gru is accustomed to defeating all who stand in his way. But the arrival of three little-orphaned girls, and their determination to make him their Dad, threatens his reputation as a super villain!</p> <p>Lorax: The imaginative world of Dr. Seuss comes to life like never before in this visually spectacular adventure from the creators of Despicable Me! Twelve-year-old Ted will do anything to find a real live Truffula Tree in order to impress the girl of his dreams. As he embarks on his journey, Ted discovers the incredible story of the Lorax, a grumpy but charming creature who speaks for the trees. Featuring the voice talents of Danny DeVito, Ed Helms, Zac Efron, Taylor Swift, Rob Riggle, Jenny Slate, and Betty White, Dr. Seuss' The Lorax is filled with hilarious fun for everyone!</p> <p>Hop: Blending state-of-the-art animation with live action, Hop tells the comic tale of Fred, an out-of-work slacker who accidentally injures the Easter Bunny and must take him in as he recovers. As Fred struggles with the world's worst house guest, both will learn what it takes to finally grow up.</p> <ul> <li>Rated PG: Mild animated violence</li> </ul>
---
Despicable Me: In a happy suburban neighbourhood with its well-kept gardens and white picket fences, sits a black house with a dead lawn! This is the secret hideout of Gru (Steve Carell), who, with his army of excitable little yellow minions, plans to take over the world! Armed with his arsenal of shrink rays, freeze guns and battle-ready vehicles for land and air, Gru is accustomed to defeating all who stand in his way. But the arrival of three little-orphaned girls, and their determination to make him their Dad, threatens his reputation as a super villain!
Lorax: The imaginative world of Dr. Seuss comes to life like never before in this visually spectacular adventure from the creators of Despicable Me! Twelve-year-old Ted will do anything to find a real live Truffula Tree in order to impress the girl of his dreams. As he embarks on his journey, Ted discovers the incredible story of the Lorax, a grumpy but charming creature who speaks for the trees. Featuring the voice talents of Danny DeVito, Ed Helms, Zac Efron, Taylor Swift, Rob Riggle, Jenny Slate, and Betty White, Dr. Seuss' The Lorax is filled with hilarious fun for everyone!
Hop: Blending state-of-the-art animation with live action, Hop tells the comic tale of Fred, an out-of-work slacker who accidentally injures the Easter Bunny and must take him in as he recovers. As Fred struggles with the world's worst house guest, both will learn what it takes to finally grow up.
Rated PG: Mild animated violence
Click & Collect
Order online and collect in-store.
Location

Cost

Ready for collection

Location

In selected stores
Cost

$3 packing fee
per order
$3 packing fee per order
Ready for collection

Within 24 hours
Delivery

We package up your order and deliver it to your door.
Location type

Standard delivery

Delivery timeframe

Metropolitan
$10
3-5 business days
Regional
$14
5-7 business days
Remote
From $16
7-14 business days
Big and bulky items (e.g. furniture, play equipment) will incur additional delivery charges beyond standard rates listed above.
You can see the actual cost of delivering your order by adding items to your Shopping Bag and proceeding to the Checkout.
Still have questions?
Please refer to Kmart FAQs
\
Check if this product is available at a store near you