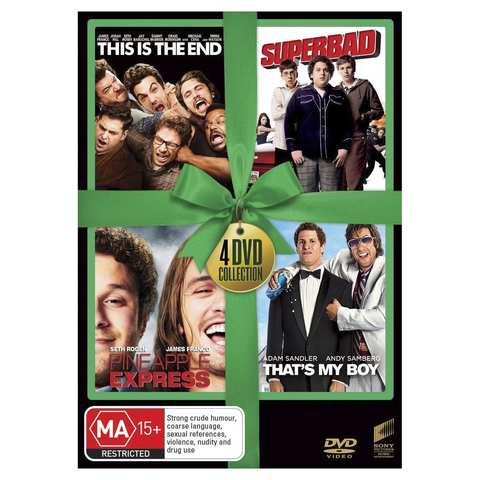 Comedy Movie Collection - DVD
<p>This Is The End: The comedy This Is the End follows six friends trapped in a house after a series of strange and catastrophic events devastate Los Angeles. As the world unravels outside, dwindling supplies and cabin fever threaten to tear apart the friendships inside.</p><p>Superbad: Seth (Jonah Hill) and Evan (Michael Cera) are two horny teenage geeks who want nothing more than to lose their virginity before heading off to college. After finally getting an invite to a big party, the duo hope to end high school on a high. however, admission comes at a price when the boys are asked to supply the party's liquor. Enlisting the help of their friend Fogell, a.k.a. McLovin (Christopher Mintz-Plasse) and his fake I.D., the three find themselves on a hilariously wild chase for the elusive booze while trying to shake off a pair of dodgy cops who have taken a shine to one of them.</p><p>Pineapple Express: Ride high on the Pineapple Express, the outrageously hysterical new comedy from Judd Apatow, the director of 40-Year-Old Virgin and the writers of Superbad. A lazy stoner, Dale Denton (Seth Rogen), is the sole witness to a murder committed by an evil drug lord (Gary Cole) and a corrupt cop (Rosie Perez). Now, marked for death, he runs for his life, dragging his dazed dealer (James Franco) and his supplier (Danny McBride) with him on a fast and furious, weed-fuelled adventure.</p><p>That's My Boy: While still in his teens, Donny (Adam Sandler) fathered a son, Todd (Andy Samberg) and raised him as a single parent until Todd's 18th birthday. Now, after not seeing each other for years, Todd's world comes crashing down on the eve of his wedding when an uninvited Donny suddenly shows up.</p><ul><li>Rated MA15+: Strong crude humour, coarse language, sexual references, violence, nudity and drug use</li><li>4 DVD set</li></ul>
---
This Is The End: The comedy This Is the End follows six friends trapped in a house after a series of strange and catastrophic events devastate Los Angeles. As the world unravels outside, dwindling supplies and cabin fever threaten to tear apart the friendships inside.
Superbad: Seth (Jonah Hill) and Evan (Michael Cera) are two horny teenage geeks who want nothing more than to lose their virginity before heading off to college. After finally getting an invite to a big party, the duo hope to end high school on a high. however, admission comes at a price when the boys are asked to supply the party's liquor. Enlisting the help of their friend Fogell, a.k.a. McLovin (Christopher Mintz-Plasse) and his fake I.D., the three find themselves on a hilariously wild chase for the elusive booze while trying to shake off a pair of dodgy cops who have taken a shine to one of them.
Pineapple Express: Ride high on the Pineapple Express, the outrageously hysterical new comedy from Judd Apatow, the director of 40-Year-Old Virgin and the writers of Superbad. A lazy stoner, Dale Denton (Seth Rogen), is the sole witness to a murder committed by an evil drug lord (Gary Cole) and a corrupt cop (Rosie Perez). Now, marked for death, he runs for his life, dragging his dazed dealer (James Franco) and his supplier (Danny McBride) with him on a fast and furious, weed-fuelled adventure.
That's My Boy: While still in his teens, Donny (Adam Sandler) fathered a son, Todd (Andy Samberg) and raised him as a single parent until Todd's 18th birthday. Now, after not seeing each other for years, Todd's world comes crashing down on the eve of his wedding when an uninvited Donny suddenly shows up.
Rated MA15+: Strong crude humour, coarse language, sexual references, violence, nudity and drug use
4 DVD set
Click & Collect
Order online and collect in-store.
Location

Cost

Ready for collection

Location

In selected stores
Cost

$3 packing fee
per order
$3 packing fee per order
Ready for collection

Within 24 hours
Delivery

We package up your order and deliver it to your door.
Location type

Standard delivery

Delivery timeframe

Metropolitan
$10
3-5 business days
Regional
$14
5-7 business days
Remote
From $16
7-14 business days
Big and bulky items (e.g. furniture, play equipment) will incur additional delivery charges beyond standard rates listed above.
You can see the actual cost of delivering your order by adding items to your Shopping Bag and proceeding to the Checkout.
Still have questions?
Please refer to Kmart FAQs
\
Check if this product is available at a store near you