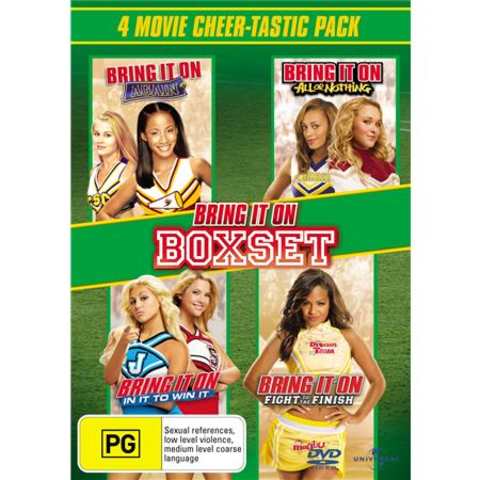 <p>Bring It On Again: Rejected by the college cheerleading team, a band of girls decide to form their own squad in this entertaining sequel to the original hit that mined the humour and the competitive spirit of high school cheerleading. Bring It On: All Or Nothing: As cheerleading captain at her elite school, Britney (Hayden Panetierre) makes plans for her squad to earn a coveted spot in singing sensation Rihanna's upcoming video. But when her family moves across town to urban Crenshaw Heights, Britney's plans are quashed. Now, she must face off against her new schools squad captain, the catty Camille (Solange Knowles), if she's going to win a spot on the team - and a chance to cheer in Rihanna's video. Bring It On: In It To Win It: High schooler Carson (Ashley Benson) sets out to guide her squad to victory and to win the heart of rival cheerleader Penn (Michael Copon) at the Cheer Camp Nationals, taking on ultra competitive Brooke (Cassie Scerbo) in a one-on-one battle. It seems that Brooke wants not only the trophy but Penn's affections, too. Risking everything to prevail - even elimination from the competition - the girls pull out all the stops in this spirited sequel.</p><p>Bring It On: Fight To The Finish: After her mom gets remarried, Lina (Christina Milian) says adios to her East Los Angeles home and readjusts to life in affluent Malibu, where the new girl pledges to whip her schools ailing cheerleading squad into shape. But will Lina's fiery Latin and hip-hop moves be enough to topple the ranking champions, led by the formidable Avery (Rachele Brooke Smith)? The spirit is back in this high-energy addition to the cheerleading franchise.</p><ul><li>Rated PG: Sexual references, low level violence, medium level coarse language</li></ul>
---
Bring It On Again: Rejected by the college cheerleading team, a band of girls decide to form their own squad in this entertaining sequel to the original hit that mined the humour and the competitive spirit of high school cheerleading. Bring It On: All Or Nothing: As cheerleading captain at her elite school, Britney (Hayden Panetierre) makes plans for her squad to earn a coveted spot in singing sensation Rihanna's upcoming video. But when her family moves across town to urban Crenshaw Heights, Britney's plans are quashed. Now, she must face off against her new schools squad captain, the catty Camille (Solange Knowles), if she's going to win a spot on the team - and a chance to cheer in Rihanna's video. Bring It On: In It To Win It: High schooler Carson (Ashley Benson) sets out to guide her squad to victory and to win the heart of rival cheerleader Penn (Michael Copon) at the Cheer Camp Nationals, taking on ultra competitive Brooke (Cassie Scerbo) in a one-on-one battle. It seems that Brooke wants not only the trophy but Penn's affections, too. Risking everything to prevail - even elimination from the competition - the girls pull out all the stops in this spirited sequel.
Bring It On: Fight To The Finish: After her mom gets remarried, Lina (Christina Milian) says adios to her East Los Angeles home and readjusts to life in affluent Malibu, where the new girl pledges to whip her schools ailing cheerleading squad into shape. But will Lina's fiery Latin and hip-hop moves be enough to topple the ranking champions, led by the formidable Avery (Rachele Brooke Smith)? The spirit is back in this high-energy addition to the cheerleading franchise.
Rated PG: Sexual references, low level violence, medium level coarse language
Click & Collect
Order online and collect in-store.
Location

Cost

Ready for collection

Location

In selected stores
Cost

$3 packing fee
per order
$3 packing fee per order
Ready for collection

Within 24 hours
Delivery

We package up your order and deliver it to your door.
Location type

Standard delivery

Delivery timeframe

Metropolitan
$10
3-5 business days
Regional
$14
5-7 business days
Remote
From $16
7-14 business days
Big and bulky items (e.g. furniture, play equipment) will incur additional delivery charges beyond standard rates listed above.
You can see the actual cost of delivering your order by adding items to your Shopping Bag and proceeding to the Checkout.
Still have questions?
Please refer to Kmart FAQs
\
Check if this product is available at a store near you