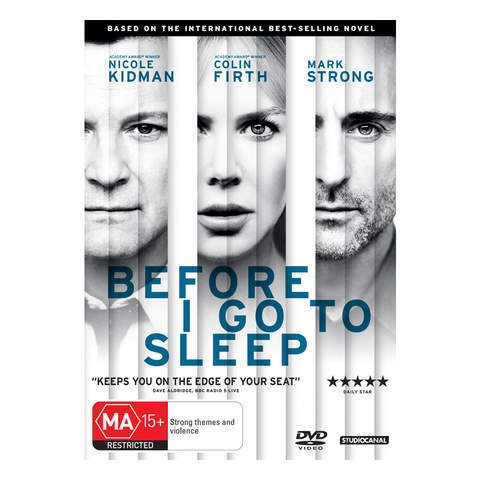 Before I Go To Sleep - DVD
<p><p>Christine Lucas wakes up every day frightened and confused. She's sleeping next to a man who says he's her husband in a home he tells her is theirs, but none of this is familiar to her. She thinks she is a single woman in her 20s when, in actuality, she is a 40-year-old married woman. Christine suffers from psychogenic amnesia, as the result of a traumatic accident, and remembers nothing from her recent past - not the accident itself, or her marriage to her husband Ben.</p> <p>Each day, Ben must introduce himself to her and explain their life together. He tells her she had a car accident years ago and lost her memory because of it. One day, Christine receives a phone call from Dr. Nasch, a neuropsychologist specialising in her condition, who tells her they have been working with one another to help her regain her memory. Dr. Nasch provides Christine with a digital camera and tasks her to record daily messages with information she learns about her past.</p> <p>As she pieces together her video diary entries, terrifying new truths emerge that force her to question everything she thinks she knows about her life, as well as everyone in it: Is Ben telling the truth about what happened? What are Dr. Nasch's true intentions? Who attacked me that night? And her existence shapes itself around a bigger question - who can she trust? - in this suspenseful thriller based on the worldwide best-selling novel by S.J. Watson.</p></p><ul><li>Genre: Thriller</li><li>Actors: Nicole Kidman, Colin Firth, Mark Strong and Anne-Marie Duff</li><li>Year of release: 2014</li><li>Rated MA15+: Strong themes and violence</li></ul>
---
Christine Lucas wakes up every day frightened and confused. She's sleeping next to a man who says he's her husband in a home he tells her is theirs, but none of this is familiar to her. She thinks she is a single woman in her 20s when, in actuality, she is a 40-year-old married woman. Christine suffers from psychogenic amnesia, as the result of a traumatic accident, and remembers nothing from her recent past - not the accident itself, or her marriage to her husband Ben.
Each day, Ben must introduce himself to her and explain their life together. He tells her she had a car accident years ago and lost her memory because of it. One day, Christine receives a phone call from Dr. Nasch, a neuropsychologist specialising in her condition, who tells her they have been working with one another to help her regain her memory. Dr. Nasch provides Christine with a digital camera and tasks her to record daily messages with information she learns about her past.
As she pieces together her video diary entries, terrifying new truths emerge that force her to question everything she thinks she knows about her life, as well as everyone in it: Is Ben telling the truth about what happened? What are Dr. Nasch's true intentions? Who attacked me that night? And her existence shapes itself around a bigger question - who can she trust? - in this suspenseful thriller based on the worldwide best-selling novel by S.J. Watson.
Genre: Thriller
Actors: Nicole Kidman, Colin Firth, Mark Strong and Anne-Marie Duff
Year of release: 2014
Rated MA15+: Strong themes and violence
Click & Collect
Order online and collect in-store.
Location

Cost

Ready for collection

Location

In selected stores
Cost

$3 packing fee
per order
$3 packing fee per order
Ready for collection

Within 24 hours
Delivery

We package up your order and deliver it to your door.
Location type

Standard delivery

Delivery timeframe

Metropolitan
$10
3-5 business days
Regional
$14
5-7 business days
Remote
From $16
7-14 business days
Big and bulky items (e.g. furniture, play equipment) will incur additional delivery charges beyond standard rates listed above.
You can see the actual cost of delivering your order by adding items to your Shopping Bag and proceeding to the Checkout.
Still have questions?
Please refer to Kmart FAQs
\
Check if this product is available at a store near you