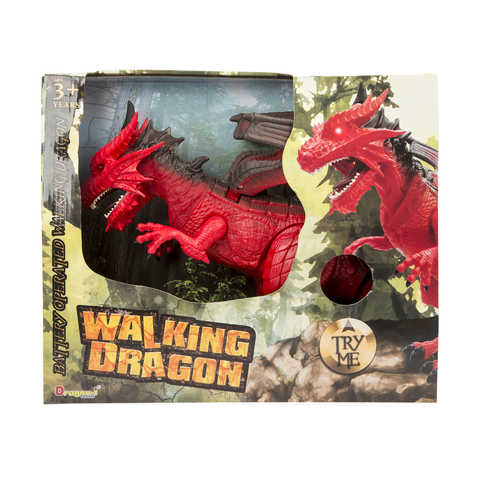 <p>Stomp and roar! This dragon toy with sound is sure to bring endless hours of fun for your little one. With light-up eyes and a real walking action, the walking dragon will be a fun addition to their toy collection.</p><ul><li>Suitable for ages: 3+ years</li><li>Features an on/off switch</li><li>Press the try me button to make the dragon shake its head and roar</li><li>Switch on the dragon to make it walk forward with stomping sounds</li><li>Exciting sounds</li><li>Light-up eyes</li><li>Real walking action</li><li>Requires 3 x AA batteries (not included)</li><li>Dimensions: 11.7cm x 36.8cm x 30.5cm</li><li>Colour: Red</li><li>Warning: Do not use close to ear. Misuse may cause damage to hearing. Follow usage instructions carefully.</li><p><p><strong>Some important battery information:</strong></p> <ul> <li>Only batteries of the same or equivalent type as recommended are to be used</li> <li>Batteries are to be inserted in position according to polarity</li> <li>Do not mix old and new batteries</li> <li>Do not mix alkaline, standard (carbon-zinc) or rechargeable batteries</li> <li>Do not attempt to burn batteries</li> <li>Dispose of batteries safely and correctly</li> <li>Remove batteries if the toy will not be used for a long period of time</li> <li>Exhausted batteries are to be removed from the toy</li> </ul></p></ul>
---
Stomp and roar! This dragon toy with sound is sure to bring endless hours of fun for your little one. With light-up eyes and a real walking action, the walking dragon will be a fun addition to their toy collection.
Suitable for ages: 3+ years
Features an on/off switch
Press the try me button to make the dragon shake its head and roar
Switch on the dragon to make it walk forward with stomping sounds
Exciting sounds
Light-up eyes
Real walking action
Requires 3 x AA batteries (not included)
Dimensions: 11.7cm x 36.8cm x 30.5cm
Colour: Red
Warning: Do not use close to ear. Misuse may cause damage to hearing. Follow usage instructions carefully.

Some important battery information:

Only batteries of the same or equivalent type as recommended are to be used
Batteries are to be inserted in position according to polarity
Do not mix old and new batteries
Do not mix alkaline, standard (carbon-zinc) or rechargeable batteries
Do not attempt to burn batteries
Dispose of batteries safely and correctly
Remove batteries if the toy will not be used for a long period of time
Exhausted batteries are to be removed from the toy
Click & Collect
Order online and collect in-store.
Location

Cost

Ready for collection

Location

In selected stores
Cost

$3 packing fee
per order
$3 packing fee per order
Ready for collection

Within 24 hours
Delivery

We package up your order and deliver it to your door.
Location type

Standard delivery

Delivery timeframe

Metropolitan
$10
3-5 business days
Regional
$14
5-7 business days
Remote
$16
7-14 business days
Christmas orders
Order by 15th December for metro areas or 11th December for all other areas to receive your items before Christmas. Orders placed after these dates may not arrive before Christmas.
Additional costs for large and heavy orders
Big and bulky items (e.g. furniture, play equipment) will incur additional delivery charges beyond standard rates listed above.
You can see the actual cost of delivering your order by adding items to your Shopping Bag and proceeding to the Checkout.
Still have questions?
Please refer to Kmart FAQs
\
Check if this product is available at a store near you