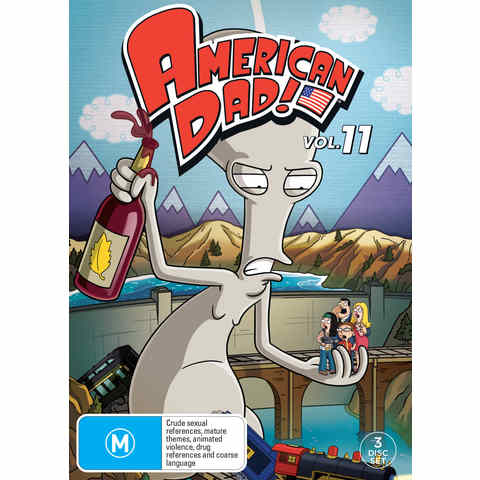 American Dad - Season 11, DVD
<p>AMERICAN DAD! is an irreverent, satirical, award-winning animated comedy that sprang from the minds of creators Seth MacFarlane, Mike Barker and Matt Weitzman. The series centers on super-patriotic CIA agent Stan Smith (voiced by Seth MacFarlane) and the misadventures of his unconventional family in Langley Falls, Virginia. Stan's blissfully unaware wife Francine (Wendy Schaal) has an unfaltering loyalty that allows her to turn a blind eye toward Stan's unabashed arrogance. Meanwhile, Stan constantly butts heads with his 18-year-old, left-wing activist daughter Hayley (Rachael MacFarlane), who knows just how to push her father's buttons, whether it's by helping the homeless, demanding women's rights or advocating gun control. Hayley's 14-year-old brother is the geeky-yet-confident Steve (Scott Grimes), a child who spends his time playing video games and obsessing about the opposite sex.The Smith cabinet is rounded out by two rather unconventional members: Roger (MacFarlane), the sassy, sarcastic and routinely inappropriate space alien who is constantly trying on new disguises and, with them, new personalities, and Klaus (Dee Bradley Baker), the attention-starved goldfish with the brain of a German Olympic skier who always throws in his two cents, regardless of whether anyone is listening. Together, this family of radically different personalities is just trying to figure out how to love and trust one another in a bi-partisan world. And with a guy like Stan in charge of national security, it's guaranteed to be one hilarious ride.</p><ul><li>Rated M: Crude sexual references, matured themes, animated violence, drug references and coarse language</li></ul>
---
AMERICAN DAD! is an irreverent, satirical, award-winning animated comedy that sprang from the minds of creators Seth MacFarlane, Mike Barker and Matt Weitzman. The series centers on super-patriotic CIA agent Stan Smith (voiced by Seth MacFarlane) and the misadventures of his unconventional family in Langley Falls, Virginia. Stan's blissfully unaware wife Francine (Wendy Schaal) has an unfaltering loyalty that allows her to turn a blind eye toward Stan's unabashed arrogance. Meanwhile, Stan constantly butts heads with his 18-year-old, left-wing activist daughter Hayley (Rachael MacFarlane), who knows just how to push her father's buttons, whether it's by helping the homeless, demanding women's rights or advocating gun control. Hayley's 14-year-old brother is the geeky-yet-confident Steve (Scott Grimes), a child who spends his time playing video games and obsessing about the opposite sex.The Smith cabinet is rounded out by two rather unconventional members: Roger (MacFarlane), the sassy, sarcastic and routinely inappropriate space alien who is constantly trying on new disguises and, with them, new personalities, and Klaus (Dee Bradley Baker), the attention-starved goldfish with the brain of a German Olympic skier who always throws in his two cents, regardless of whether anyone is listening. Together, this family of radically different personalities is just trying to figure out how to love and trust one another in a bi-partisan world. And with a guy like Stan in charge of national security, it's guaranteed to be one hilarious ride.
Rated M: Crude sexual references, matured themes, animated violence, drug references and coarse language
Click & Collect
Order online and collect in-store.
Location

Cost

Ready for collection

Location

In selected stores
Cost

$3 packing fee
per order
$3 packing fee per order
Ready for collection

Within 24 hours
Delivery

We package up your order and deliver it to your door.
Location type

Standard delivery

Delivery timeframe

Metropolitan
$10
3-5 business days
Regional
$14
5-7 business days
Remote
From $16
7-14 business days
Big and bulky items (e.g. furniture, play equipment) will incur additional delivery charges beyond standard rates listed above.
You can see the actual cost of delivering your order by adding items to your Shopping Bag and proceeding to the Checkout.
Still have questions?
Please refer to Kmart FAQs
\
Check if this product is available at a store near you