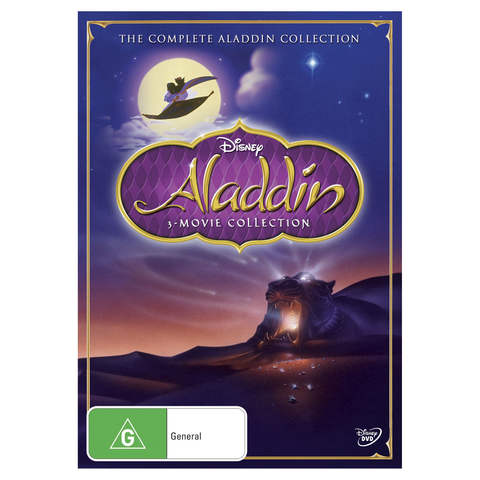 Aladdin: The Complete Collection - DVD
<p>Aladdin: In the heart of an enchanted city, a commoner named Aladdin and his mischievous monkey Abu battle to save the free-spirited Princess Jasmine from the schemes of the evil sorcerer Jafar. Aladdin's whole life changes with one rub of a magic lamp as a fun-loving, shape-shifting Genie appears and grants him three wishes, setting him on an incredible journey of discovery.</p><p>Aladdin II: The Return of Jafar: The magical legend of Aladdin picks up right where the first movie left off. Although it didn't seem possible, the evil sorcerer Jafar - now the most powerful genie of all - has escaped from his lamp! And he has only one thing on his mind: revenge against Aladdin! From battling thieves on flying horses to dodging flames inside an exploding lava pit, it is up to Aladdin - with Princess Jasmine, Abu, Carpet and Genie by his side - to save the kingdom once and for all!</p><p>Aladdin and the King of Thieves:Â There is a grand party in Agrabah when it looks like Princess Jasmine and Aladdin will finally get married. But first Aladdin must stop the legendary Forty Thieves from stealing a mysterious wedding gift, an all-seeing Oracle that will lead them to riches beyond their imaginations. Join Aladdin and his friends Jasmine, Abu, Carpet and, of course, Genie, as they face all sorts of terrifying threats and make exciting last minute escapes pursuing the King Of Thieves and his villainous crew.</p><ul><li>Rated G: General</li></ul>
---
Aladdin: In the heart of an enchanted city, a commoner named Aladdin and his mischievous monkey Abu battle to save the free-spirited Princess Jasmine from the schemes of the evil sorcerer Jafar. Aladdin's whole life changes with one rub of a magic lamp as a fun-loving, shape-shifting Genie appears and grants him three wishes, setting him on an incredible journey of discovery.
Aladdin II: The Return of Jafar: The magical legend of Aladdin picks up right where the first movie left off. Although it didn't seem possible, the evil sorcerer Jafar - now the most powerful genie of all - has escaped from his lamp! And he has only one thing on his mind: revenge against Aladdin! From battling thieves on flying horses to dodging flames inside an exploding lava pit, it is up to Aladdin - with Princess Jasmine, Abu, Carpet and Genie by his side - to save the kingdom once and for all!
Aladdin and the King of Thieves:Â There is a grand party in Agrabah when it looks like Princess Jasmine and Aladdin will finally get married. But first Aladdin must stop the legendary Forty Thieves from stealing a mysterious wedding gift, an all-seeing Oracle that will lead them to riches beyond their imaginations. Join Aladdin and his friends Jasmine, Abu, Carpet and, of course, Genie, as they face all sorts of terrifying threats and make exciting last minute escapes pursuing the King Of Thieves and his villainous crew.
Click & Collect
Order online and collect in-store.
Location

Cost

Ready for collection

Location

In selected stores
Cost

$3 packing fee
per order
$3 packing fee per order
Ready for collection

Within 24 hours
Delivery

We package up your order and deliver it to your door.
Location type

Standard delivery

Delivery timeframe

Metropolitan
$10
3-5 business days
Regional
$14
5-7 business days
Remote
$16
7-14 business days
Christmas orders
Order by 15th December for metro areas or 11th December for all other areas to receive your items before Christmas. Orders placed after these dates may not arrive before Christmas.
Additional costs for large and heavy orders
Big and bulky items (e.g. furniture, play equipment) will incur additional delivery charges beyond standard rates listed above.
You can see the actual cost of delivering your order by adding items to your Shopping Bag and proceeding to the Checkout.
Still have questions?
Please refer to Kmart FAQs
\
Check if this product is available at a store near you