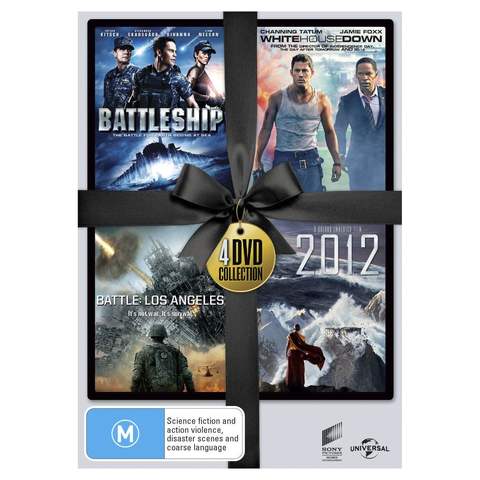 Action Movie Collection - DVD
<p>Battleship: From the company that brought you Transformers, Battleship is an epic-scaled action-adventure that unfolds across the seas, in the skies and over land as our planet fights for survival against a superior alien force.</p><p>White House Down: Capitol Policeman John Cale (Charming Tatum) has just been denied his dream job with the Secret Service of protecting President James Sawyer (Jamie Foxx). Not wanting to let down his little girl with the news, he takes her on a tour of the White House, during which the complex is overtaken by a heavily armed paramilitary group. Now, with the nation's government falling into chaos and time running out, it's up to Cale to save the president, his daughter and the country.</p><p>Battle: Los Angeles: Witness the end of civilisation unfold, as hostile alien invaders attack the planet. As people everywhere watch the world's great cities fall, Los Angeles becomes the last stand for mankind in a battle no one expected. Now it's up to a Marine staff sergeant (Aaron Eckhart) and his platoon to draw a line in the sand as they take on an enemy unlike any they've ever encountered, in this epic sci-fi action film.</p><p>2012: From director Roland Emmerich, comes the ultimate action-adventure movie, exploding with ground-breaking special effects. As the world faces a catastrophe of apocalyptic proportions, cities collapse and continents crumble. 2012 brings an end to the world and tells of the heroic struggle of the survivors.</p><ul><li>Rated M: Science fiction and action violence, disaster scene and coarse language</li><li>4 DVD set</li></ul>
---
Battleship: From the company that brought you Transformers, Battleship is an epic-scaled action-adventure that unfolds across the seas, in the skies and over land as our planet fights for survival against a superior alien force.
White House Down: Capitol Policeman John Cale (Charming Tatum) has just been denied his dream job with the Secret Service of protecting President James Sawyer (Jamie Foxx). Not wanting to let down his little girl with the news, he takes her on a tour of the White House, during which the complex is overtaken by a heavily armed paramilitary group. Now, with the nation's government falling into chaos and time running out, it's up to Cale to save the president, his daughter and the country.
Battle: Los Angeles: Witness the end of civilisation unfold, as hostile alien invaders attack the planet. As people everywhere watch the world's great cities fall, Los Angeles becomes the last stand for mankind in a battle no one expected. Now it's up to a Marine staff sergeant (Aaron Eckhart) and his platoon to draw a line in the sand as they take on an enemy unlike any they've ever encountered, in this epic sci-fi action film.
2012: From director Roland Emmerich, comes the ultimate action-adventure movie, exploding with ground-breaking special effects. As the world faces a catastrophe of apocalyptic proportions, cities collapse and continents crumble. 2012 brings an end to the world and tells of the heroic struggle of the survivors.
Rated M: Science fiction and action violence, disaster scene and coarse language
4 DVD set
Click & Collect
Order online and collect in-store.
Location

Cost

Ready for collection

Location

In selected stores
Cost

$3 packing fee
per order
$3 packing fee per order
Ready for collection

Within 24 hours
Delivery

We package up your order and deliver it to your door.
Location type

Standard delivery

Delivery timeframe

Metropolitan
$10
3-5 business days
Regional
$14
5-7 business days
Remote
From $16
7-14 business days
Big and bulky items (e.g. furniture, play equipment) will incur additional delivery charges beyond standard rates listed above.
You can see the actual cost of delivering your order by adding items to your Shopping Bag and proceeding to the Checkout.
Still have questions?
Please refer to Kmart FAQs
\
Check if this product is available at a store near you