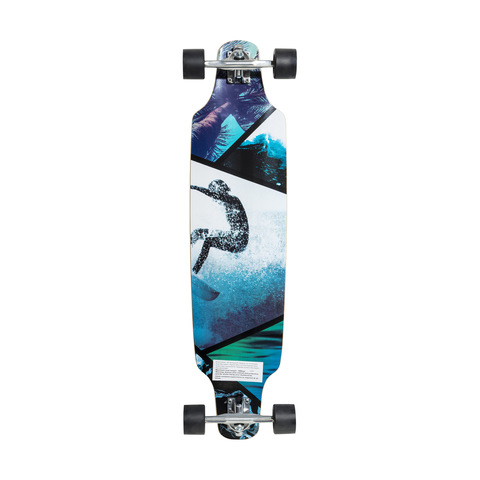 38in. Free Rider Skateboard
<p>Time to get rolling on your new skateboard! This cool skateboard with moulded wheels will be a great pick for your active kid. They can spend a good amount of time riding this free rider skateboard - ideal for their leisure time.</p><ul><li>Suitable for ages: 8+ years</li><li>Max. load capacity: 100kg</li><li>Made of Maplewood deck</li><li>An ideal pick for your active kid</li><li>Features ABEC-7 wheel bearings</li><li>7 in. aluminium trucks</li><li>Moulded wheels</li><li>Skateboard in safe surroundings</li><li>Dimensions: 38in. x 9.25in. x 9.5in.</li><li>Colour: Black</li><li>Warning: Running or jumping onto a skateboard can be dangerous</li></ul><p><strong>Best way to maintain your skateboard:</strong></p> <ul> <li>Always check wheels, trucks, nuts, bearings and the self self-locking fixings before and after each use, it may lose their effectiveness.</li> <li>If wheels are not working normally, stop riding and inspect the wheels and bearings. If wheels are lose, tighten them with a socket wrench.</li> <li>Always check the wood of your deck before using. When noticing cracks do not ride the skateboard and replace the deck by a new one.</li> <li>Check all parts for wear and tear. Replace any part if it is worn or does not function correctly.</li> <li>Failure to properly follow these recommended safety precautions could result in serious injury. Board smart and use common sense.</li> <li>Do not use the skateboard in any way that would violate commonly accepted safety practices or laws. Always wear your protective gear.</li> <li>The variable steering control screw can be adjusted to increase or decrease the front steering tension according to the weight of the user. Use a socket wrench to do this properly.</li> </ul></p></ul><p><a href="http://www.kmart.com.au/wcsstore/Kmart/pdfs/42326663_manaul.pdf" target="_blank"><b>Instruction Manual</b></a> <br><br>
---
Time to get rolling on your new skateboard! This cool skateboard with moulded wheels will be a great pick for your active kid. They can spend a good amount of time riding this free rider skateboard - ideal for their leisure time.
Suitable for ages: 8+ years
Max. load capacity: 100kg
Made of Maplewood deck
An ideal pick for your active kid
Features ABEC-7 wheel bearings
7 in. aluminium trucks
Moulded wheels
Skateboard in safe surroundings
Dimensions: 38in. x 9.25in. x 9.5in.
Colour: Black
Warning: Running or jumping onto a skateboard can be dangerous
Best way to maintain your skateboard:
Always check wheels, trucks, nuts, bearings and the self self-locking fixings before and after each use, it may lose their effectiveness.
If wheels are not working normally, stop riding and inspect the wheels and bearings. If wheels are lose, tighten them with a socket wrench.
Always check the wood of your deck before using. When noticing cracks do not ride the skateboard and replace the deck by a new one.
Check all parts for wear and tear. Replace any part if it is worn or does not function correctly.
Failure to properly follow these recommended safety precautions could result in serious injury. Board smart and use common sense.
Do not use the skateboard in any way that would violate commonly accepted safety practices or laws. Always wear your protective gear.
The variable steering control screw can be adjusted to increase or decrease the front steering tension according to the weight of the user. Use a socket wrench to do this properly.
Click & Collect
Order online and collect in-store.
Location

Cost

Ready for collection

Location

In selected stores
Cost

$3 packing fee
per order
$3 packing fee per order
Ready for collection

Within 24 hours
Delivery

We package up your order and deliver it to your door.
Location type

Standard delivery

Delivery timeframe

Metropolitan
$10
3-5 business days
Regional
$14
5-7 business days
Remote
$16
7-14 business days
Christmas orders
Order by 15th December for metro areas or 11th December for all other areas to receive your items before Christmas. Orders placed after these dates may not arrive before Christmas.
Additional costs for large and heavy orders
Big and bulky items (e.g. furniture, play equipment) will incur additional delivery charges beyond standard rates listed above.
You can see the actual cost of delivering your order by adding items to your Shopping Bag and proceeding to the Checkout.
Still have questions?
Please refer to Kmart FAQs
\
Check if this product is available at a store near you